Hyderabad: Sorry state of public taps in slums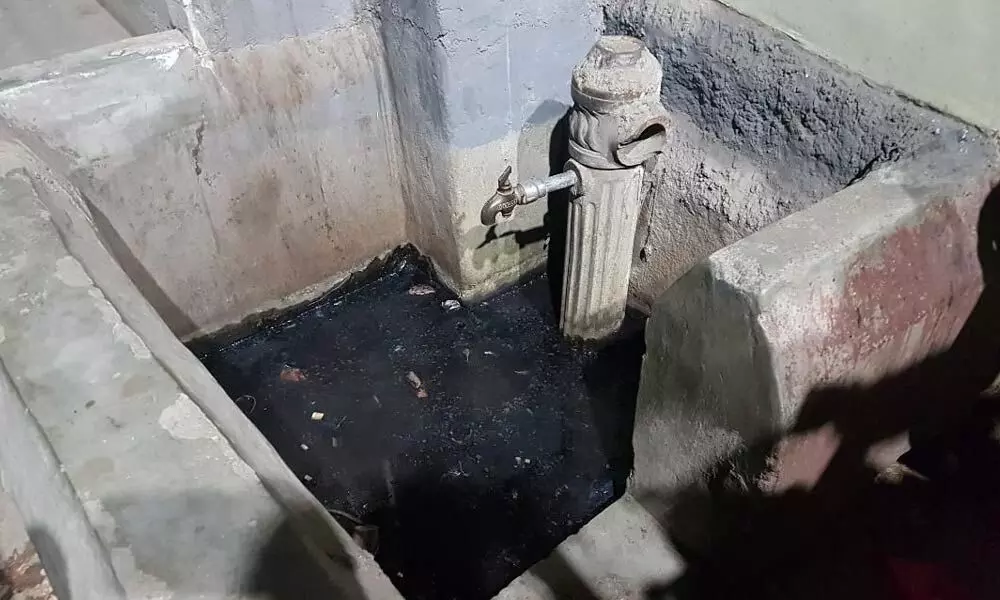 Highlights
Ill maintenance forces dwellers to trek 2 km for a pot of water
Damaged pipelines leading to supply of contaminated water
Area around taps is unhygienic due to garbage and open defecation
Hyderabad: Slum dwellers in Hyderabad mostly depend on the public water taps for the safe and clean drinking water. However, the dwellers are facing undue hardships because of the poor maintenance of public taps and pipelines. In many areas, women have to trek at least two kilometers for the potable water.

For the over 400 residents of Karmika Nagar, it has become an everyday struggle to get water from the municipal tap. If they miss to get water, the dwellers in the locality walk to other areas and residences for one single pot of clean drinking water.
Also, the frequent damage of drain pipelines lead to water contamination as the sewage water gets mixed with the drinking water.
"We have a public tap at 500 meters from our huts, but as the tap is not well maintained we go to other areas and plead some residences to give us some water. Besides this, the area around the public tap is not hygienic, it is filled with algae due to which the floor is slippery. Everyday someone or other falls in the huddle to get water from the tap. Nowadays, the quality of water has changed to worse due to contamination. We avoid the contaminated water for cooking purposes also," said Guruvelli Ramanamma, a dweller in the slums of Karimika Nagar near Borabanda.
Moreover, a few senseless people indulge in open defecating and disposing of garbage in and around public taps, said D Manoj, a dweller from Dhoodh Bai in Chintal Basti in Secunderabad.
All the several representations made by the locals for the proper maintenance of the public taps, the Greater Hyderabad Municipal Corporation officials and the corporators or ward members have turned a blind eye towards their problems.
Dwellers rue that their slums have not seen any development in the last 10 years, "Not all the public taps give us drinking water, we stand in a queue for 2 hours every day to get water for domestic use and we trek almost 2 kilometers to reach public tap in Borabanda to get drinking water," said M Maruthy, another resident of the Karimika Nagar.
Subscribed Failed...
Subscribed Successfully...