KCR striving for all round development said Eatala Rajender in Warangal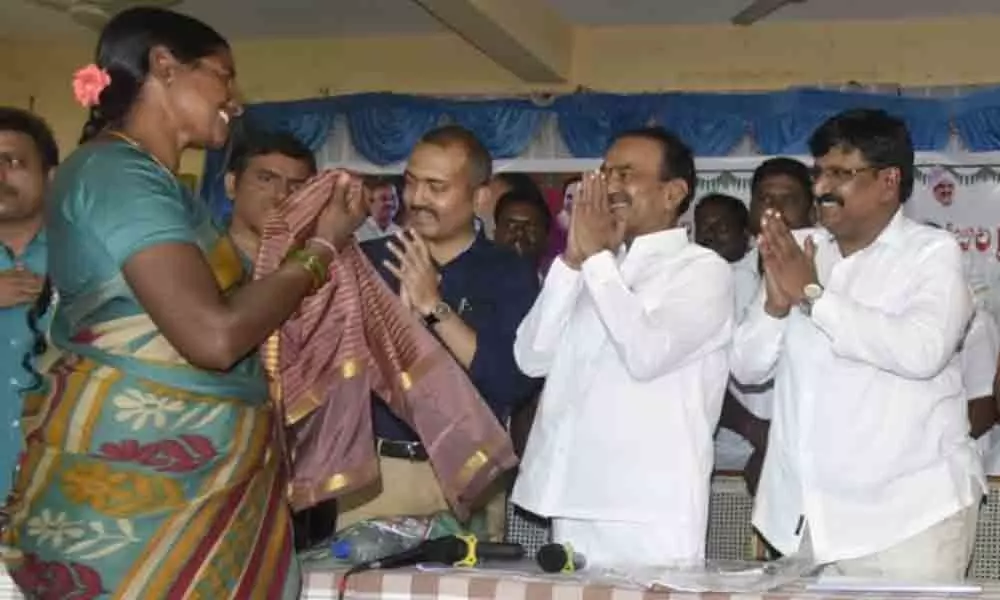 Highlights
Warangal: Distribution of Bathukamma saris to poor women should be seen in right perspective instead of...
Warangal: Distribution of Bathukamma saris to poor women should be seen in right perspective instead of criticising the TRS government's initiative, Health Minister all-round said. He along with District Collector Prashanth Jeevan Patil and ZP chairman M Sudheer Kumar distributed Bathukamma saris to women at Kamalapur mandal headquarters on Wednesday. Speaking on the occasion, the Minister said that distribution of saris free of cost to poor women is a noble gesture from Chief Minister K Chandrashekar Rao.

Later, the Minister inaugurated Zilla Parishad High School building constructed with an outlay of Rs 2.43 crore and dropped fish seedlings in Pedda Cheruvu. He said that so far 15.53 seedlings have been released into various water bodies in the mandal.
Referring to the 30-day special action plan, Minister E Rajender said that it was aimed at developing the gram panchayats with impetus on sanitation, clean and green, besides providing other basic amenities. Emphasising the need for clean and green surroundings, he said that it helps villagers live healthily. "The TRS government has also initiated several health programmes such as Kanti Velugu etc, besides focusing of people's healthcare," the Minister said.
Sudheer Kumar said that Telangana is in the forefront of other States in the country as far as developmental activity is concerned. "KCR has been striving hard to turn the State into Bangaru (Golden) Telangana by initiating various welfare and development programmes. The 30-day special action plan is to ensure gram panchayats self-sufficient," Sudheer said.
Prashanth Jeevan Patil said that Kamalapur would get Rs 1.60 crore per annum in addition to the revenue accrued by the civic body. "The responsibility is on civic body and other village committees to plan accordingly to develop their village. The administration is ready to extend its support if the civic body faces any hiccups in carrying developmental programmes," Patil said.
DRDO T Ramu, ZPTC Kalyani, MPP Rani, MPTC Venkateshwarlu, cooperative societies state president Rajeshwar Rao and Fisheries assistant director D Sathish were among others present.
Subscribed Failed...
Subscribed Successfully...