Missing girl found brutally murdered in Jadcherla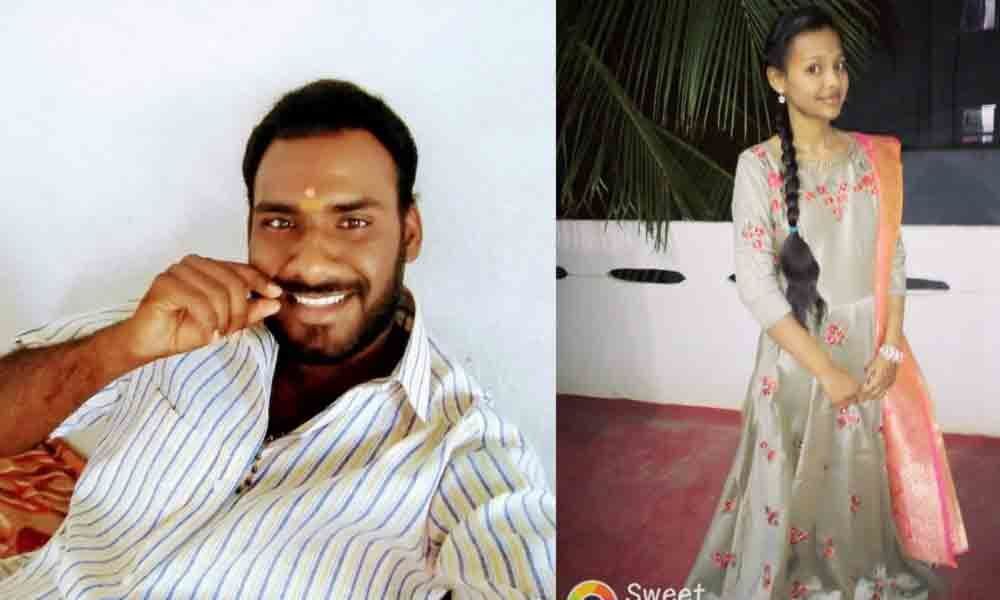 Highlights
The accused had befriended the victim through fake facebook account and followed her to her home in Jadcherla. When the girl reportedly resisted his sexual advances, the accused hit her with boulders and killed her
Mahbubnagar: A minor girl who went missing from Housing Board Colony in Jadcherla mandal in Mahbubnagar district was found brutally murdered near Shankarayapally village, on the outskirts of Jadcherla.

According to Jadcherla police, Harshini (15), daughter of Ravishankar, a Class 10 student of Kendriya Vidyalaya school in Hyderabad, befriended Naveen Reddy on Facebook and they have been in contact with each other for the last three months.
However, three days ago, Harshini had come to Jadcherla to spend holidays with her parents. It is said Naveen Reddy followed her to Jadcherla in a car and had constantly called Harshini to come out of her house and threatened her of making their relationship public if she failed to obey him.
Fearing this, Harshini got into Naveen Reddy's car on the evening of August 27. It is said both went to SVS Dental Medical College and from there to a secluded place near Shankarayapally Thanda. It is alleged that here Naveen tried to sexually assault. As the girl resisted, enraged Naveen brutally murdered Harshini by hitting her with boulders on her face and killed her on the spot, and fled to his native place.
Soon after learning that their daughter was missing, Harshini's parents lodged a complaint at the Jadcherla police station. The police after thorough investigation tracked the call data of Harshini's mobile phone and also examined the CCTV camera footage near Harshini's residence, and found out that Harshini went with Naveen Reddy in a car. The police also tracked Harshini's Facebook account and found that Naveen Reddy through a fake Facebook account had befriended Harshini and was blackmailing her of revealing about their relationship to her parents if she did not obey him.
Based on the information, the Jadcherla police formed a special team and arrested Naveen Reddy from his home at Brahmanapally village in Hayatnagar mandal in Rangareddy. "We could finally resolve the mystery behind the missing case filed in Jadcherla mandal two days ago. We have arrested the culprit and investigating to get more details from him. We have also recovered the dead body of Harshini and sent it to Mahbubnagar district hospital for post-mortem," said the police.
However, soon after the news of murder spread like a wildfire, the student organisations, civil society members and women's groups across Jadcherla mandal staged a road blockade and raised slogans against the police and the government for their failure in containing rapes and murders of minor girls.
The members of a student's organisation and women groups from Housing Board blocked the Jadcherla-Mahbubnagar road causing traffic jam for more than one hour where vehicles got stranded on the roads for more than 2 kilometre length. However, Mahbubnagar DSP Bhaskar spoke to the agitators and pacified them that the police would speed up the investigation and urge the government to set up a fast track court, dispose off the case speedily and ensure death penalty to the culprit.
Subscribed Failed...
Subscribed Successfully...