Need to emulate ideals of Suravaram Pratapa Reddy: KTR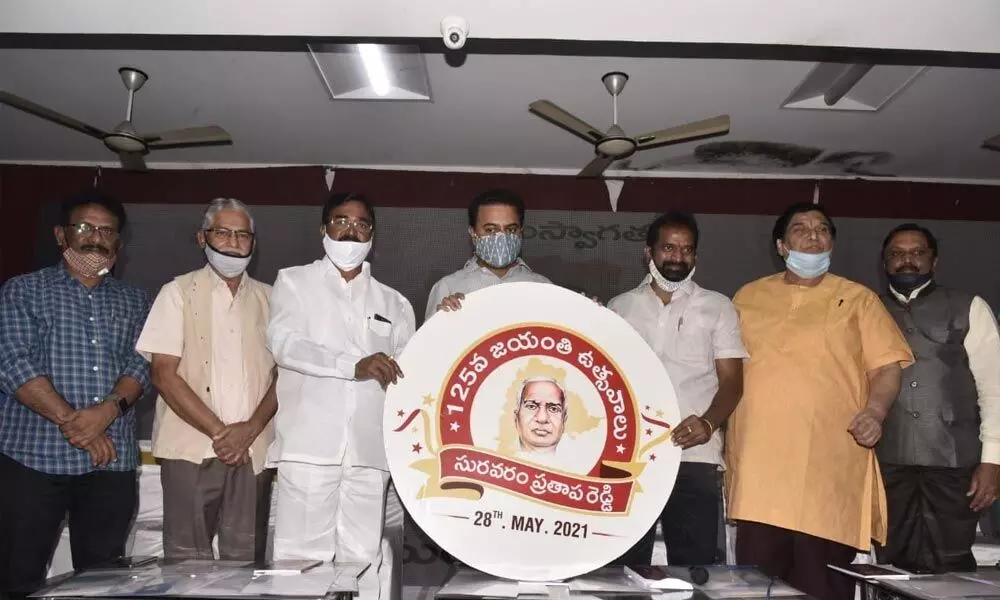 Highlights
IT Minister heaps praises on Pratapa Reddy at 125th birth anniv fete
Hyderabad: Information Technology and Municipal Minister KT Rama Rao has stated that Suravaram Pratapa Reddy is an ideal personality to be emulated. He along with Ministers V Srinivas Goud, S Niranjan Reddy, government advisor KV Ramana Chary, and Suravaram family members and some journalists participated in the 125th birth anniversary of the legendary leader held at Press Club in Basheerbagh on Monday.
He heaped praises on Prathap Reddy for being remembered by present generations and future generations too. He stated the government intention to name any university in the state after Prathap Reddy as we have named a few including -- Kaloji Narayana Rao after Health University, PV Narasimha Rao after Veterinary University, Prof Jayashankar after Agriculture University and Konda Lakshman Bapuji after Horticulture University. The Minister stressed the need for an in-depth study and research on great personalities like poets, literary personalities and others who contributed to enrich our culture and traditions of Telangana.
"Prathap Reddy is a multi-faceted personality whose life is ideal to follow. He is synonymous with Golconda Newspaper. I came to know several things about him through his writings and works. He served the society as a social reformer, editor, journalist, poet, writer and literary man. Efforts will be made to ensure he gets due respect and recognition," added KTR.