Nizamabad: Dedicate for environmental protection, Minister Vemula Prashanth Reddy calls upon people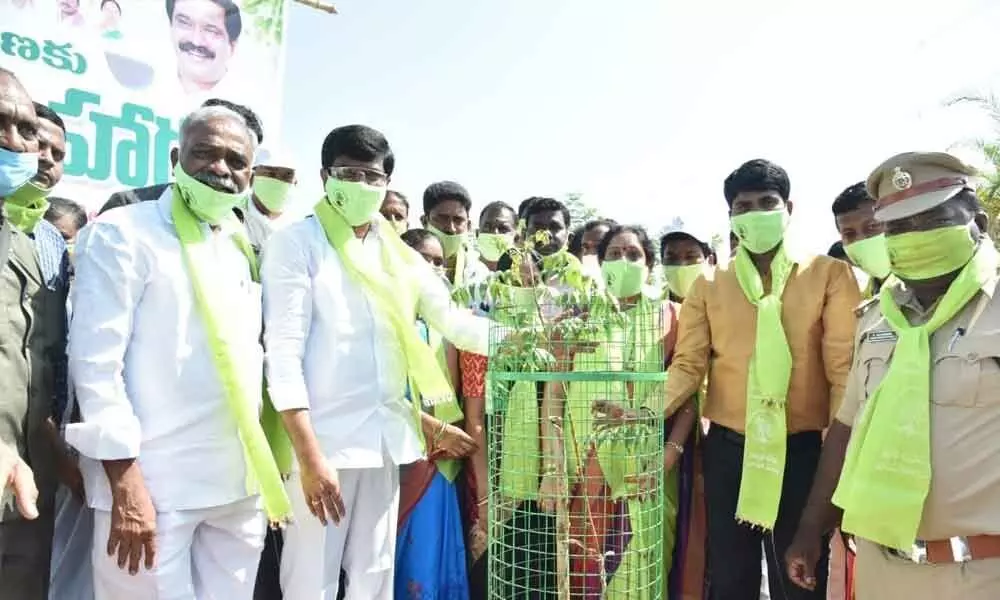 Highlights
Ministers, MLAs, people's representatives and locals all have enthusiastically participated in the sixth phase of Haritha Haram programme across the district, that was launched on Thursday
Nizamabad: Ministers, MLAs, people's representatives and locals all have enthusiastically participated in the sixth phase of Haritha Haram programme across the district, that was launched on Thursday.
Keeping the fears of coronavirus threat aside, everyone came out to plant saplings.
R&B and Legislative Affairs Minister Vemula Prashanth Reddy planted saplings in the premises of the new Collector office at Kamareddy district headquarters.
Government Whip Gampa Govardhan, MP BB Patil, ZP Chairman Shobha, Yellareddy MLA Jajala Surender, Jukkal MLA Hanmanth Shinde, Panchayati Raj Rural Development Department Chief Secretary Sandeep Kumar Sultaniya, NDCCB Chairman Pocharam Bhaskar Reddy, District Collector Dr A Sharath SP Swetha Reddy also planted saplings on the occasion.
District Collector C Narayana Reddy and Armor MLA Jevan Reddy called upon the people to voluntarily dedicate themselves to the protection of the environment. They planted saplings in Manmadipally village on Nizamabad-Armoor Highway.
Nizamabad DCCB Presidents Pocharam Bhaskar Reddy inaugurated Jarig aharam at Rampur Thanda in Banswada mandal and avenue plantation in Banswada town.
Saplings were planted under the leadership of Bhaskar in Dalamal Gutta forest area, at mini stadium. RDO Gopiram planted saplings in the school premises in Edapalli mandal.