Rangareddy : RGIA wins CII-Green Power Performance Excellence Award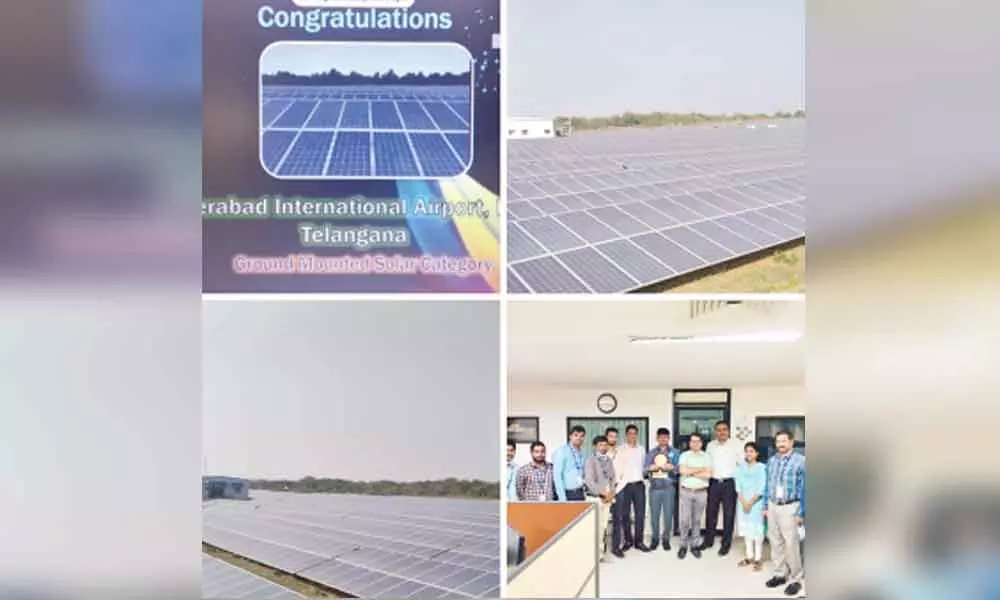 Highlights
The award comes as a recognition for the excellent initiatives taken by GHIAL in generating the solar energy in its 5 MW solar plant
Rangareddy : GMR-led Hyderabad International Airport Limited (GHIAL) has won the prestigious CII-Green Power Performance Excellence Awards-2020 in the "Ground Mounted Solar" category. The award was virtually presented during an event organised by the Renewable Energy (RE), Council of Confederation of Indian Industry (CII) and Godrej Green Business Centre (GBC). The award came as recognition for the excellent initiatives taken by GHIAL in generating the solar energy in its 5 MW solar plant. Senior Officials from GHIAL virtually received the awards on December 4 in the presence of industry dignitaries and participants.
The jury evaluated the participants on several parameters like solar plant efficiency, innovative thought process adopted.
GHIAL CEO Pradeep Kumar said, "The award is a testimony to GHIAL's commitment towards renewable energy and environmental sustainability.
This recognition reaffirms our commitment towards Green Energy. Reduce, Reuse and Recycle are the mantras of GHIAL when it comes to the conservation of natural resources. As a responsible organisation committed towards this goal, we will continue our continuous improvements in the field of green energy and in reducing the Greenhouse Gases (GHG)."
GHIAL has been at the forefront in adopting energy efficiency practices which have hitherto been recognised on various industry platforms. Over the last three years, the operations at GHIAL have led to a substantial energy saving owing to its consistent and sustainable approach towards energy efficiency measures. This has also led to a rapid dip in the GHG emissions at the airport.