Secunderabad: Victim turns crusader against child abuse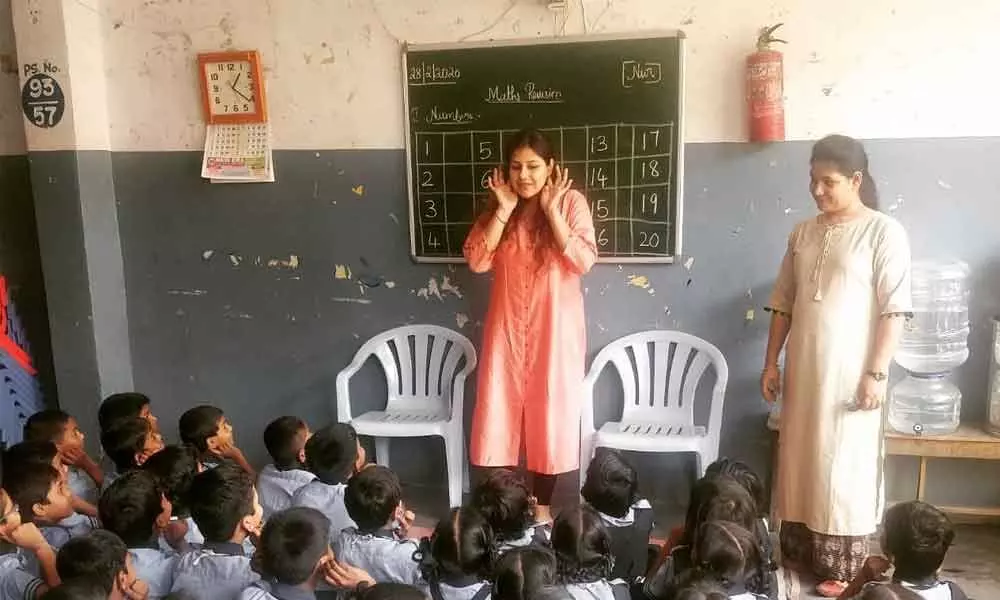 Highlights
Secunderabad: 'Childhood should be safe' is what a 30-year-old believes in, and has taken an initiative to educate children, parents and teachers about...
Secunderabad: 'Childhood should be safe' is what a 30-year-old believes in, and has taken an initiative to educate children, parents and teachers about the difference between good touch and bad touch.

Meet Chhavi Dawar, a 30-year-old and a resident of Habsiguda, who started an initiative named 'Break the silence' in 2017 and has since been conducting sessions at schools across Hyderabad and Secunderabad. Till date, she has organised more than 150 sessions and made more than 30,000 children aware of so sensitive issue to keep child abusers at bay.
Why has she hit upon this idea? Dawar was a victim of child sexual abuse herself, when she was just 6 years old. She was too young to understand what she went through, until she was attended a session on 'sex education' in Class 10.
Speaking to THI, Dawar, who is currently a computational biologist pursuing her PhD from Centre for Cellular and Molecular Biology in the city, said, "I was just six years old when I suffered sexual abuse at the hands of my family's domestic help, who threatened me to hurt my younger brother if I complained about it. I was going through anger issues, emotional dysfunction, anxiety attacks and thoughts of committing suicide." Yet, she gathered courage and persisted and left it all behind.
Chhavi chose to be a personal safety educator. She underwent an online course with TULIR, a Chennai-based non-profit working on the prevention and healing of child sexual abuse in India. TULIR also helped her design a teaching module. Now, she holds extensive sessions for parents and teachers, based on a standard Powerpoint presentation prepared by TULIR-Chennai. It explains child sexual abuse and what parents or teachers can do about it and the law (POCSO Act) itself. So far, she has trained around 2,000 parents and teachers.
She adds, "As a personal safety educator, I am invited by schools in and around Secunderabad and Hyderabad. In fact, any school that wants these lessons taught contacts me or the 'Break the Silence' team. Then we go and conduct age-appropriate sessions. If someone attends two or three sessions, they will be able to have a good talk with the children, provided they're good with children."
"Any touch that makes them feel sad, uncomfortable, confused or makes them feel that it is their fault is an unsafe touch, I explain. Therefore, they must shout 'No' and complain to their trusted adults. In the end, we deal with the question of secrets. This is because there is a whole process of grooming that the perpetrator uses like 'we have to keep this secret otherwise I will do certain things' which essentially involves blackmail," argues Chhavi.
With the help of a program named 'Train the Trainers' she educates educate parents and teachers who want to learn about personal safety and how to talk to children about it.
Sign the Petition
During one of her sessions, a 10-year-old boy asked her an unexpected question
"He asked me, 'Didi whom should I go to if I can't go to my parents?' After a proper investigation, it was found that his father had been abusing him for two and a half years. That's when I issued a petition seeking CBSE to direct all schools under its affiliation to have mandatory training for students to fight sexual abuse," Chhavi Dawar says. The petition has garnered over 70,000 signatures.
To sign the petition in Hindi one can click on change.org/chuppitodo and in English change.org/breakthesilence.
"There is a need to teach kids to break the silence. The role of teachers and parents is crucial,"