Two cars reduced to ashes after collision on National Highway 66 in Suryapet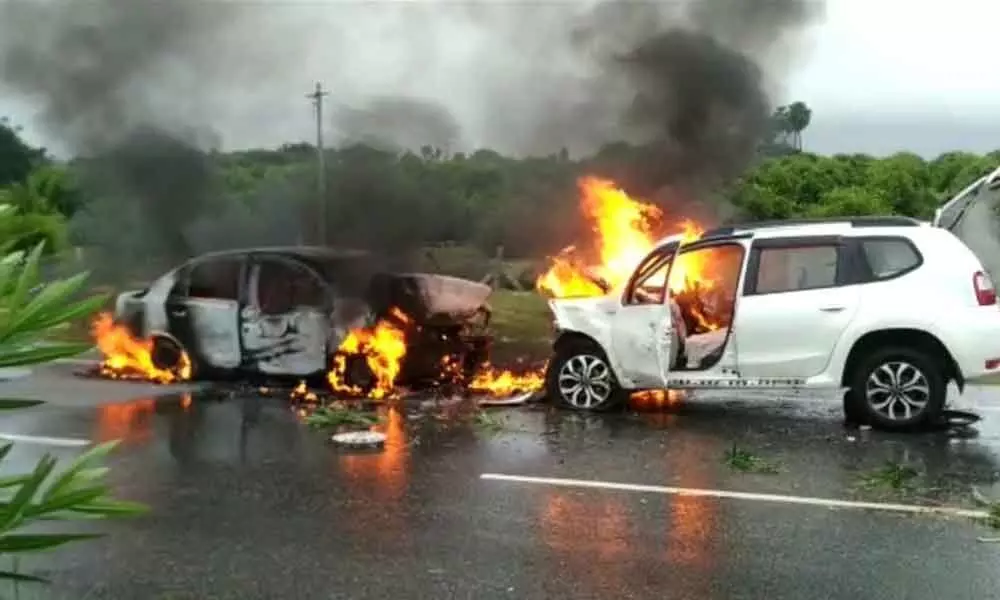 Highlights
Fortunately, four passengers travelling in the cars escape with minor injuries
Munagala (Suryapet): It was a close shave for four persons who escaped with minor injuries when the cars they were travelling in caught fire after colliding with each other on national highway-65 on the outskirts of Madavaram village of Munagala mandal in the district on Tuesday.

According to sources, a speedy car heading towards Vijayawada from Hyderabad had lost control and hit another car heading towards Hyderabad from Kodad by jumping over the median. Soon, fire erupted due to the impact and both cars were caught in flames.
All the four persons travelling in two cars came out of their respective cars with minor injuries before the fire engulfed the cars completely.
Meanwhile, eyewitnesses informed that the driver of Vijayawada-bound car was driving at a very high speed and was responsible for the accident.
After receiving information, the local police rushed to the spot. However, both the cars were reduced to ashes before the fire engines arrived at the accident spot.
Based on the complaint of Narender, owner of Hyderabad-bound car, Munagala SI Satyanarayana Goud registered a case and took up the investigation.