Amaravati: Farmers getting no govt relief, says Lokesh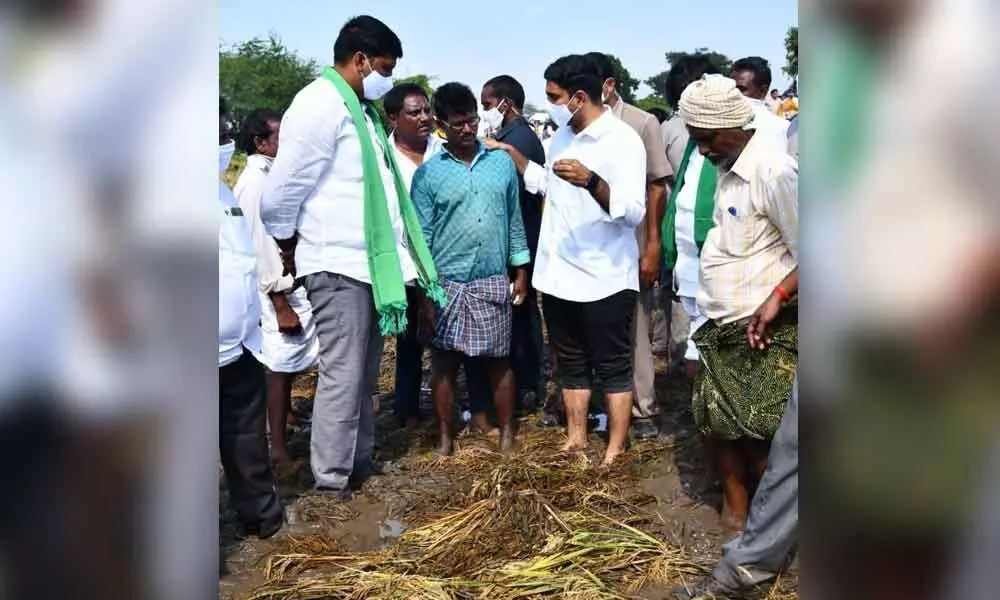 Highlights
TDP general secretary Nara Lokesh who visited a few Cyclone Nivar-affected villages Guntur district on Saturday, said that the farmers have complained of getting no relief from the state government
Amaravati: TDP general secretary Nara Lokesh who visited a few Cyclone Nivar-affected villages Guntur district on Saturday, said that the farmers have complained of getting no relief from the state government.
"Farmers have complained that they did not receive compensation for the losses suffered earlier as well," said Lokesh.
He said that farmers told him that failing to register on e-crop is depriving them of government relief. "Every farmer who lost his crop must receive compensation," said Lokesh.
The TDP leader visited Pacchala Tadiparru village in Ponnuru and Bapatla constituencies of Guntur district.
Walking barefoot on the road and in paddy fields, accompanied by farmers, Lokesh said that crops ready for harvesting have been completely destroyed due to the recent very severe cyclonic storm Nivar.
He examined a few paddy sheaves which had rotted after being submerged in the rainwater. Opposition parties are upping the ante against the YSRCP government in the aftermath of Nivar, which wreaked havoc with the standing crops in the state.