Amaravati: TDP takes out rally over pending NREGS bills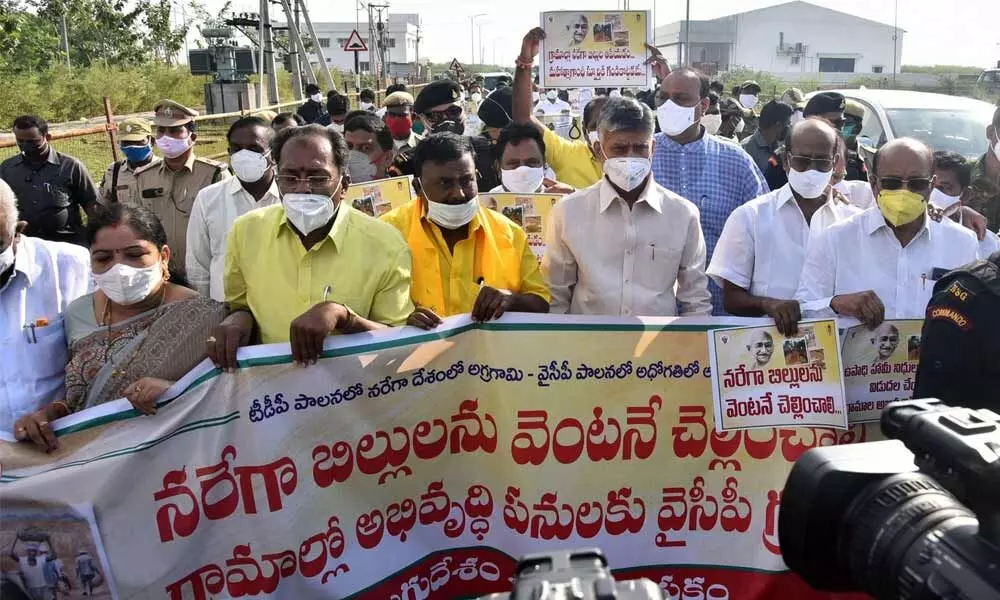 Highlights
Allege that the govt kept bills pending for 18 months out of political vendetta
Rs 2,600 cr swallowed for painting but pending bills not being paid
Say that no works have been taken up in villages since the YSRCP came to power
Amaravati: TDP MLAs and MLCs led by Leader of Opposition and former chief minister N Chandrababu Naidu on Friday took out a rally up to the Assembly premises, demanding payment of pending NREGS (National Rural Employment Guarantee Scheme) dues for the works completed in rural areas all over the state.
Later, they staged a walkout from the Assembly highlighting the failure of the government in payment of NREGS bills.
The TDP leaders criticised that the YSRCP government was deliberately avoiding payment of the bills despite the orders from the Central government and the courts. The rally was taken out from Maruti Showroom to the Assembly premises.
Besides Naidu, TDLP deputy leader K Atchannaidu, national general secretary and MLC Nara Lokesh, MLAs Anagani Satya Prasad, Yeluri Sambasiva Rao and others participated.
Holding placards and raising slogans, the TDP legislators said that the bills were not being paid out of political vengeance. Moreover, the YSRCP regime was also not taking up any works under the NREGS in the villages for the last 18 months. But, the ruling party leaders were claiming payments by submitting fake and bogus bills on works that were never taken up. Very strangely, bills for completed works were not being paid while those for non-existing works were being paid.
The TDP leaders asked how long the government would go on defying the orders of even the High Court. The state was being taken for granted by the ruling party leaders just because the people gave one chance for them very innocently and out of trust in their promises. But, after coming to power, the Chief Minister started committing breach of trust in each and every other promise and programme, they alleged.