Arjitha Seva Tickets : No fraud possible through electronic dip: TTD EO Anil Kumar Singhal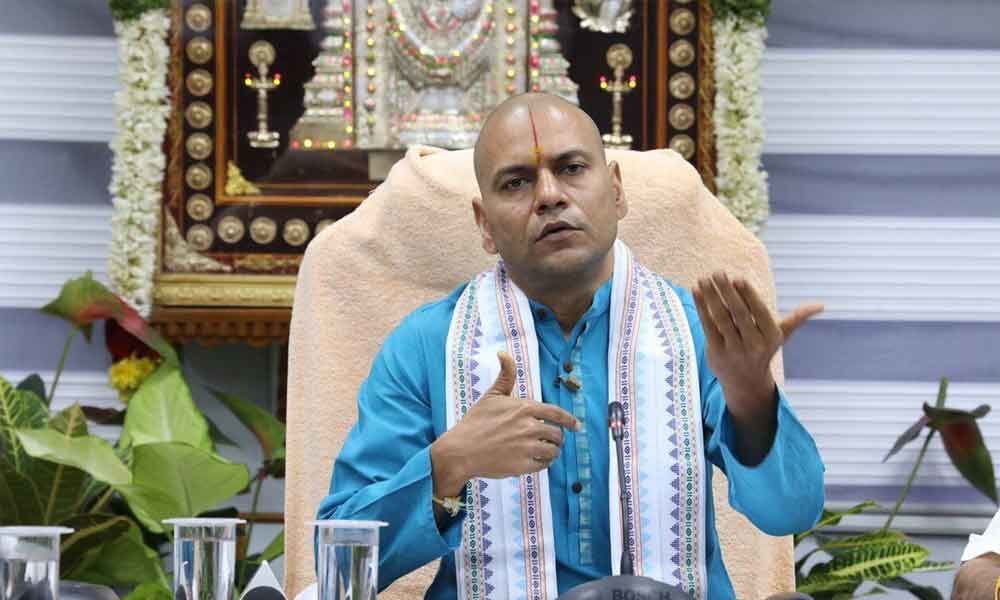 Highlights
Will look into possibility of allotting rooms for pedestrian pilgrims: Anil Kumar
Says efforts on to improve security at PACs
Tirumala: The electronic dip application designed by the TTD is robust and transparent, affirmed TTD EO Anil Kumar Singhal.
During the monthly 'Dial Your EO' programme held at Annamayya Bhavan in Tirumala on Friday, the EO attended to the calls from pilgrims totalling to 28, on various issues pertaining to darshan, accommodation and other facilities being provided by TTD for devotees.
Answering pilgrim callers Badrinarayana from Bellary, Rajasekhar from Mumbai, Praveen from Puttaparthi and Prasad from Dharmavaram, who informed that despite repeated attempts they were unable to get Arjitha seva tickets allotted through online EO clarified them due to limited number of tickets, they were not getting the tickets which is allotted through electronic dip system.
"The electronic dip application is designed in such a way that it is a robust and transparent giving no scope for any malpractice. Once a devotee books some seva ticket, it will not allow him or her to book for the next six months.
More than one lakh devotees register online for Arjitha seva tickets against which about five thousand tickets only available for allotment every month, leaving those who have not availed the tickets making repeated attempts", he said. Singhal mentioned it is not feasible for TTD to provide Arjitha seva tickets in Information Centres spread across the country.
Callers Murugesan from Kallakurchi and Naresh from Dharmavaram sought EO to arrange the facility of allotting rooms for the pedestrian pilgrims (climbing the hills through footpath) in Tirupati itself as it will be difficult for them to again wait for long hours in the queue for room allotment at Central Reception Office for accommodation in Tirumala after walking up the hill on foot. Answering the callers, the EO said he will look into the
possibility.
Many pilgrims including Surya Kumar from Bengaluru, Murugan from Kumbakonam complained about lack of proper regulation for orderly movement of pilgrims at several points in the queue line and also while letting out the pilgrims waiting in the compartments in Vaikuntam complex for darshan, resulting in jostling casing lot of difficulties particularly to aged, women and children, EO admitted that they are aware of the jostling at several points and the concerned officers are working out to find solution to avoid jostling.
Obulesu from Bangarupeta of Karnataka sought EO to enhance vigilance in Srinivasam Rest House at Tirupati as many thefts are taking place to which the EO said efforts are on to improve security set up in all Pilgrim Amenities Complexes (PACs), down the hills.
A Muslim devotee Sharifun from Ongole asked EO to provide accommodation facility to the devotees, who come from other faiths also with lot of devotion towards Lord Venkateswara.
Answering the caller, the EO said that the TTD will take the declaration from the pilgrims of other faiths and provide darshan. "We will think on accommodation as this is the first case we have ever received", he said.
A devotee complained against the hotels collecting abnormal prices in Tirumala though the displayed rates in the board are different.
Krishnaiah from Nellore sought EO to ensure that the Kankanams and Prasadams reach all the devotees, who take part in Vara Lakshmi Vratam at Tiruchanur to which the EO said the suggestion is well taken.
Tirumala Special Officer AV Dharma Reddy, Tirupati JEO P Basant Kumar, CVSO Gopinath Jatti, In-charge CE Ramachandra Reddy and other senior officers were also present.