Cyclone Nivar shatters aqua sector in Nellore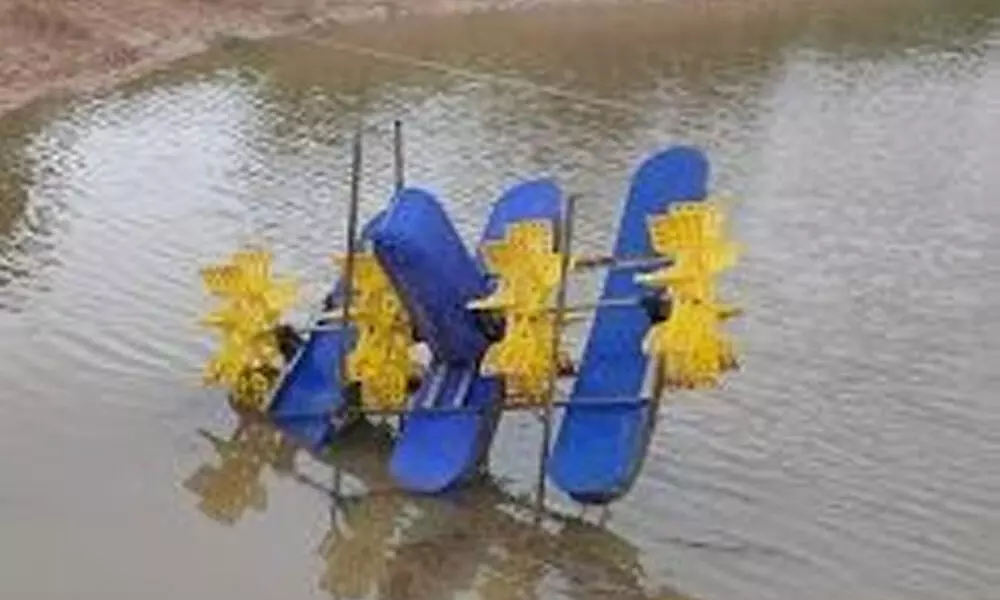 Highlights
Disruption to oxygen supply due to power disruption seriously impacted the shrimp produce
Aqua ponds in 5,000 acres have been damaged by heavy rains and strong gales
Nellore: Aqua farmers incurred severe losses due to the Cyclone Nivar in the district with ponds in more than 5,000 acre completely damaged. Aerators, ponds suffered huge damage because of heavy rains and strong gales. Fisheries officials estimated that the loss is around Rs 34 crore in the entire coastal mandals in the district while in Vidavalur mandal alone, aqua ponds in 1,500 acre were lost.
Aquaculture is an important source of revenue in the district. Aquaculture normally depends on electricity where aerators are used for supplying oxygen to shrimps. As this supply system has been disrupted, shrimps were severely affected with the spread of diseases. Strong winds due to cyclone interrupted power supply in rural areas affecting the crop.
Coastal mandals in the district received high amount of rainfall on November 26 and 27 under the influence of cyclone. Farmers are cultivating aqua in Kota, Vakadu, Chittamur, and Chillakkur in Gudur division, Manubolu, Venkatachalam, Muthukur, TP Gudur, Indukurpeta, Kovur, Kodavalur, and Vidavalur in Nellore division, Allur, Bogole, and Kavali in Kavali division. Most of the ponds were in the harvesting stage in Indukurupeta, Kavali, Kovur and also in Vidavaluru, Bogole Mandals and received severe impact due to the torrential rains.
A farmer P Ramanaiah from Indukurupet said that shrimp culture requires aerators for life support and healthy growth of shrimps, but they were washed away in floodwater. "Normally, ponds need around 5-6 hours of power supply a day for running the aerators. But there was no power supply for more than two days in many coastal mandals due to the strong winds. The shrimp which rely on aerators were seriously affected at the time of the harvesting stage," he said.
Around 55,000 farmers are eking out their livelihood through aquaculture on around 1.05 lakh acre in the district. The cost of cultivation has also increased up to Rs 4.70 –5 lakh per hectare. Farmers in the district had produced 3.69 lakh tonne shrimp during 2017-18, while it was 4.13 lakh tonne in 2019-20. The production had increased by 30 per cent in the district. District earns around Rs 16,000 crore every year on aquaculture. Officials have started enumeration of the in the district. It may be recalled that they have been facing hardships due to import restrictions in many countries owing to Covid for some 7-8 months and the recent cyclone added to their woes.