Elaborate arrangements made for Vontimitta Brahmotsavams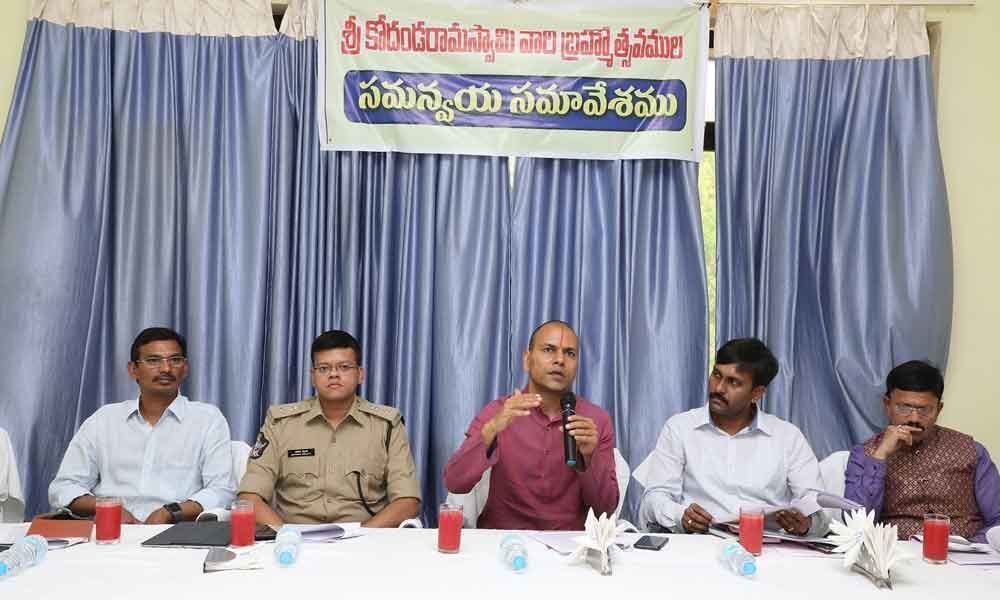 Highlights
1 lakh devotees anticipated for Sri Sitarama Kalyanam on April 18: TTD EO
RTC to run 150 additional buses from Kadapa and Nandaluru for devotees to witness the celestial wedding
Vontimitta (Kadapa): TTD has made elaborate arrangements for the ensuing annual Brahmotsavams of Sri Kodandarama Swamy temple at Vontimitta in Kadapa district.

TTD Executive Officer (EO) Anil Kumar Singhal on Wednesday held a meeting along with District Collector Harikiran and SP Abhishek Mohanty and other district and TTD officials to review the arrangements being made for the upcoming religious event in Vontimitta on Wednesday evening.
Speaking to the media after the review meeting, the EO said, under the instructions of the State government, Sri Kodandaramalayam in Vontimitta has been developed on the lines of Bhadrachalam of Telangana State. "The Sitarama Kalyanam is being observed as a State festival," he said informing that additional arrangements would be made for Kalyanam event expecting huge rush of devotees. The EO said, the annual mega religious fete commences with Dhwajarohanam on April 13 and concludes on April 21 with Dhwajavarohanam. The Ankurarpanam for the fete will be observed on the evening of April 12 while Pushpayagam on April 22. On April 18, the most important fete, Sri Sitarama Kalyanam will be celebrated to which nearly one lakh devotees are being anticipated, the EO added.
Anil Kumar said the arrangements to devotees include darshanam, annaprasadam and water distribution. "On the day of celestial wedding, additional arrangements have been mulled in co-ordination with district administration," he maintained.
Following the past experience, this year, the TTD is constructing permanent structures at Kalyana Vedika. The German sheds will be erected while some other works will be completed by next week. About 160 toilets are also
constructed. A few more spots where the devotees turnout will be identified and toilets are also constructed in those places to ensure proper sanitation.
With regard to transport facility, the TTD official said RTC will operate 150 additional buses from Kadapa and Nandaluru from morning till late night hours for the convenience of devotees, who desire to witness the celestial wedding of Lord Rama and Sita. "Food is being planned to nearly two lakh devotees on this special day of Kalyanam apart from regular annaprasadam distribution during Brahmotsavams. Prasadam counters will be erected on both sides of Kalyana Vedika," he explained.
On the day of Kalyanam, six lakh water packets and two lakh buttermilk packets will also be kept ready for distribution among devotees. He further said over 1,000 sevakulu (volunteers) will be deployed for the service on the day of Kalyanam. He mentioned that they will assist the TTD Vigilance and Security personnel and district police in manning the devotees and ensuring smooth conduct of the mega religious event.
The TTD medical staff will be available round-the-clock duty from April 12 to 22. Additional ambulances and doctor teams will also be functioning all these days. The religious and Melam staff, Vahanam bearers, cultural troupes will be deployed under the
supervision of TTD JEO
B Lakshmikantham.
Every day, there will be devotional cultural programmes to enthral the devotees. TTD CE Chandrasekhar Reddy, Joint Collector Koteswara Rao, RDO Naganna and other TTD officers and district officials were also present.