Encroachments cleared in govt land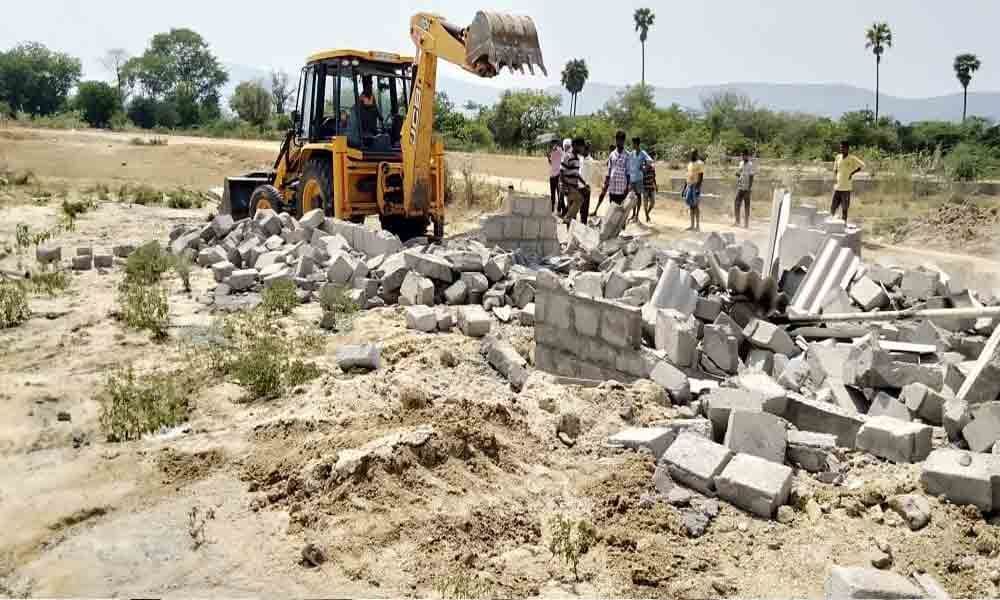 Highlights
Encroached land is costly as it is near Tirupati city Sub-Collector warns of taking criminal action against encroachers
Tirupati: The revenue authorities on Wednesday removed the encroachments in the government land in Yerramareddypalem in Renigunta mandal, near here.

In a pre-planned move, Renigunta Tahasildar Madhav Krishna Reddy along with revenue inspector, VRO and staff descended on the land in the morning and saw all the 28 structures mostly shed and some semi-permanent put up on the 1.28 acre land bearing Survey No 560/1 classified as Vagu poramboku in the village.
The revenue staff first faced resistance from the encroachers. They were evicted by the police paving the way for the complete demolition of the structures. The land in the village is very valuable as it is near the fast growing Tirupati city, just 6 km away resulting in many attempts to grab the government land.
In November and December also attempts were made to illegally occupy the land by erecting sheds but were removed later by revenue authorities. In fact, the sheds were constructed on the government land in the village in March before the elections but the revenue authorities remained silent due to the pressure from the leaders of various political parties, who feared that any action against the encroachers adversely affects them.
As the elections were over, the authorities in a determined move cleared the encroachments today. Tirupati Sub-Collector R Mahesh Kumar said that the encroachers were identified and asserted that the government will not hesitate to take criminal action if they again attempt to encroach the government land. Meanwhile, aggrieved resorted to dharna on Tirupati-Renigunta road but prompt intervention by the police, who using mild force saw the protestors were forcible taken away, avoiding disruption of traffic on the busy road. However, many blame the government for the spurt in the incidents of encroachment of government lands in Renigunta mandal.
Most of the government lands were earmarked for industrial purposes give no scope for distribution of house sites to the poor in the mandal including Renigunta town which is a major railway junction resulting in its population booming year by year. The eligible poor are waiting for allotment of house sites for the last 8 years in the town alone is 1,600.
Though the revenue authorities completed all the formality, the house sites were not allotted causing frustration among the homeless poor resorting to illegal occupation of government lands in the villages near the town in vain as the government which is directly requiring them for industrial purpose is in no mood to allow any encroachment.