Guntur: Call to make November 26, 27 nationwide bandh a success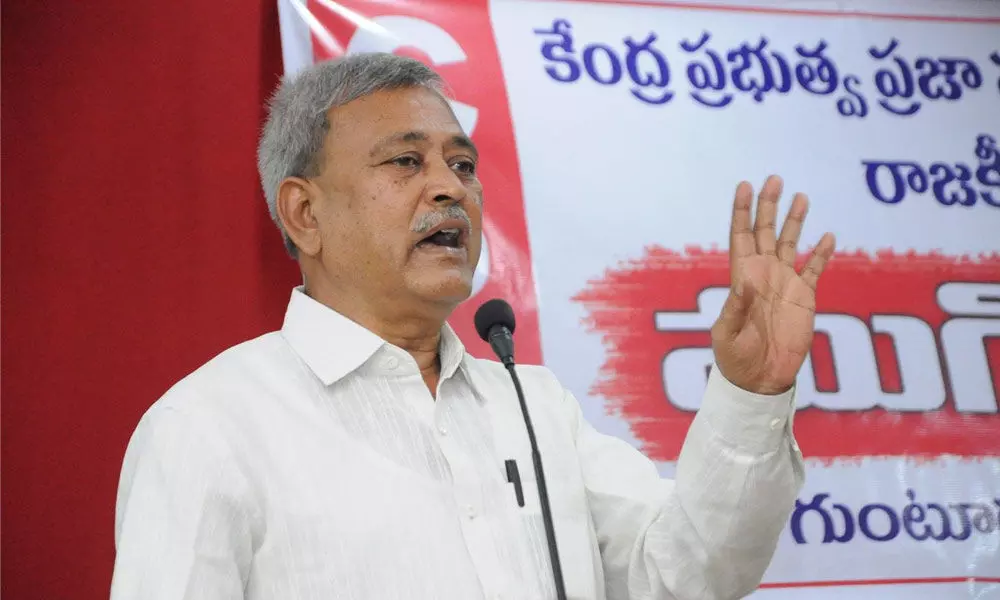 Highlights
CPM leader MA Gafoor opposes the Centre's move of privatising the public sector
MLC KS Lakshmana Rao says after BJP coming to power at the Centre, attacks on Dalits increased
Guntur: CPM Central Committee member MA Gafoor urged the people to make proposed nationwide bandh on November 26 and 27 a success.
Addressed a meeting held at CPM district office here on Sunday on completion of Rajakiya Prachara Yatra, he criticised that the BJP government at the Centre has failed to extend helping hand to the employees and workers who lost their jobs due to lockdown caused by Covid-19.
He opposed the move of the Centre to hand over Public Sector companies to the corporates at cheaper prices and added that the Centre began an exercise to sell LIC, GIC, Railways, Telecom and Postal services to the corporate companies. He opposed the three farm Acts passed by the Centre and added that these laws will not benefit farmers.
MLC KS Lakshmana Rao criticised that after BJP government came to power at the Centre, attacks were on rise on Dalits and recalled that the Centre has failed to fulfil promises made at the time bifurcation of state. He recalled that the Centre did not give Special Category Status to Andhra Pradesh and not releasing funds for the development of backward districts. He urged the TDP to fight against the Centre to protect interests of the state.
CPM district east secretary Pasam Rama Rao demanded the government to extend financial assistance of Rs 10,000 to those who lost employment due to floods and withdraw decision to set up meters to agriculture pump sets. CPM leaders Y Netaji, M Ravi, Kakamanu Nageswara Rao were among those participated.