Holistic development of the poor motto of Andhra Pradesh government: Collector Pola Bhaskara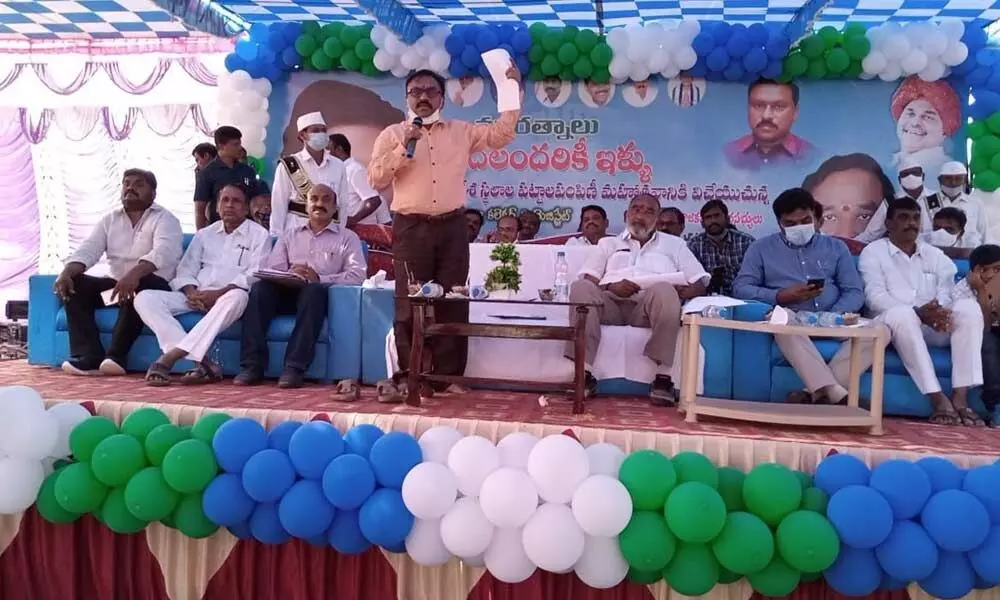 Highlights
The state government is working with a motto of holistic development of the poor people announced the district collector, Dr Pola Bhaskara
Giddalur: The state government is working with a motto of holistic development of the poor people announced the district collector, Dr Pola Bhaskara. He, along with the Giddalur MLA Anna Rambabu distributed the housing sites to the beneficiaries at Kandulapuram village in Cumbum mandal on Sunday.
Bhaskara announced that the government is distributing housing sites to 30.75 lakh people in the state and 1.33 lakh in the district. He said that they have collected 3,500 acres of land in the district to distribute as housing plots. He said that they have acquired 850 acres under land acquisition with Rs 150 crores. He said that the largest distribution of land as housing plots will remain in history forever.
The collector said that the government was trying to increase the income sources through various welfare schemes in the state. He said that the government brought revolutionary changes in the agriculture field. The farmers were being provided financial assistance under the YSR Rythu Bharosa programme, along with the minimum support price for their produce. The mothers of the students were being given Rs 15,000 per year to see their children continue education, established YSR Health Clinics to provide health services to the poor. He said that the DWCRA loans of women by April 1, 2019, were being cleared in four phases, Rs 75,000 financial assistance was being provided to SC, ST and BC women of age 40 years and above, Rs 10,000 to street vendor women under Jagananna Chedodu scheme, etc.
Giddalur MLA Anna Rambabu said that the Chief Minister was taking all steps to fulfil promises made in the manifesto. He said that about 12,000 poor people will receive housing plots in the constituency and advised the beneficiaries to construct houses with Rs 1.80 lakh from the government. He appreciated the collector for his efforts in completing the first tunnel of the Veligonda project and distributing the R&R package to the oustees.
The joint collector JV Murali, RDO M Seshireddy, tahsildar Ram Mohan, local YSRCP leaders, and others also participated in the programme.