Hoteliers fleece devotees in Tirumala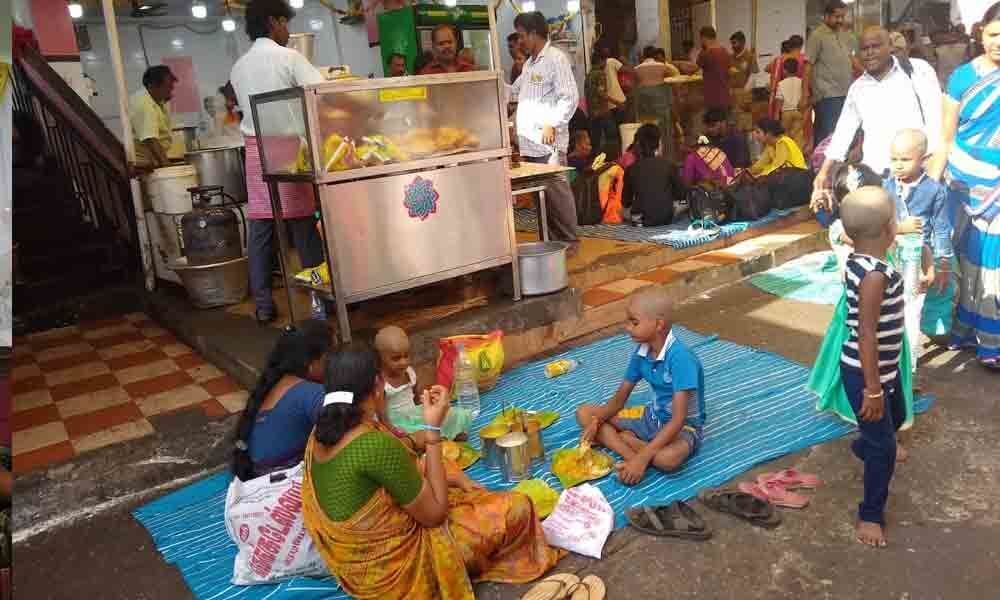 Highlights
As per HC order, the TTD officials must monitor prices of hotels periodically.Hotels selling a plate meal for Rs 180 when the same is being sold for Rs 70 in normal days.
Tirupati: Taking advantage of summer rush, several hotels at the abode of Lord Venkateswara in Tirumala have hiked prices of water bottles, beverages and food items. They are blatantly violating the rules by selling excess than MRP.

Devotees turn out was heavy in the last three weeks as elections were completed in Telugu states and announcement of Intermediate and SSC results.
Lakhs of devotees are offering prayers at Tirumala for the last few days as per the TTD official information. Despite, the TTD officials have been continuously supplying the free food and beverages to pilgrims at queue lines, pavements and other crowded places, hotels are selling a litre bottle of water for Rs 30 when
actual cost is Rs 20. Similarly, vendors are collecting an excess of Rs 10 on purchase of juice and glucose packets whena the MRP is Rs 10 each.
When it comes to meals, hoteliers are taking devotees for a ride by collecting Rs 180 for plate meal when the same is being sold for Rs 70 in normal days. The same is with tiffins too.
The High Court directed the TTD authorities to monitor the prices of eatables and packaged bottles and soft drinks sold by hotels in Tirumala periodically. The HC further said that the TTD should insist hoteliers to display the actual tariff board of the food items and other eatables.
Unfortunately, no hotel is displaying the price list. Speaking to The Hans India, A
Dinakaran from Chennai stated that he had purchased a litre water bottle for Rs 30 and paid Rs 50 for four idlees. "Because of heavy rush, they are collecting prices as per their choice,"
he stated.