Kakinada: Fishermen hunt for gold in cyclonic waves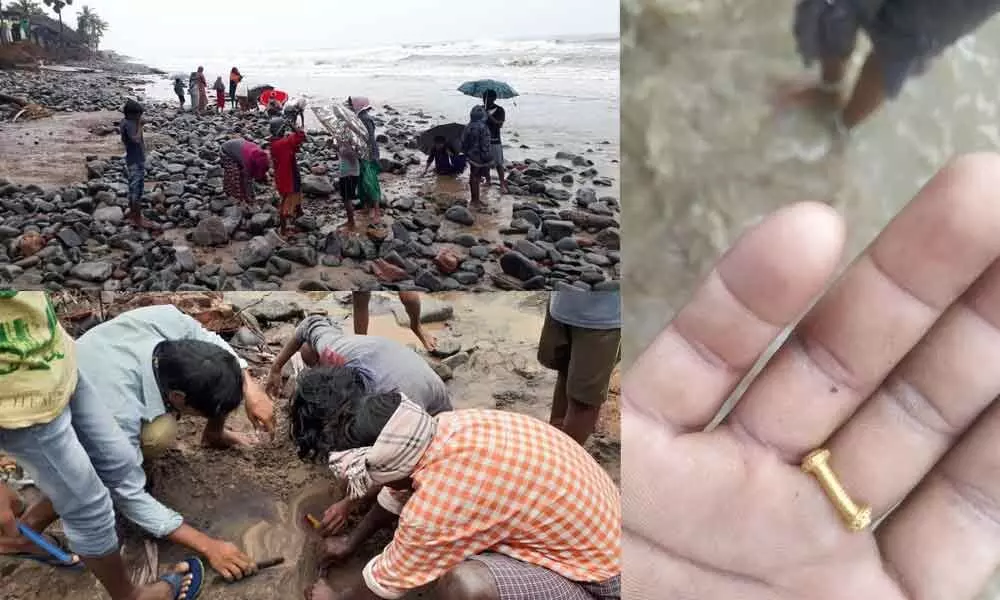 Highlights
When the East Godavari Administration is on high alert over the `Nivar' Cyclone'', the residents ran for cover to protect themselves from rains and gale, the fishermen in Uppada, on the other hand, rushed to the sea for hunting gold
Kakinada: When the East Godavari Administration is on high alert over the `Nivar' Cyclone'', the residents ran for cover to protect themselves from rains and gale, the fishermen in Uppada, on the other hand, rushed to the sea for hunting gold.
There are rumours going around that the gold is washing ashore. Some of the fishermen families along with their children are hunting for the gold. In the wake of Nivar cyclone the fishermen have suspended their activity of going to the sea for hunting and surprisingly many of them have resorted to searching for gold pieces near the village of Suradapet mandal and Konapapapet village of U. Kothapplli mandal, East Godavari district.
Actually it is informed that after every cyclone some of them search for gold pieces as the tidal waves wash them on to the shore. According to the source, whenever they find gold pieces they secretly take them away and sell them in the market.
In order to catch hold of pieces of gold they carry with them sieves in order to secure the small pieces of gold. Children and adults belonging to the fisher community come to the sea shore at 6 am and strive hard for the gold pieces till sunset. Everybody keeps it as a secret and not revealing it if they get it.
Despite heavy and blasting wind, they are not bothering about the cold weather and frantically search for the small pieces of gold One fisherman at U. Kothapalli Mandal said that 40 years ago there were temples and buildings near the seashore and in due course of time owing to the tidal waves they were submerged in the waters.
Most probably gold pieces hidden in the houses as well as in the temples are now surfacing with the advent of cyclonic tidal waves. Despite the awareness of the availability of gold pieces during the post cyclonic period, the officials are quite apathetic and showing little interest regarding the gold pieces.
It is also the practice of swimmers as well as fishermen to search for logs of wood as well as pressure metals during the Godavari floods particularly in Rajamahendravaram , Kovvur (West Godavari) and other places. He confided that nobody is revealing about the availability of gold pieces because officers may threaten them and knock away the pieces of gold.
When "The Hans India" contacted the Tahasildar L Siva Kumar regarding the issue , he said that in view of lack opportunity for hunting during cyclonic period it is common that fishermen find it an alternative to search for the valuable things hoping that the tidal waves would bring pieces of gold or other precious materials.
He said that he heard some of them securing coloured stones during the post cyclone period. He instructed the officials of the Police department and Archeology department to monitor their activities.