Kanna Lakshminarayana demands resignation of YS Jagan Mohan Reddy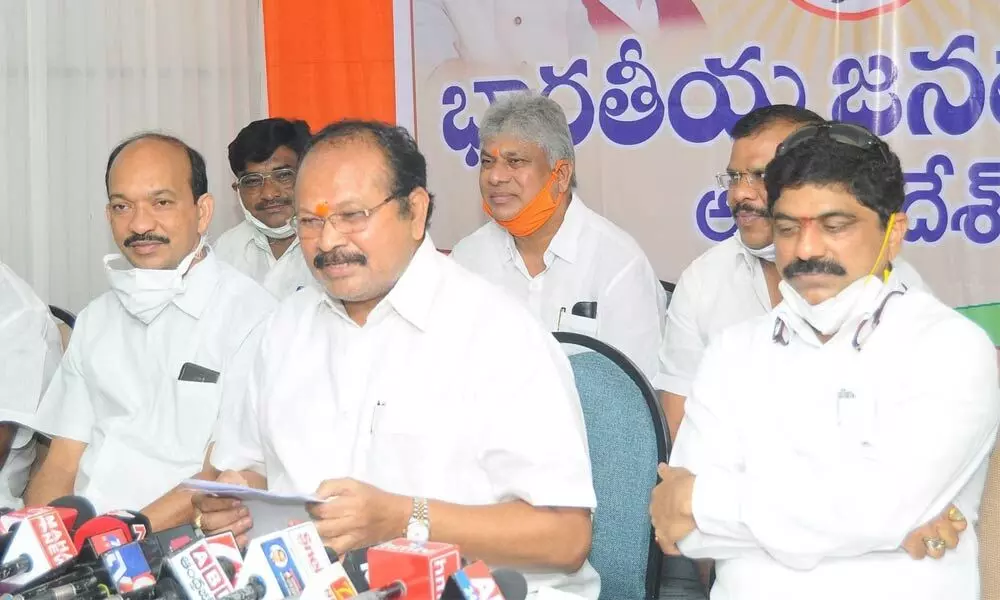 Highlights
The BJP state chief alleges that the YSRCP govt has failed on all fronts
Alleges that 'reverse tendering' in Polavaram project is a ruse to award contracts to ruling party supporter
Vijayawada: BJP state president Kanna Lakshminarayana demanded that Chief Minister YS Jagan Mohan Reddy resign immediately as he had no right to continue in office for failing on all fronts.

Addressing the media at a hotel here on the occasion of completion of one year of the YSRCP government, Lakshminarayana said the one-year rule was marred by corruption, inexperience, inefficiency, undemocratic policies, reverse tendering and vindictive politics. "Jagan grossly neglected the Polavaram irrigation project, the lifeline of Andhra Pradesh. He opted for 'reverse tending' with the ulterior motive of giving contract works to his cronies. People had chosen N Chandrababu Naidu in 2014 because of his vast experience in politics. But he had failed to rule the state and claimed the Central government schemes as his own. He also failed to complete Polavaram project as well as in constructing the capital Amaravati in his five-year rule," he said.
The state BJP chief said Jagan was showing his true colours since the day he came to power and had failed to prove the allegations of rampant corruption in Polavaram project during the TDP rule.
He alleged that the YSRCP government has neglected all irrigation projects and not completed even one project in the state. He said Jagan also failed to supply sand for many months leading to construction activity coming to a grinding halt severely affecting 50 lakh workers.
He alleged the state government is harassing the people and the government employees for questioning the failures of the state government.
He said prices of cement, iron, sand, essential commodities increased in the state since the YSRCP came to power and the government had burdened the people with taxes and RTC bus fares. He said a truck-load of sand is sold at Rs 40,000 in the state.. He pointed out that High Court had found fault with the policies of the government in many cases which stands as a proof of the government's failures.
BJP leaders T Naga Bhushanam, Paturi Nagabhushanam, Adapa Siva Nagendra and others present in the press meet.
Subscribed Failed...
Subscribed Successfully...