KMC chief embarks on mission of making Kakinada really smart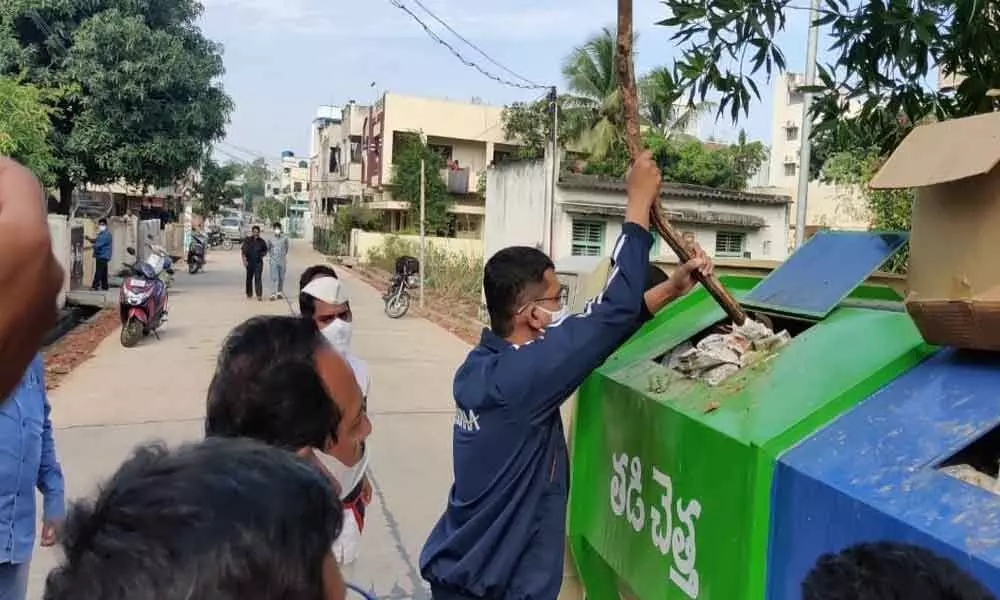 Highlights
Kakinada Municipal Corporation (KMC) Commissioner Swapnil Dinakar Pundkar has embark on the mission to make the Samart City really smart by paying attention to the sanitation and getting rid of garbage menace
Kakinada: Kakinada Municipal Corporation (KMC) Commissioner Swapnil Dinakar Pundkar has embark on the mission to make the Samart City really smart by paying attention to the sanitation and getting rid of garbage menace.
He visits wards and creates awareness among the people regarding cleanliness and keeping the surroundings tidy and hygienic. As people continue to dump garbage indiscriminately, the KMC officials are mooting to impose fines on the violators. A senior official of KMC said that with the help of sanitation staff,the inspectors would identify the violators, who would be fined.
Commissioner DinakarPundkar visits different area and inspects the sanitation works. He embarked on a sanitation drive and took personal initiative in the matter.
The IAS officer assumed charge as the Municipal Commissioner six months ago. He is making efforts to keep the city clean, widen the roads and change the image of Kakinada into a Smart City.
Dinakar Pundkar imposes penalties on the violators during his visit of the wards in the Smart City. There were a lot of complaints received by the KMC on garbage menace in the city.
Many people continue to throw their garbage on the roadside and stray cattle found on the streets. Stray cattle were picked up and given to tribal farmers in the agency areas. When he was touring the city, he found people riding triple on bikes, some ignoring Covid-19 protocol and others walking on the streets without masks. The Commissioner reprimanded the residents who throw garbage on roadside.
As a punishment, he threw the garbage back into the house of such residents. He said that he is trying to teach the residents of the Smart City to be responsible and keep the city clean. He asked the people not to store water in open cans or tins as is a breeding ground for mosquitoes which will lead to dengue.
Apart from cleanliness, he takes extraordinary care about the laying of the roads.He passes bills only when he is satisfied with the appropriate ratio of material. His unique contribution to Kakinada is creating awareness among the people regarding the disposal of wastage and depositing of rubbish in the bins earmarked for the purpose. He is also taking special care to prevent the seasonal diseases such as dengue and malaria.
He also gave a slogan to the people of Kakinada that Friday should be converted into a Dry Day. He is also giving orders to the sanitary inspectors and the staff for taking immediate steps in the matter of cleanliness of the areas they are supposed to supervise.
Subscribed Failed...
Subscribed Successfully...