Vijayawada: New plans for water storage on Krishna river gain importance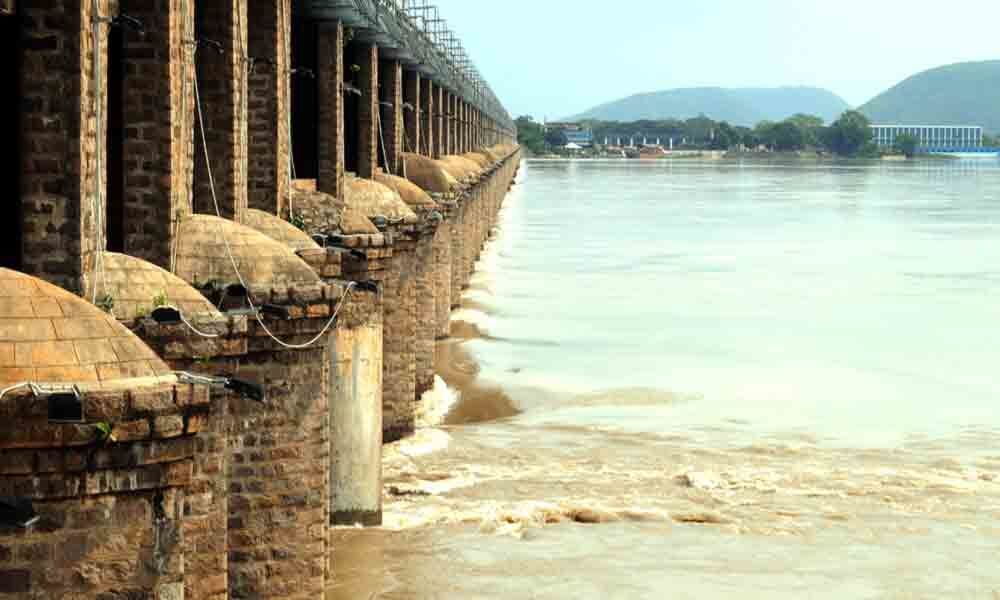 Highlights
Plans are midway for construction of two check dams on downstream of Prakasam Barrage and a barrage on upstream on Krishna river
Vijayawada: The present floods once again stresses on the importance of the construction of proposed two check dams in the downstream of Prakasam barrage and one barrage in the upstream under the purview of Amaravati capital on Krishna River. Nearly 10 tmcft water can be stored by constructing the proposed barrage at Damuluru-Vaikuntapuram on Krishna river. But the State government stopped the reservoir works recently. Similarly, the Water Resources department proposed to construct two check dams at 25 km distance from Prakasam Barrage in the downstream. Nearly 10 tmcft water can be preserved in the two check dams.

The State government has already awarded the contract work of Damuluru-Vaikuntapuram Barrage work to Navayuga Company. The company started the works almost four months ago. Nearly the 10 tmcft water can be stored which can be used for drinking water needs of Amaravati capital. Moreover, floodwater from Pulichintala and Munneru can also be stored at the reservoir. The officials have estimated nearly 20 tmcft water has been coming from Munneru every year. In this backdrop, the project is designed to use flood water, but now the works were stopped as per the new guidelines of state government.
Besides, the State government has also finalised a plan to construct two check dams on Krishna River in the downstream of Prakasam Barrage. The tenders were also invited for construction of one check dam at Chodavaram village and second check dam was proposed at Srikakulam of Krishna district. The two check dams are useful to preserve excess water in Krishna River and reduce groundwater salinity.
According to officials, nearly 20 TMC feet water has been flowing into the sea as waste every year from floods in Munneru rivulet. The water comes from rains in some parts of Khammam district. There is no storage facility on Krishna River after the Pulichintala project. Only two tmc ft water could be stored at Prakasam barrage.
If the check dams are constructed in the downstream of Prakasam barrage, the farming community of several riverside villages can utilise the water for agriculture and drinking water purposes. The tail-end areas in Krishna district are facing hardships for drinking water for the past several years.