Pawan Kalyan threatens to launch protest against Divi's pharma unit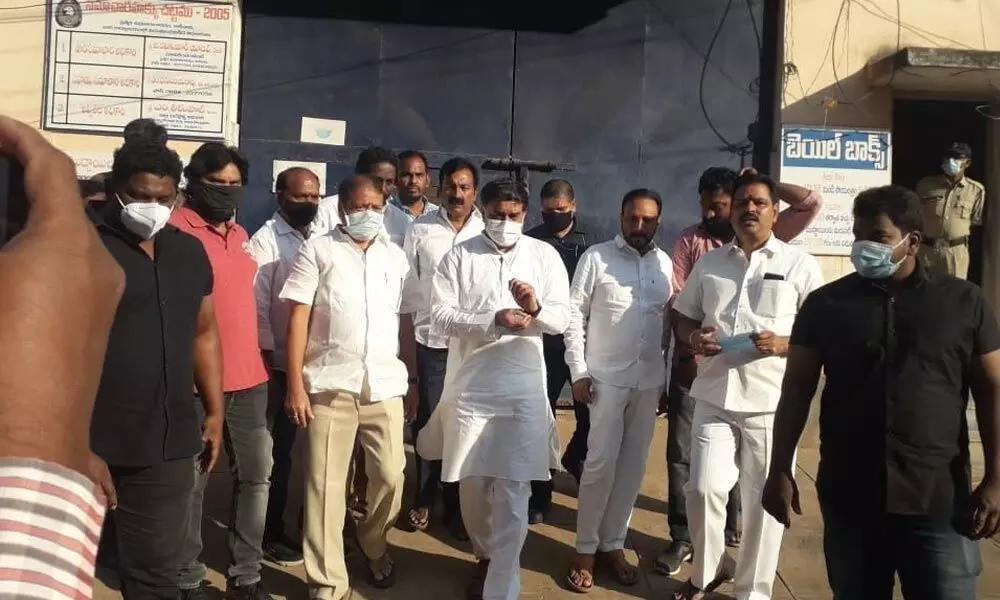 Highlights
Jana Sena demands govt to cancel permission to the pharma unit
The party extends legal support to the victims of police cases
Kakinada: Jana Sena Party chief K Pawan Kalyan would take up a massive agitation against the establishment of pharma unit of Divi's, if the state government fails to cancel the permission to Divi's within 10 days, Jana Sena Political Affairs Committee chairman Nadendla Manohar said on Monday. The company is establishing a pharmaceutical bulk drug manufacturing factory, in Kona area of Thondangi mandal in East Godavari district.
He told the reporters when Jagan was the Opposition leader, the YSRCP leader called Divi's as a 'benamy' company of then Chief Minister N Chandrababu Naidu and establishment of Divi's Pharma unit would pose threat to environment and also ecological balance besides giving a call to the people to merge the Divi's in Bay of Bengal.
Manohar questioned Jagan why as to why he gave permission to the same company and what changes he sought to allow the unit. He said that the people in the area are opposing the unit and the governments should respect the sentiments of people.
He added that either TDP or YSRCP cheating the people of the area in allowing the unit. A minister claimed that the unit would provide 1200 jobs out of which 900 jobs for locals.
Manohar said that nearly 35,000 people are depending upon the various trades like aquaculture, hatcheries and others in the area. The police attacked women in the Divi's area, when they were opposing the establishment of the pharma unit. He said that the Jana Sena would give legal assistance to the victims of Divi's in the police cases.
Initially the government gave 489 acres of land to Divi's. Now, it has extended it to 675 acres and the matter was kept secret without disclosing to the people. Manohar suggested Jagan should change his mind and announce the cancellation of the Divi's unit in the area.
Speaking about the three farm bills, introduced by the Central government, Manohar said that the Jana Sena felt that the Central government would not harm the farmers and the Jana Sena also discussed the farm bills and the party wanted to do justice to the farmers. He also said that the Central government is getting ready for making amendments in the farm bills, suggested by the farmer unions and it is a welcome step.
He demanded that the state government give Rs 10,000 compensation to the tenant farmers who incurred great losses due to the Nivar cyclone. He said that the party would stage protests at every district Collector's office demanding the government to help the cyclone-hit farmers.
He said that Jana Sena is organising membership drive in a phased manner and the party would be strengthened at grassroots level.