Veldurthi Tragedy : Post-mortem held amid tension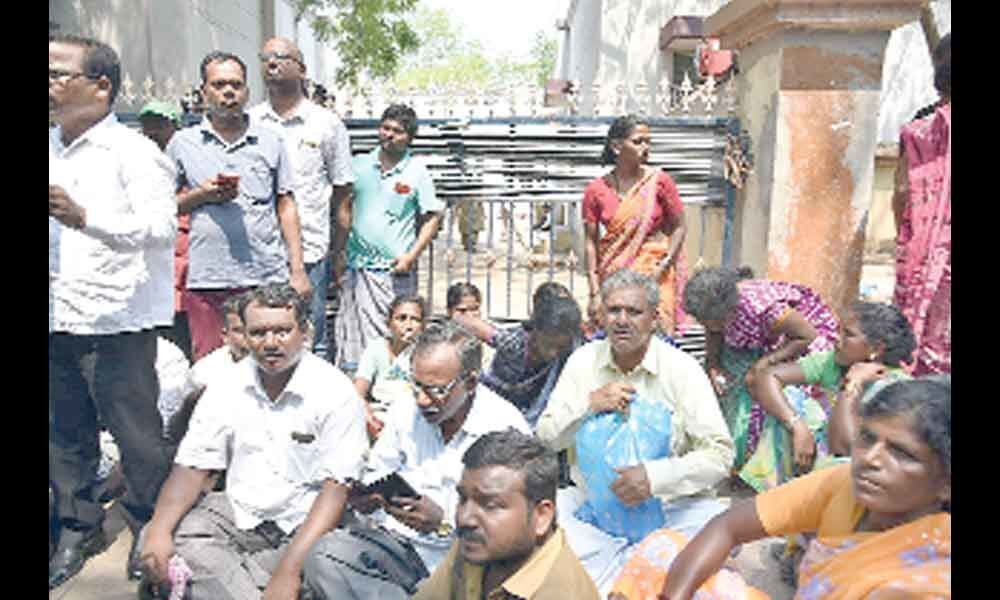 Highlights
Post-mortem was performed at Kurnool General Hospital on Sunday morning for the bodies of 16 people who died when a bus hit Tata Toofaan vehicle at Veldurthi crossroads on Saturday
Kurnool: Post-mortem was performed at Kurnool General Hospital on Sunday morning for the bodies of 16 people who died when a bus hit Tata Toofaan vehicle at Veldurthi crossroads on Saturday, amid protests by the kin of the deceased and Mala Mahanadu activists.
Mala Mahanadu activists staged a demonstration at the mortuary of the hospital demanding compensation of Rs 50 lakh each to the family of the deceased and employment to one member of the family.
Tense situation prevailed at the hospital on Sunday morning owing to protest but police were deployed in large numbers.
It may be recalled that 15 persons, all residents of Ramapuram village in Vaddepalli mandal of Jogulamba Gadwal district in Telangana had lost their lives in the accident.
One more person travelling on a bike also died and the pillion rider suffered injuries in the mishap.
The 15 residents of the Ramapuram were returning from a village at Dhone after finalising a marriage proposal when the bus belonging to SRS Travels hit their van. All the passengers of the van, including the driver died.
The police with the help of locals shifted the dead bodies to mortuary of Kurnool General Hospital. Post-mortems were held in the early hours of Sunday on all the 16 bodies.
After post mortum, the officials have arranged vehicles for shifting of the bodies to Ramapuram village where mass funerals were held.
Mala Mahanadu leaders, who were present at the hospital premises, obstructed the transportation of bodies.
Prior to obstruction, police managed to shift three bodies in 108 ambulance but the vehicle was stranded at Shanthi Nagar in Vaddepalli mandal of Telangana state.
Around 200 people staged a stir on Raichur road demanding concrete assurances to the deceased family members by the Telangana government.
Mala Mahanadu state leader Mala Sreenu, speaking to media on the occasion at Kurnool Government Hospital mortuary, demanded the Telangana government to pay Rs 50 lakh ex gratia besides a to one member in a family.
He condemned the hasty manner in which post-mortems were performed and questioned how could it be done without any specific assurance from either Telangana or AP governments.
However, after an hour the agitating leaders relented after the assurances given by the officials of AP and Telangana that the family members would be rendered justice.
Mala Mahanadu leadres also demanded filing of criminal cases against the SRS Travels to which the bus that caused the accident belongs.