A wingman for Hyderabadi partygoers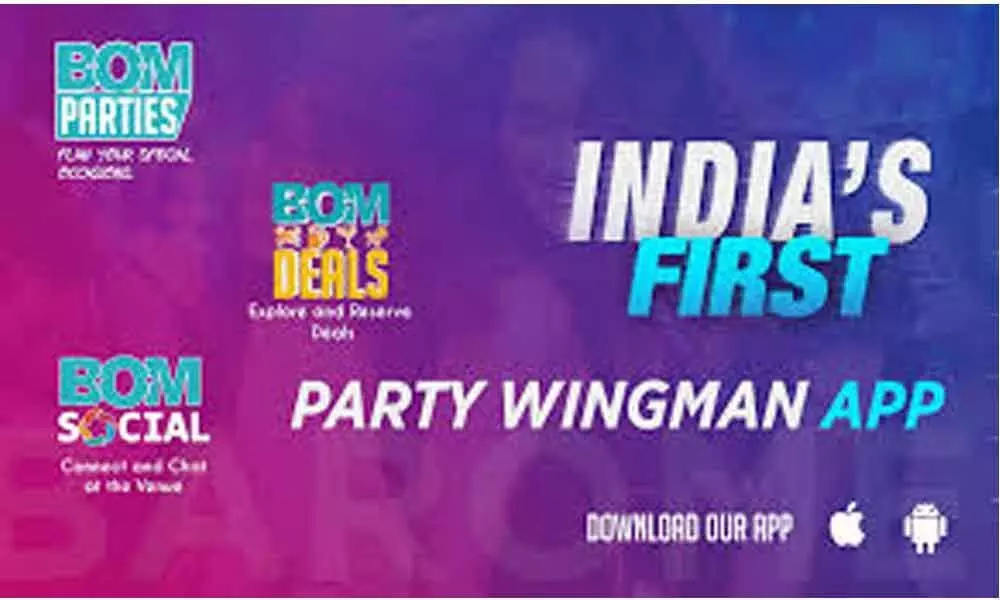 Highlights
What is the first thought that crosses your mind with Friday around the corner? A get-together with friends at a place which serves great food with sumptuous drinks and has a live band playing old or new songs.
What is the first thought that crosses your mind with Friday around the corner? A get-together with friends at a place which serves great food with sumptuous drinks and has a live band playing old or new songs.
But what about the weekend rush in every pub, restaurant and café. Not to forget, for partygoers Friday is the first day of a weekend.
To every party wingman's rescue is BOM (Baromeeter) Parties. For every man in a family or couple with onus of getting better deals and booking a table is BOM Deals. And, for all the single souls out there looking to connect with a like-minded person at the very same café is BOM Social.
Baromeeter, a deal discovery platform, is the brainchild of Rishabh Vyas, a party wingman by himself and a management post-graduate in finance from Institute of Management Technology, Hyderabad.
His Delhi-based food-tech startup Murv Mobitech Private Limited, which operates Baromeeter was founded in 2016.
Currently BOM has its presence in Delhi-NCR wherein it provides offers on dine out and party venue booking through a partnership with 350 restaurants and café. By next financial year, the startup has plans to expand its platform by entering Hyderabad, Bengaluru, and Mumbai.
"I was back in Delhi after completing my course in Hyderabad. Here I realised that as a party wingman, hosting a party was cumbersome while being in one was fun.
This made me create a platform that would ultimately ease the role of a host of a party or any get together," Rishabh Vyas, founder and CEO, Murv Mobitech told The Hans India.
Vyas further said, "Every entrepreneur has to start from the scratch. I utilised the insights gained in the F&B industry while working on projects at college and developed an offline business idea into online with further research. I sat at various cafes from 12 in the day till late in the night so as to observe every minute operation details."
Initially, Baromeeter started as a deal discovery platform for dining out. "The idea was to ease hosting a party. But, as every new idea takes time to be accepted, we had to start with deals and offers on dine out, eventually building a customer base.
From the last two years BOM Parties has been functional. Under this feature, we have also partnered with artists, magician, music band etc for booking their entertainment service at parties," the founder adds.
He further explains, "However, the missing chain in Baromeeter which is the idea to connect and chat still loomed large. The name, 'Bar o meeter' itself meant meeting up at a bar.
For youngsters, clubbing is about connecting and socialising for making new friends. Differentiating our platform from Tinder, we introduced BOM Social."
BOM Social lets customers connect with other BOM users sitting at the same venue, measure the crowd at a particular place before going there and find friends in the list enjoying at the same place and meet them.
Under BOM Parties, the user has to fill in the required details such as location, number of guests, date and time, etc. Get the best quotes in real-time from cafes and restaurants in the desired location, choose the offer that suits best and book the venue. The advance payment is done upfront through the portal.
"BOM Parties is essentially for a booking of more than 10 people. Under this package, per person is charged Rs 1,000 for unlimited food and drinks for up to three hours.
After that it is a fixed amount of Rs 10,000. Party packages are better deals than a la carte or 20 per cent offer as this package gets a customer more than 40 per cent discount, Vyas explains.
The founder claims in two years of commercial launch, the app has 25,000 downloads, 6,000 live users chatting per daily on the app, 75-100 party bookings a month and 500 deals a week.
BOM monitors the booking of parties, however they assure that the chat on Social is encrypted which does not let anyone to read through the content.
"As we are also into aggregating deals, BOM monitors the trend of booking, which helps us curate a package and communicate the same to the restaurant.
The trends we have observed are that during lean periods the prices are low based on which these deals are packed. Other factors such as weekday and weekend pricing, food pricing in the day and night, and the number of people booking makes as pricing factors."
The revenue model BOM has in place, is a subscription-based half yearly and yearly cost for restaurants to use the dashboard, commission levied on partner restaurants for each party order, and convenience fee on dine out deal bookings for users.
Coming to the financials, Vyas said, an investment of Rs 70 lakh has been bootstrapped. This investment has been utilised for three years into developing the tech-platform and building a seven-member team working on technology, business development and online marketing. The revenue earned per month is Rs 2.5–3 lakh, he adds.
In the next quarter, Vyas is looking to raise Rs 2 crore in first round of funding through angel investors. These funds will be utilised for marketing, innovation and establishing local offices at Hyderabad, Mumbai and Bengaluru. A total of 12 employees will be added across these three cities.
In Hyderabad the startup plans to partner with a minimum of 150 restaurants and cafes - at least 20 restaurants from each area in the city.
With this expansion plan in place, Vyas is looking at 10 times growth in the user base. Going forward, he intends to partner with hotels, banquets and wedding halls for booking and deals.
Subscribed Failed...
Subscribed Successfully...