Indo-US ties set to get a boost with Biden admin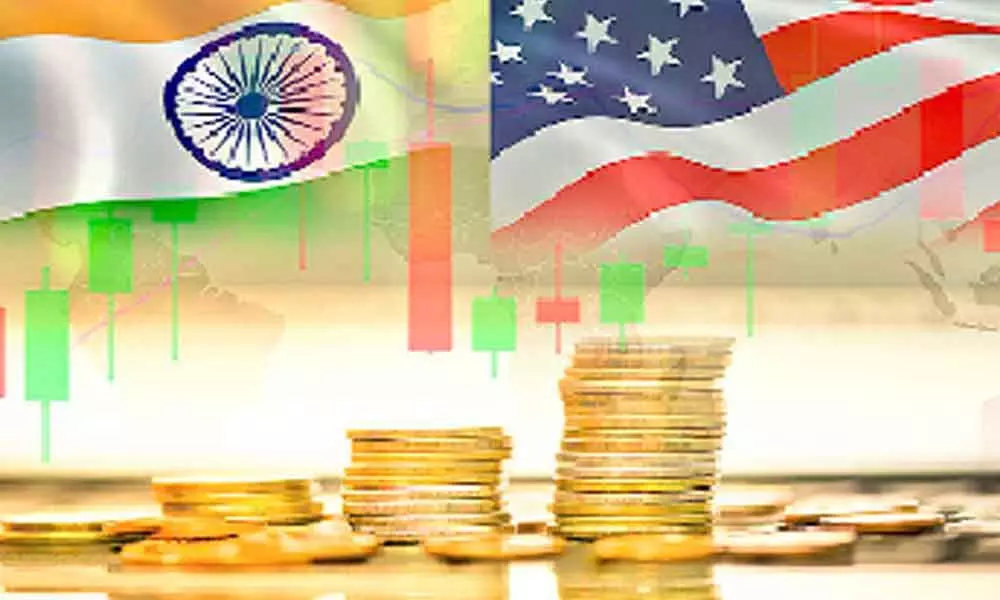 Highlights
The chaos that raged on January 6 in the capital of the United States has damaged the image of that country as a haven of democracy
The chaos that raged on January 6 in the capital of the United States has damaged the image of that country as a haven of democracy. Unseemly scenes of protestors rioting in the country's main legislature flashed all over the world.
Despite all this mayhem, however, there is finally no doubt that there will be an orderly transition of power with Joe Biden becoming the next US President. It is in view of this certainty emerging that American stock markets continued to rise even after the unprecedented rioting at Capitol Hill.
For India, there are many implications of the change of guard in that country and these may have an impact on the pace of economic recovery here in the months to come. The first and most immediate outcome is that with a Democratic President, it is evident that the current fiscal stimulus will not only be continued but probably intensified as days go by. The Democratic Party has, in fact, been in favour of a larger stimulus package than the 900 billion dollar plan cleared by their Congress recently.
Given that policies will be in favour of fiscal easing, foreign institutional investors are expected to continue pouring funds into emerging economies like India. This will strengthen the bullish trend in equity markets here though domestic factors will continue to play a significant role. Foreign direct investment flows may also get a boost especially as the Indian economy is expected to bounce back rapidly in 2021, even according to global rating agencies.'
Second, it could mean that negotiations on trade issues will finally reach a satisfactory conclusion. The relationship with the Trump administration has been contentious in the trade arena. No wonder then that a proposed free trade agreement has been stalled for several years.
The situation worsened when the US imposed higher tariffs on steel and aluminium imports from India and then went to remove this country from the list of developing nations entitled to the long standing duty concessions known as the Generalised System of Preferences (GSP). Though the extent of the impact was downplayed by the Commerce Ministry here, it meant that many Indian goods were no longer as competitive in that market as previously.
Third, there could be some softening on the issue of H-1B visas to this country's software companies. This is an area that is of concern to the Indian information technology sector as visa curbs have a long term effect on software exports. What is of immediate concern is that a system based on salary levels is sought to be introduced in the next few days, making H-1B visas easier only for those with higher wages.
There are expectations that the Biden administration may overturn this decision, as it will make it difficult for American companies to access Indian IT expertise. Hopefully this will bring some relief to software companies in this country. Fourth, there is now every hope that the US will resume its active role in many multilateral organisations including the World Trade Organisation (WTO).
Over the past few years, the Trump administration has virtually withdrawn from this institution by cutting funds support and not filling key positions. The WTO's influence has thus waned, making countries turn more to regional trade agreements. The return of the US could revitalise this multilateral agency which has been a bulwark for India and other developing countries. And finally with both India and the US still mired in the pandemic, there could be more cooperation in terms of sharing data and ensuring that sufficient vaccines are available globally.
The US is a centre for medical research and development but right now India is a hub for vaccine manufacturing. Collaboration between the two countries would be a positive development for the entire world. The Covid situation is not easing soon in the US, UK or Europe given the second wave of infections that has hit these regions.
India's infection rate may be coming down but there is no knowing whether new variants or mutations of the virus could create havoc in the future. Collaboration is thus the need of the hour to ensure that both rich and poor countries are able to get vaccinations at the same time. India has already clarified that its vaccine producers are free to export to the rest of the world.
The change of guard in the US is thus likely to have more positives than negatives for the Indian economy. There are apprehensions that pressures from leftist or progressive groups as they are called in the Democratic Party may lead to linkages of economic issues with human rights questions.
But such linkages have been made by previous US administrations as well and trade diplomats have the experience to tackle them. In the short and medium term, however, it looks as if President-elect Joe Biden's presence will result in a better dialogue and enhanced economic ties between the two countries.