Varun Tej Drops The Gala 'Baarat' Pics From Her Sister Niharika's Wedding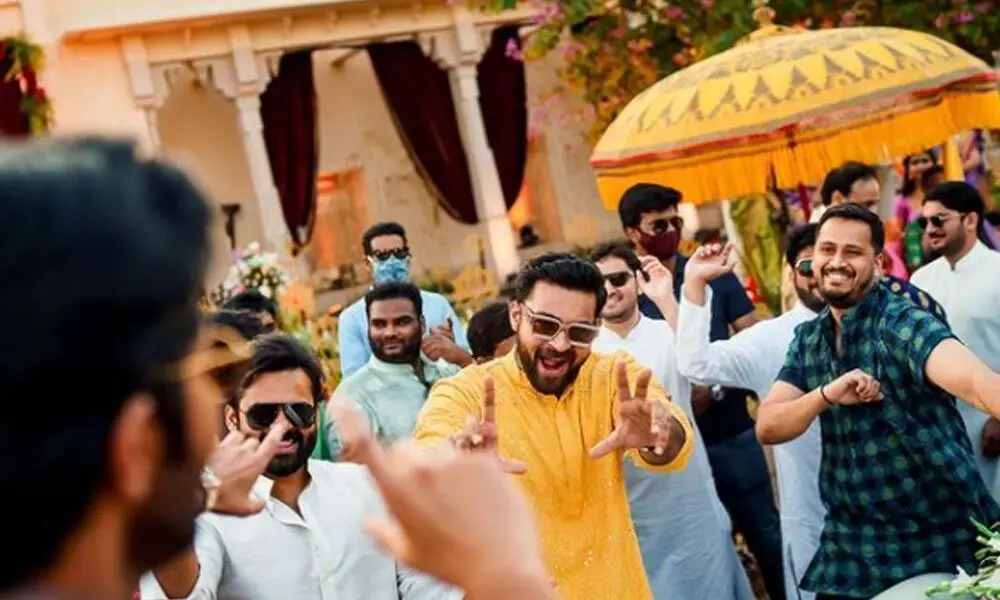 Highlights
It is all known that Mega daughter Niharika Konidela got hitched with Chaitanya Jonnalagadda on 9th December, 2020 at Udaivilas Palace, Udaipur
It is all known that Mega daughter Niharika Konidela got hitched with Chaitanya Jonnalagadda on 9th December, 2020 at Udaivilas Palace, Udaipur. Although the wedding happened last week, but still the celebrations are on!!! All the mega family members had loads and loads of fun at the wedding and thus they are sharing the memorable pics on their social media pages and are creating a buzz on the internet. Off late, Niharika's brother and our dear 'Gaddalakonda Ganesh' Varun Tej has dropped the gala 'Baarat' pics on his Instagram and awed us!!!

Varun Tej Konidela
Varun Tej has shared a couple of pics from the 'Baarat' function…The first one shows off Varun and Sai Dharam giving a quirky pose and welcoming their 'Bava'. The second pic has Varun and Naga Babu under one frame in all smiles. The third one is a candid one as the bridegroom Chaitanya is posing standing in his roofless car. The fourth one is a funny one as Sai Dharam Tej is totally having fun holding the footwear. Coming to the final one, we can see the Naga Babu family welcoming the groom with all smiles.

Varun Tej also wrote, "Baraat for the new bava!

#udaipur
#Nischay".
Here comes the reception pic… Varun is all dressed up in a monochrome suit.
The gala 'Haldi' pic where Niharika is seen applying haldi to her dear bro…

Even Niharika also shared a few pics from her wedding and treated her fans with the memorable clicks…
Niha pressing the 'Jeelakarra Bellam' on Chay's head hardly… Chay is in all smiles!!! Niha also wrote, "I promise not to miss any opportunity to make you laugh just like this. (Even if it means I have to hit you😈) there's no going back now. Hi chay."
A cosy moment of NisChay…
Another traditional ritual… Our Niha has won and successfully picked the ring from the milk filled pot!!!
Niha applying haldi her mom and mother-in-law…
Niha and Chay enjoying the splashes of water…
A cosy moment at pool party…

After returning from Udaipur the mega family organized a gala reception for all their friends and relatives at Hyderabad… Off late, the newlyweds also seeked the blessings of Lord Balaji. They flew to Tirumala along with their family members.