Vidyu Raman weight loss journey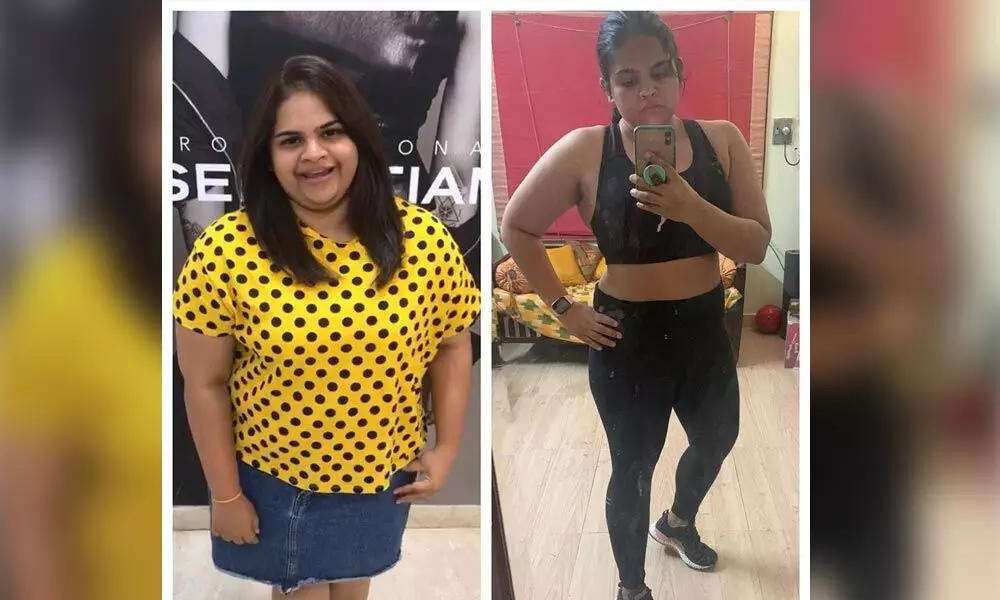 Highlights
The inspiring weight loss journey of Tollywood actress Vidyullekha Raman
The inspiring weight loss journey of Tollywood actress Vidyullekha Raman
Tollywood actress Vidyu Ramam holds a special position in the hearts of Telugu and Tamil audience. She actually replaced the position of veteran comedian Kovai Sarala. Along with essaying side characters in many flicks, this lass is making our ribs get tickled with her ultimate punch dialogues and funny expressions. With her amazing screen presence, She is the new strong lady comedian on the big screens in a male-dominated comedy films
She was actually suffering from overweight, but this made her listen to many taunts and become a muse for funny memes. Finally, this lockdown gave dear Vidyu the much-needed time to concentrate on her weight-loss sessions and finally turned into a slim chick.
Vidyu took to her social media pages and shared her weight-loss journey with her fans which was inspiring and commendable too.
This was her first post in the month of May, stating that she missed her diet and a few workout sessions as a result she put on 6kgs in past six months. But now, in this lockdown period, she got enough time to spend her time with workouts… As a result, the chic looked awesome once again.
This one is the latest post, where Vidyu is seen in a fit position showing off her toned arms and slim waist in all the workout mode and taking a selfie with her healthy body. Vidyu also shared a note and made us know her pain through all her weight-loss journey. This also shows her determination and strength to own a fit body. "Fake confidence vs. Actual confidence. When I was overweight a frequently asked question by everyone to me was "how are you so confident?". In retrospect, was I? Or did I just come to terms with the fact that I will be obese all my life? Today I am actually confident of myself because I did the unthinkable and changed my lifestyle and habits. I have come to realise that if you put your mind to it, anything is possible. Sounds cliche, right? But it's the truth. You need to be disciplined, workout 6 times a week and follow a balanced diet. There is no secret potion or pill to make the result happen. Just pure hard work. Nothing in life comes easy but when you see result, it's worth all the sweat and tears. Recorded weight as on 20/06/20 - 68.2kgs #weightlossjourney #weightlosstransformation."
From being a foodie to clinching her waist to slim mode, Vidyu has gone through a tough patch from past one year and finally got succeeded..Her complete journey of shedding the excess weight is definitely an inspiring one which all the weight watchers should eye on.
We love you Vidyu… We are eagerly waiting to see you again on the big screens…
Interested in blogging for thehansindia.com? We will be happy to have you on board as a blogger.