Narendra Modi's address to nation, a big let down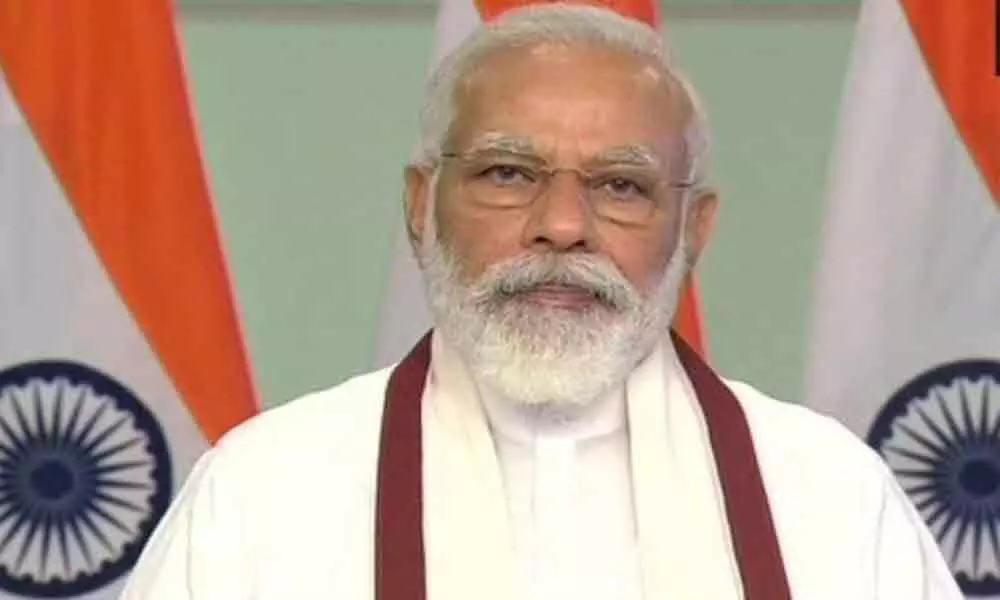 Highlights
Covid-19 situation is scary
Covid-19 situation is scary. People have no option but to live with it till November. It is now in the hands of the people to save themselves. As far as the Union government is concerned, all that it can do is to extend yet another welfare measure of giving free rice and additional one kg of channa to the poor people. This is exactly what the Prime Minister Narendra Modi said during his less than 15-minute speech on Tuesday on the eve of unlock 2. Whenever Modi goes on air, expectations among the people are high.
They wait for his address with the hope that he would come with some innovative ideas and announcements. But this time, it was a great disappointment. Supporting what their leader said for any party is of course a routine practice. That is why the BJP president J P Nadda said the extension of the Pradhan Mantri Garib Kalyan Anna Yojana (PMGKAY) showed Prime Minister Narendra Modi's commitment to the welfare of the poor. Many others including Prakash Javadekar praised Modi to skies. But honourable leaders, this is only an extension of ongoing scheme nothing new. Secondly, honourable leaders please try to adopt a more practical and realistic outlook. We have seen how the scheme failed to reach many of the targeted audience. Of course, these leaders will have instant answer and will blame the implementing agencies including the State governments. But then that is not the solution. Undoubtedly, the poorer sections of the society need help and extension of the scheme is appreciable but if it is implemented in the present manner, it would not help large number of the beneficiaries.

We have another leader, honourable Chief Minister of West Bengal Mamata didi who demanded that the Central government extend free ration to the entire population. Didi have some pity on the taxpayers. For your narrow vote bank politics, don't try to make Peter bleed to pay Paul. These schemes are funded by the taxpayers. No PM or CM or any political party pays from their pocket. Another issue is the governments - both the Centre and the State - should understand that while they successfully implemented the lockdown for nearly 70 days or so, they miserably failed in creating awareness among the people particularly the Bhadralok (urban elite).
That is why once Unlock 1 began, people were back to their old habits and ignored health protocols leading a to scary situation across the country. The government which claims to have helped the poor during the critical lockdown and the Centre which says it has now decided to provide food security to about 80 crore people, never thought of implementing a two-fold strategy. It should have taken up confidence building exercise among people by publicising the experience of those who were infected with the virus and got cured. Secondly, the governments did nothing to build the immunity levels of the poor. No vitamin tablets or any other products that could improve immunity were distributed in rural areas and slums. Even spraying disinfectants is not being done regularly in slums or various other areas where common man lives. But when it comes to VIP areas, officials go overboard.
No Government has taken up any campaign to create awareness among people about the need to implement health protocols. "Wear masks, wash hands frequently," is being said in a routine manner, but how to wear the masks, what type of masks they should use, how to ensure that the masks are clean and no such information is given. As a result, we see surgical or cloth masks hanging around people's neck and not as a protective gear. We do not even know whether they replace them frequently or at least wash them every day, if they are re-usable. It is better not to use such dirty masks. Leaders of all Opposition parties including the Congress leader Rahul Gandhi should realise that they too have failed in their responsibilities. All Opposition parties have confined themselves to criticise the government. No party felt the responsibility to take up any kind of awareness campaign or confidence building exercise. On the other hand, the leaders themselves have been violating the health protocols with impunity.
Interested in blogging for thehansindia.com? We will be happy to have you on board as a blogger.