Trump's tomfoolery: Bolton bares it all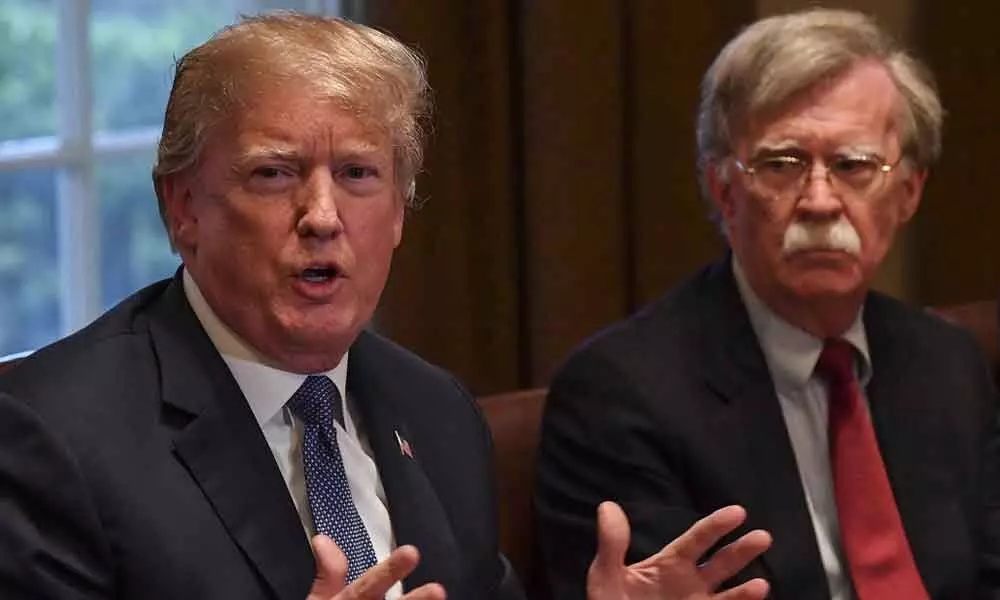 Highlights
If one goes by the claims of John Bolton, former National Security Adviser to President Donald Trump, POTUS seems to be dim-witted stupid beyond repair
If one goes by the claims of John Bolton, former National Security Adviser to President Donald Trump, POTUS seems to be dim-witted stupid beyond repair. Bolton in his book "The Room Where It Happened" revealed several instances wherein Trump behaves exactly like a real estate broker selling his interests abroad rather than talk like the President of the world's superpower.
Trump seems to be so helpless going by his own statements in fact. He sought Russians' help to pin down his rival in 2016. Next, he asked the Ukraine President personally to sully the image of his rival Joe Biden. And now comes his efforts to woo the Chinese to buy more farm products so that he can win the farm States. Of course, Narendra Modi is always there for him to hug and clap together.
No government in the world would ever seek foreign intervention, more so in its elections. (Of course, Indian governments don't seek it too except that they welcome Pakistan's comments on the elections to encash anti-Pakistani sentiments here). Turning our attention back to Bolton, one could easily say "the book has come as a Bolton from the blue" to queer Trump's pitch further in the murky American situation now.
The US President has done his best to prevent the book launch, but unfortunately for him, copies of it had already reached media outlets which were ready to pounce on Trump yet again in a no-holds-barred battle. Included in the book are mind-boggling revelations, headlined by accusations that President Donald Trump asked President Xi Jinping during a summit dinner in 2019 for Beijing to purchase increased amounts of agricultural products, which he said would help his chances of winning farm States and a second term in office.
Bolton also writes that Trump supported Xi's actions to build concentration camps in the Xinjiang province to target Uighur Muslims. Is this one of the reasons - the refusal of China to accede to his request - that he passed the Bill against Uighur Muslim harassment by the Chinese?
There have been several instances wherein Trump was accused of attempting to block criminal investigations into his deeds, but Bolton went a step further and described multiple instances where Trump pushed to end criminal investigations to "give personal favours to dictators he liked," including Xi and Turkish President Recep Tayyip Erdoğan.
Bolton himself did not testify against Trump in the Ukraine issue which is at the heart of the impeachment case against the President but revealed in the book that Trump linked his suspension of $391 million in security aid for Ukraine to his demands that Ukraine publicly announce investigations into supposed wrongdoing by Democrats, including former Vice President Joseph R Biden Jr. Again, Bolton exposed Trump's ignorance of geography in no mean terms pointing out that the President, as per Bolton, once argued Venezuela is part of the US.
He also writes that many in the Trump team, including Secretary of State Mike Pompeo, mock him behind his back. Bolton's allegations provide new ammunition to critics ahead of the November 3 Presidential election. How long will the Americans put up with his stand-up comedy is to be seen.
Interested in blogging for thehansindia.com? We will be happy to have you on board as a blogger.