Amar Chitra Katha comes to life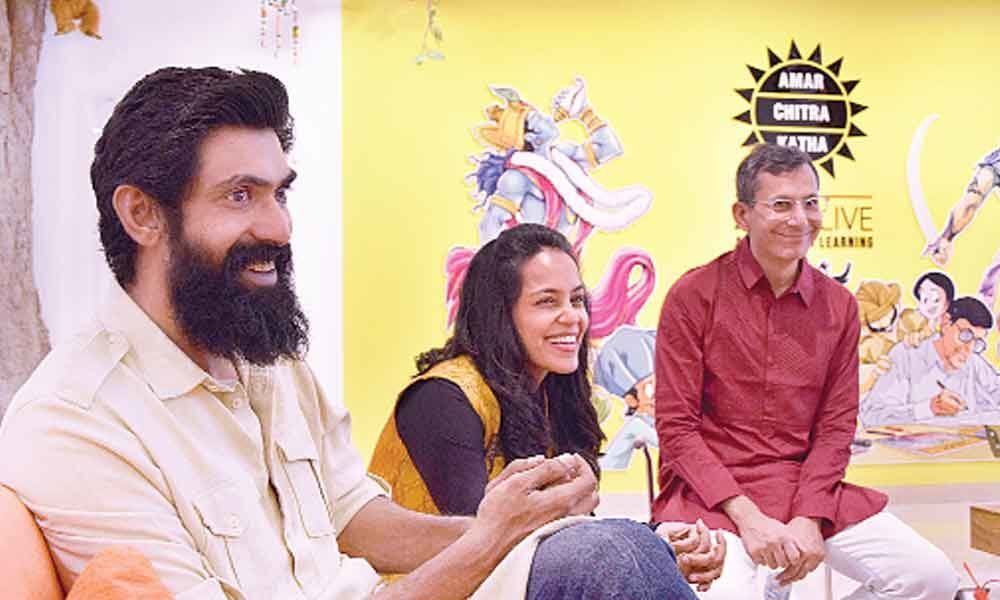 Highlights
Call it an extension of Uncle Pai's vision, ACK Alive promises to become a tool in carrying forward the Indian legacy - not just through stories, but with art, sciences and life skills entrenched in our roots - Rana Daggubati
Amar Chitra Katha, India's beloved comic book company, has now taken on a new form in a unique learning centre.
Created by actor-producer-entrepreneur, Rana Daggubati, business mogul Kishore Biyani and Amar Chitra Katha – ACK Alive is a space created with the vision of Amar Chitra Katha - to engage India in the glorious culture and legacy of the land.
The first of the ACK Alive centre in Hyderabad, is an expansive 10,000 square foot centre, with areas designated for art and design, life skills, performing arts, Vedic sciences and more. Classes and sessions cater to all age groups, from children to retirees.
The finest exponents of each of the art forms have been roped in to design the modules and tutor.
Kishore Biyani, Founder and Chief Executive Officer of Future Group, says, "ACK Alive is the first in a series of centres we propose to establish.
This model will also be a learning centre for us as well. As a concept, ACK Alive has universal appeal and we are confident in immersing kids and their families in a world of epics, histories, fables and other fascinating stories.
"
For Rana Daggubati, the vision behind the learning centre was about creating a space where stories literally come to life as values, and as life skills.
"I discovered Amar Chitra Katha like the rest of India. These comics were my favourite story-tellers in childhood.
Soon enough, I realised that these weren't just stories or comic books, these were carriers of our ethos and values.
They were also a route for me to discover a lot more about the multidimensional culture this land has nurtured over the decades.
Call it an extension of Uncle Pai's vision, ACK Alive promises to become a tool in carrying forward the Indian legacy - not just through stories, but with art, sciences and life skills entrenched in our roots."
"Learning at ACK Alive is not about following a rigid curriculum but about discovering new ways to excite the young and old in tangible ways.
It is a space where you learn and mingle with champions of various arts, through the themes in Amar Chitra Katha,'' says Anuraag Agarwal, CEO, Amar Chitra Katha. That's why he believes that every age group will love to come back.
ACK Alive is open from today for the public with a series of free fun-filled sessions till April 14.
For the summer holidays, ACK Alive will be conducting a series of workshops and learning modules that children and their parents can sign up for immediately.
Sessions during the week will be held from 7 am to 7:30 pm for different age group categories – 3-6 years, 6-9 years, 9-12 years, 12-15 years, and 16+ years.
There are over 45 courses being offered for the summer vacations, including storytelling, classical dance, acro yoga, Indian classical music, Kalaripayattu, puppetry, yoga and much more.
In 2018, Amar Chitra Katha, the legendary comic brand reached its 50th year of production, with over 450 titles to its credit and an astounding 100 million copies sold in over 35 languages.
Amar Chitra Katha also publishes the beloved Tinkle Digest, India's longest running comics magazine, creators of pop culture icons like Shikari Shambu and Suppandi. The arrival of the holidays doesn't mean learning has to stop.
There are lots of fun ideas and resources for broadening young minds over the break at ACK Alive Learning Centre.
Subscribed Failed...
Subscribed Successfully...