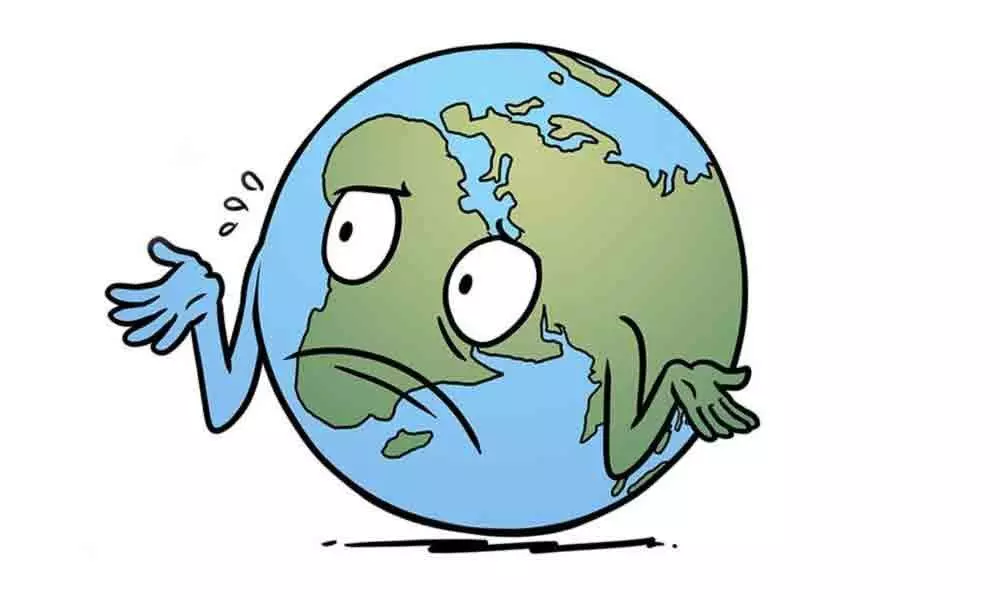 Highlights
Subbu and I met our local politician, Shankar anna, to discuss climate change.
Subbu and I met our local politician, Shankar anna, to discuss climate change.

'What is this climate change?' asked Shankar anna. 'Everything is ok isn't it? The sun is shining, rain is falling. What changed?'
'Shankar anna,' said Subbu. 'Haven't you heard? Sea levels are rising, temperatures are rising, glaciers are melting. It's a major threat to our planet, serious stuff.'
'Who is bothered about rising sea levels?' said Shankar anna. 'Are prices rising? But tell me, will rising sea levels give us any opportunity?'
'Shankar anna,' said Subbu. 'Climate change is a global issue now. Not local anymore. Everyone is discussing it.'
'But who is changing the climate?' thundered Shankar anna. 'Is it a light bulb or what? Nonsense. I can't understand why anyone would want to change the climate now. After so many years we finally got the ideal climate for growth, development, harmony, inclusiveness, transparency, prosperity etc, and now some meddlesome fellow is changing the climate. It's a conspiracy by some neighbouring country surely.'
'Arre anna, relax, this is not political climate,' said Subbu. 'This is the real climate all over the world. No one is changing the climate. We are all contributing to it by using stuff we should not be using. That's why the climate is changing.'
'Did our party ask people to use those things that changed the climate?' asked Shankar anna angrily. 'No, we are not responsible for this climate change. Whoever is responsible can take care of it.'
'Arre Shankar anna, it will affect all of us,' said Subbu. 'We need to act together as citizens of the world, or we are all doomed.'
'Why? If some neighbouring countries have messed up the climate, why should we pay?' said Shankar anna. 'They should be penalized. I suggest that we use technology to send all the bad effects of climate change to those countries and get the good effects for ourselves. We can do that right? And if that's not possible, we should go to war with them for changing our climate. How dare they?'
'It won't work like that,' said Subbu. 'You cannot escape by blaming the neighbouring country anymore. You have to take responsibility.'
Shankar anna thought for a while.
'Ok, we will not blame the neighbouring countries then,' he said with great difficulty. 'But we will not take any responsibility. As far as I am concerned this is all because of the previous governments, their leaders and their families. They are the prime accused. We can lock them up if it helps. What do you think?'
'No no Shankar anna, locking up a few people won't help,' said Subbu. 'We need decisive mass action to prove to the world that we are doing something about climate change. Like promoting renewable energy, banning plastic use etc.'
Shankar anna thought deeply.
'I have another idea,' he said. 'How about finding all those people who voted for the previous governments and arresting them? They are part of this climate change conspiracy, aren't they? Lakhs and lakhs of them. That would be a decisive mass action.'
'What? How will that help?' asked Subbu.
'Three birds with one stone,' said Shankar anna. 'All opposition leaders and their supporters will be in jail which means they will use less fossil fuel. Secondly, we will ban all non-vegetarian food and serve only vegetarian food in jail and further reduce their carbon footprint. And thirdly, we will be the only country in the world who has jailed the entire opposition on charges of changing the climate-proof of our commitment to the cause. You know, I'm getting a good feeling about this. We could even win an award for saving the planet.'
Subbu and I left. The temperature was rising - under our collars.
Subscribed Failed...
Subscribed Successfully...