Delhi Literature Festival's 11th edition is more than just writers and publishers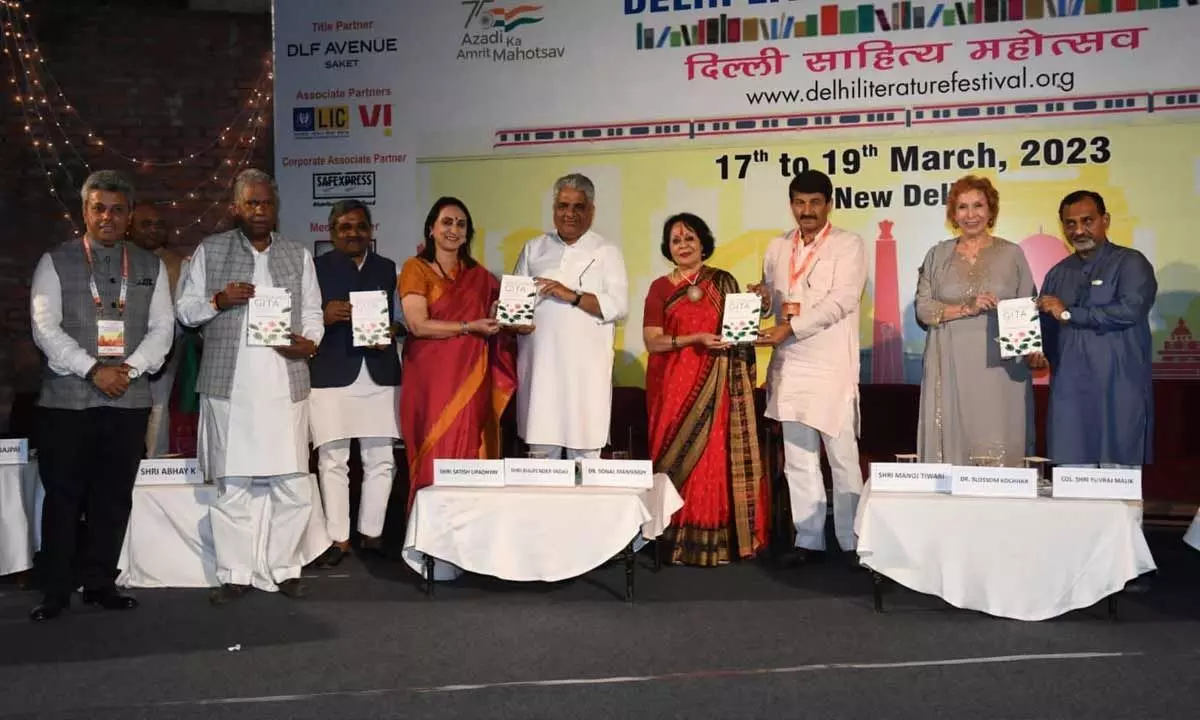 Highlights
The 11th edition of the Delhi Literature Festival began on the 17th March.
The 11th edition of the Delhi Literature Festival began on the 17th March. Union Cabinet Minister of Labour and Employment, Environment, Forest and Climate Change Bhupender Yadav inaugurated the festival. The Delhi Literature Festival started in the year 2013 with the then Delhi CM Late Shiela Dikshit inaugurating it 11 years ago. This year the literature festival is dedicated to India's Presidency at the G20.
The grand launch of the three-day festival that will take place in the heart of New Delhi at the India Habitat Centre (IHC Amphitheater) and DLF Avenue, Saket will see Historian William Dalrymple, filmmaker and designer Muzaffar Ali, singer, Padmashri Awardee and Member of Parliament Hans Raj Hans, writer Anand Ranganathan, Samantha Kochhar, MP Rajya Sabha and Padma Vibhushan and Padma Bhushan Dr Sonal Mansingh, Advaita Kala, Kaveree Bamzai, Dr. Blossom Kochhar, Rachna Bisht Rawat, Kevin Missal, MP Rajya Sabha Ashok Bajpai, Vineet Bajpai, scholar and professor at the Columbia University Yogi Trivedi and Manoj Tiwari are among the well-known names are also participating in the 3 days festival.
The inaugural ceremony saw a conversation between noted scientist and writer Dr Anand Ranganathan and screenplay writer and author Advaita Kala.
Member of Parliament, singer and actor while addressing the audience added music to the literary evening with a few lines from Bhojpuri songs.
Cabinet Minister Bhupender Yadav felicitated publishers and authors in the ceremony. Abhay K, the author of The Book of Bihari Literature, Ajay Jain of Kunzum, Milee Ashwarya of Penguin India and others were felicitated with the Delhi Literature Festival Awards 2023.
While addressing the audience, Yadav congratulated the organisers for curating an event to meet over books year after year in India's capital city. He added 'Over centuries while Delhi has remained a site for geographical conquests, it has also morphed itself into a muse for poets and warriors alike.' Adding flavour to the evening with Ghalib's and Mir Taki Mir's shayari the Union Minister said 'I wish the Delhi Literature Festival the very best for the three days it will be on. And I wish the culture of reading, writing and exchanging ideas grows in Delhi because Delhi is not just a geographical city.' He added 'Literature festivals are events that promote an educational and cultural exchange, which plays a crucial role in building healthy societies that believe in a culture of debates and discussions.'