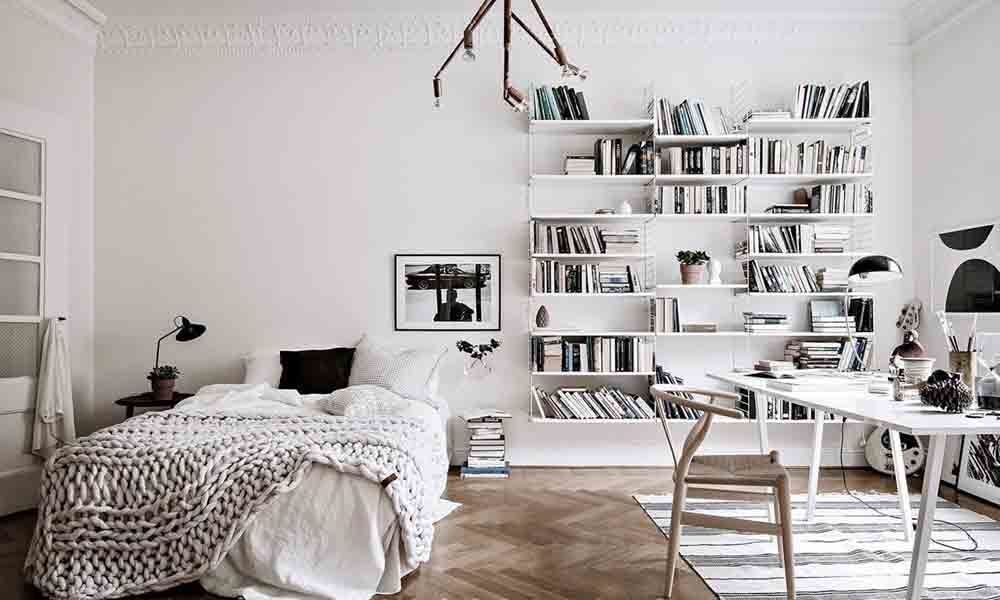 Highlights
Your bedroom is your canvas, you can be as creative as you like, you can even make it seem larger than it actually is, but you have to remember – the name of the game is that less is more
With houses and apartments in the city becoming smaller and smaller, we are all forced to test our creativity to get the most out of our personal spaces. It is truly an art getting tiny bedrooms to give the illusion of space. Choice of colour of the fabrics plays a big role in making rooms look bright, airy and spacious.
Making a room multifunctional is another ball game altogether, each piece of furniture needs to be cleverly chosen and each corner should be treated as precious square feet not to be wasted to start thinking of ways to maximise it.
An inspirational pairing of colour palettes and creative décor styles essentially bordering on minimalism to transform your Hobbit-hole into a surprisingly warm, cunningly spacious, and alluringly artistic space.
Here are some creative tips and hacks you can use to optimise your bedroom space to make it delightfully spacious and multifunctional according to your personal preferences and tastes.
Crown jewel: You are advised to opt for a conventional bed with a headboard which can fan out to enfold the bed from either side and can function as your bedside table. A multifunctional bed can maximise your storage and open up space.
Let there be light: Insufficient and improper lighting can abjectly ruin your mood and limited exposure to natural light can bring your energy levels down. You can use lamps in the dimly-lit corners to exorcise shadows and bring to light your creative side. A chandelier brings personality and highlights new architectural lines to the room.
Beyond the wall: You can use your bedroom wall to create a nostalgic scene in the room. You can hang vintage-styled photo frames to showcase artistry or memories. Natural palettes or wall-papers beautifully complementing the curtains can produce a lively and tranquil feel in the room.
For books, photo frames and curios, look at wall mounted small wooden squares which gives character to the room and can hold some of your precious knickknacks.
Creative storage: If you can create a small storage compartment in the wall to keep your dirty laundry perfectly hidden from plain sight. It would allow you to keep the symmetry and opulence of your room flawlessly intact. Storage underneath the bed or beside the bed or a cupboard built into the wall also keeps the overall look of the room alive and kicking. You can always choose a colourfully matching collection to go hand in glove with the overall classy look of your room. So that nothing looks out of place.
Have it all: If you want to have it all. You can. But you have to be a little creative. For instance, if you want to have a dresser in the room, you can but instead of having a separate piece of furniture, try a full-length mirror on one of the cupboard doors and hang your cosmetics in one of those transparent drop-down storage bags on the inside of the other door, for easy access. For a fitness enthusiast, a corner can be designated for daily yoga sessions with a matt rolled up and hung from the wall so your bedroom truly becomes your space to read, work, relax and sleep. In a nutshell, you can make your room into a little slice of paradise!
Window is not just for looking outside: If there are windows in the room, they can be dressed up in opulent silk curtains or you can use the space near the window to put a sofa to enhance the sense of luxury.
Create a visual delight: At the end of the day, it's your room. You can make your living space just the way you want it to look like. But if you can take advantage of certain creative storage hacks and décor tips, you can transform your bedroom into a piece of art and a homely place. In a tiny space, an optimally sized piece of furniture can distract a viewer from the true dimensions of the room. A soft or naturally vibrant contrast between curtains and room paint, a creative storage space, and an overhanging chandelier can dance in the ballroom of the eyes of the beholder. If there is enough to distract the eye, the eye tends to appreciate what distracts her.
Your bedroom is your canvas, you can be as creative as you like, you can even make it seem larger than it actually is, but you have to remember – the name of the game is that less is more
Subscribed Failed...
Subscribed Successfully...