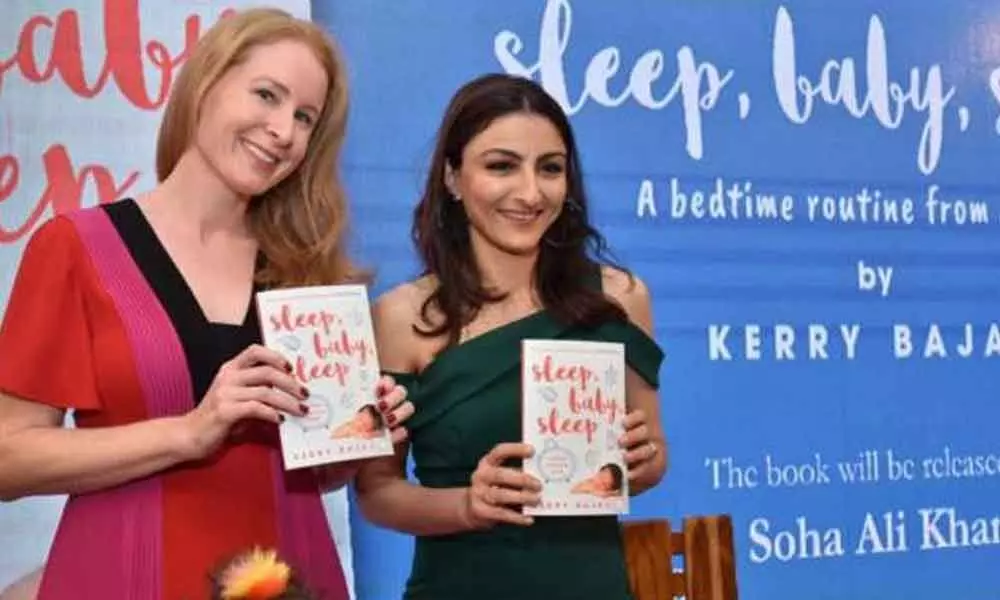 Highlights
In her book 'Sleep, Baby, Sleep: A Bedtime Routine from 8 to 8', Mumbai-based sleep consultant Kerry Bajaj brings together her training in infant and child sleep and holistic nutrition from the US, and her personal experiences as mother of two daughters as she provides a guide to mothers, who struggle to put their babies to sleep. She shows how a little discipline and a lot of patience can help inculcate good sleeping habits that will last a lifetime
In her book 'Sleep, Baby, Sleep: A Bedtime Routine from 8 to 8', Mumbai-based sleep consultant Kerry Bajaj brings together her training in infant and child sleep and holistic nutrition from the US, and her personal experiences as mother of two daughters as she provides a guide to mothers, who struggle to put their babies to sleep. She shows how a little discipline and a lot of patience can help inculcate good sleeping habits that will last a lifetime
• Create a spa-like sleep environment. You know when you go to the spa and it smells so good, the music is soothing, the lights are dim, the receptionist speaks softly and you instantly feel relaxed? That's the kind of environment we want to create for our children at naptime and bedtime.
• Set a healthy daily routine. Learn to set an age- appropriate predictable schedule for meals, naps, outdoor time, play and early bedtime. Routine is your magic wand!
• Teach baby how to connect sleep cycles on their own. This is where we teach the baby how to fall asleep unassisted and to connect sleep cycles on their own so they can sleep through the night. They can be a self-soother rather than a signaler.
• Stay on your toes. Kids keep growing and their needs keep changing – change is the only constant! Staying on your toes is all about maintaining healthy sleep patterns through periods of change – dropping naps, new sibling, travel, fears and separation anxiety. Clients are surprised by how much time I spend upfront with Steps 1 and 2.
They want the baby to stop waking up six times in the night – that's the pain point! Yet I spend a week asking about the bedroom temperature, singing the praises of blackout curtains, and tweaking the nap schedule. I say to parents, "I know the late bedtime may not be a pain point for you. But we have to get the schedule right before we move ahead. It's an essential part of setting up the baby for success."
• also remind parents that Steps 1 and 2 are completely gentle. This is where we use sleep science to set our child's environment and routine so they are primed for deep sleep. Even if you don't consider your little one's schedule to be a problem, these steps are mission-critical. We can't skip them or rush through them. It's unethical to allow any sort of crying during sleep training if we haven't first created a perfect environment and age-appropriate schedule.
A lot of effort is spent both in my practice and in this book convincing parents that these small changes will make a big difference. Once the parents see some early improvements, they feel optimistic, and it helps them to gain confidence for the journey ahead.
Step 3 is the actual sleep training. This is all about teaching your child to fall asleep independently at bedtime, which then allows your child to fall back asleep independently during middle-of-the-night wakeups. It involves learning a new way of doing things; hence, there may be protest, tears and a sense of outrage that you're not offering the same sleep crutches the baby has gotten used to.
Step 4 is the maintenance phase where you have to be prepared for ever-evolving sleep needs as your child gets older. So much of the work of improving baby's sleep is about "training" the parents. I have to help them see what's possible and boost their confidence that their child can sleep well.
There are a few phrases that I use all the time, to change the parent's mindset about sleep.
• You decide where baby sleeps. Only the parent has the critical thinking skills to look at the big picture and the best interests of baby and family. You are in charge of deciding the optimal sleep location, not baby. Pick one sleep location and stick with it. Baby should not get shuffled around in the night.
• Nobody makes their best decisions at 3 a.m. That's why it's so important to have a plan.
• Be boring in the night. Help baby if they need a diaper- change or a feed, but no talking, no lights, no music, no party in the night.
•You're in charge of getting baby ready for bed, baby is in charge of sleeping. This is the new division of responsibility. Your job is to make sure baby's tummy is full, diaper is dry, room is cool, and everything is perfect. Baby's job is to fall asleep.
• Daytime is for eating, nighttime is for sleeping. Of course, this is age-specific, but it's a good rule of thumb after the first few months. We'll go into specifics!
• No artificial light after sunset. Artificial lights will block sthe production of melatonin, and we want baby to produce the sleep hormone melatonin so she can sleep.
• Babies don't like surprises. Anyone who has put a sleeping baby into a crib only to have them howling 10 minutes later knows what I mean.
• Stop rocking to sleep. Some changes must be made gradually. But for babies over 3 months, I almost 36 Sleep, Baby, Sleep always find you can just stop cold turkey with rocking the baby to sleep. Save your back, and pat and shush the baby instead.
• Consistency is kindness. Always.
• Final feed = 30 minutes before bedtime. If you take just one thing away from this book, this is the life-changing advice! Give the final feed, do another part of the bedtime routine (like massage, books, song), then put the baby in the cot. No feeding to sleep.
- Extracted with permission