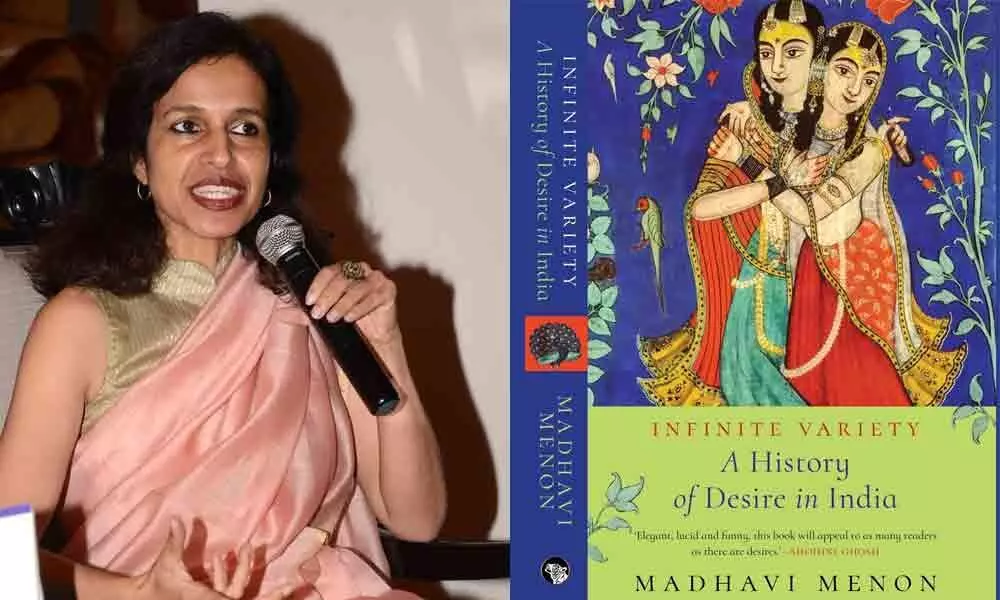 Highlights
Author Madhavi Menon who was recently in Hyderabad with her book, 'Infinite Variety: A History of Desire in India', which emphasised on the fact that our idea of desire is not confined to, and is not exhausted by genital sex alone
Professor Madhavi Menon, author of 'Infinite Variety: A History of Desire in India', has written extensively about iterations of desire in Indian history.
As English faculty member and director of the Center for Studies in Gender and Sexuality at Ashoka University, her work and teaching responds to activism around gender, sexuality and desire as it manifests on the ground,
Excerpt from the interview:
Madhavi, congratulations on your latest book! How has Hyderabad received it?
Thanks! The Hyderabad Literary Festival, 2020 was wonderful. I loved the energy and the people. I also thoroughly enjoyed the panel on my book. The moderator posed very thoughtful questions; and the Q&A section went on for about an hour after the scheduled panel time.
Literary festivals like these give me an opportunity to interact with people from different backgrounds. Their insights challenge my perspectives and make me think harder about the realities within which we live.
What is your book about? And since it is based on academic research, I am curious to learn if it is for niche readers or a wider audience?
'Infinite Variety: A History of Desire in India' dives into the history of the Indian subcontinent, its oral traditions, geographies, religions, literatures, and schools of philosophy to present the region's pluralistic and rich understanding of desire.
Yes, it is based on research, but my voice is vivid, like a story-teller. I have attempted to understand the idea of "desire," not as something distant but as a reality we live through cuisines, fashions, films, religions, and cultural practices, among others.
"Desire" breathes and grows on the soil of everyday life. The book is for anyone who is interested in the topic. I do not believe in the false division of readers into niche/ literary and popular.
I would love to know about your take on films.
I am a big fan of Bollywood, and one of my chapters discusses the Madhuri Dixit-starrer, 'Dedh Ishqiya', which is a fascinating film. Contrary to the popular opinion that Bollywood is mostly sexist and homophobic, I think several films contemplate on the complications of desire in interesting ways.
Beginning with the 'Dostana' films in the 70s (starring combinations of Amitabh Bachchan, Shashi Kapoor, Rajesh Khanna, Dharmendra), to the film 'Dostana' itself.
Could you elaborate?
I admire Sanjay Leela Bhansali and the way he altered the landscape of portraying "desire" in Hindi Films. I also appreciate the work of Abhishek Chaubey in 'Dedh Ishqiya'; the finesse with which the film portrays the unexpectedness of sexual desire is superb.
So is the film 'Ek Main Aur Ek Tu', starring Kareena Kapoor and Imran Khan where the couple separate rather than ending up married. Such films are closer to reality, more complex and hence more relatable.
You have travelled extensively with your book in metro cities. How do you think you could promote your ideas in smaller towns?
I don't think it is at all difficult to communicate with people in rural areas because they often have a more vivid memory of our histories than the Anglicised urban populations.
Often, people can be less repressed in small towns, and they are able to draw on the richness of plural languages and ways of being in their everyday lives.
So true! Could you share with us a little about your life as a woman, an academic, and a writer?
There have been no major struggles in my life. I know many women have to fight enormous odds to achieve the slightest of things. However, for me, I have been privileged always in this regard.
My family has been very supportive, and I had quite an idyllic childhood. When I was ten years old, I was the self-appointed editor of our colony's newspaper, and one of my first editorials was titled "Boys: Something Needs to be Done," about the unfair privileges accorded to boys! We live in a sexist world and it is often hard to negotiate that.
But one always has to speak up against injustice to minorities of all kinds. I often get into trouble for speaking my mind, but I think it's important to continue to do so.
Is that how you felt in America? Share with us your thoughts on academic life in India and the US.
Indian students are smart but our academic system lack spaces that could encourage them to exercise their intellectual and creative potential. There are several kinds of drawbacks in the US but I have generally felt that professors are respected there much more than they are in India.
Here, there is a tendency to take academics for granted. I am also not comfortable with curricula and policies being controlled by a single centralised body. Education should be subsidised, not centralised.
On that note, have you felt the pressure of the present drive to focus more on the utilitarian aspects of education?
Thankfully, not! I work for a private university and it allows me the creative freedom to frame my own syllabus and experiment with my methods of teaching. I don't think I could ever work in an atmosphere that robs me of my intellectual autonomy.
Wonderful! Where does your fire come from? What can other women learn from it?
I am committed to fighting for those who cannot fight for themselves. That's my fire. I think we always need to speak up when we see blatant misuses of power in the world around us, even though speaking up might make us unpopular.
There is no point in playing along and being a good girl. My interest in sexuality stems from my interest in literature because both fields gesture to an imaginative horizon that cannot be contained by facts and identities alone.
I think it is important to embrace plural ways of thinking about the world – that is the only way in which we can do justice to the complexities within which we live.