Enhancing the visual experience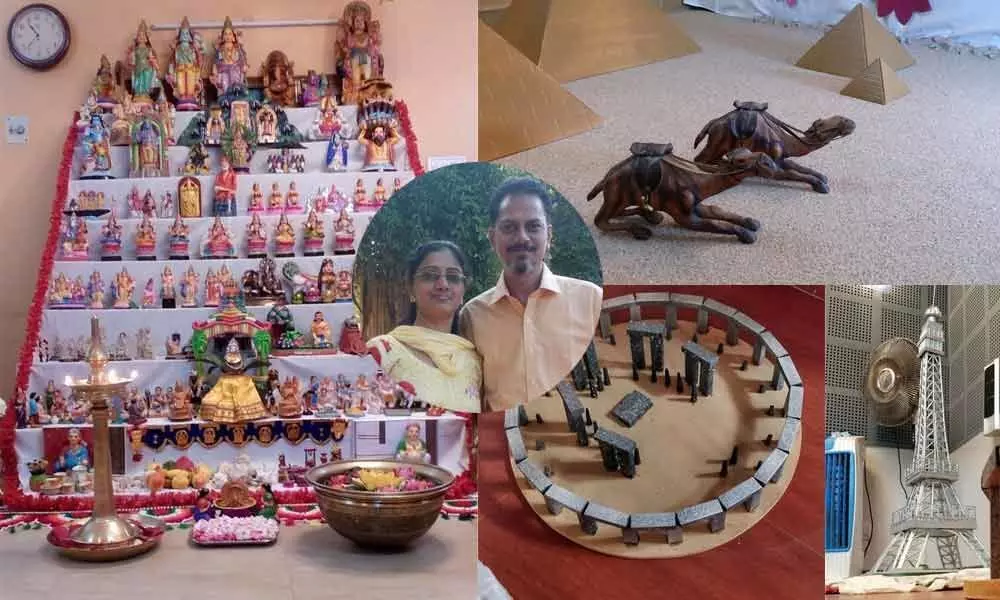 Highlights
The couple Anupama and Shivkumar have been recreating world famous monuments as part of their "golu" at their home
Invoking the goddess worshipped as Durga (courage) Lakshmi (wealth) and Saraswati (learning) make "Navaratri' a period of worshipful contemplation, festivity and bonding.
The triumphant moment of good winning over evil symbolized by "Vijayadashami" the tenth day after Mahishashura the evil demon was vanquished by "Durga" the all powerful goddess venerated as "Mahishasura mardini" is celebrated across the length and breadth of the country.
It however has a different flavour in the South of India. The tradition of "doll display" known as "Bommai Golu"( Tamil) or" Bommala Koluvu"(Telugu) is unique and akin to invoking the celestial beings into our homes to celebrate and re-emphasize the triumph of good over evil.
Enhancing this visual experience through creativity and innovation has become a passion for the couple Anupama and Shivkumar who have been recreating world famous monuments as part of their "golu" at their home in Malkajgiri.
"Our family has been carrying on this tradition for five generations. Each year we look forward to doing something different and I began experimenting with recreating world famous monuments four years ago.
I recreated the Taj Mahal, Eiffel tower and Stone Henge in the past. This year I have made the famous Pyramids of Egypt" say the couple.
Immensely interested in architecture Shiv kumar embarked on recreating monuments for the doll display which is open to all.
Many people including school kids who have heard of the display evince interest in seeing the monuments and ask questions pertaining to them. 'Golu is an important tradition that helps create awareness about our history, culture, mythology and every aspect of our life. It involves participation by the whole family and social interaction with the community.
For me recreating monuments is an absorbing and satisfying hobby too" he adds. Working in a computer solutions company he took three days off to work on the pyramids which involved a lot of study, effort and time.
Visitors are also given different plants to carry back each year in place of the regular "tamboolam" (betel leaf offering) given in plastic bags.
Basil (Tulasi), Money plant and turmeric plants have been given so far with the message of wellness and caring for the environment as the prime focus.
The family has a collection of more than 600 dolls that includes beautiful glass dolls bought from Mount Abu, a mini train with a metallic engine that is more than 50 years old and shelves of different types.
The tradition of buying a new doll each year keeps adding to the collection and monuments made for each year's display are also carefully preserved.
With plans to make the leaning tower of Pisa, the Great Wall of China and the Qutub Minar, Anu and Shivkumar's collection may indeed grow into a museum.
As of now it is the continuation of a tradition and a nurturing of ancient values in newer ways.
Subscribed Failed...
Subscribed Successfully...