For this beauty queen, age is just a number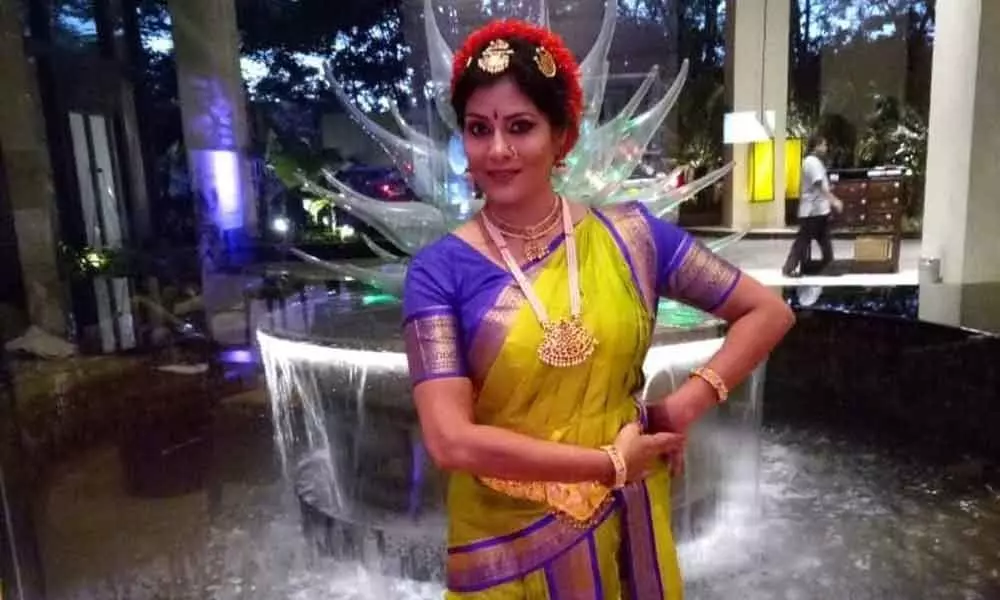 Highlights
Hyderabad -based Saila Sree got back to her first love Kuchipudi after a long hiatus, and it is dance and her attitude towards life that made her win Mrs India Talented and Mrs Indian Achiever awards at the recently held Mrs India Empress competition
Saila Sree Tadepalli a 49-year-old woman, who has carved her path into the glamorous industry has much to narrate when it comes to her life journey.
A Kuchipudi dancer, who left her dance behind to attend to family, manages to enroll herself in the Mrs India Empress of Nation Season 2 contest, which was held at Hyderabad recently.
It was her talent for dance that gave her the confidence and she went on to win the titles Mrs India Talented and Mrs India Achiever. Saila also teaches Kuchipudi to around 50 students.
What has inspired you to learn Kuchipudi dance?
As a child when I was three, my maternal grandfather was the main reason that I happened to start learning Kuchipudi. He was the one who put me in the dance class. I started withBharatnatyam at first and was training in it until my intermediate.
Later as years passed by, one of my aunts suggested that I must join Hyderabad Central University as it was offering an MA Kuchipudi course. I managed to clear the entrance exam and the rest is history.
In Hyderabad, Vedantam Rajesham master was my guru. Unfortunately, there came a time when had to stop practicing dance. I stopped performing from the year 1993.
When did you get back to teach and perform Kuchipudi?
Due to family issues, I happened to leave everything that has to do with dance behind and opened a business that did not last for long. At one point of time, I started thinking that I was wasting my time and was not giving any importance to my talent.
From 2016, I wanted to use my talent and teach people how to dance. I visited a gated community and saw that there was potential there for me to teach dance.
I have had 27 years of a long gap and I wanted to stabilise myself. Eventually, I started by teaching five girls and now I have around 50 students now who learn Kuchipudifrom me.
How did you get the opportunity to participate in Mrs India Empress of Nation?
I always knew that I had looks and talent. In my college days, I used to shoot as a model for a few of the photographers, which I would enjoy. I was confident to be a model and wanted to be a model.
Recently I heard about this competition and so I have enrolled myself and participated in this pageant. It is not easy for married woman to participate in a beauty pageant, but I am glad I did. I was the only woman selected from Telangana in a competition that had women from across India participated.
What was the competition like?
There were a lot of rounds like the question and answer, catwalk and many more, and there was also around to showcase talent in the competition. I performed a two-minute of the Kuchipudi item.
How did you prepare for the pageant?
We had a four-day grooming session and so we were trained to participate in the competition. We also had training for fitness and health sessions.
We were also trained to do modelling for photoshoots. Personal care was given for the ramp walk as well. I had to be present with a very good mind and body. I followed a certain diet and alsopracticed yoga. The pageant made me much disciplined in my life.
How did winning these two titles at the pageant affect you personally?
I always wanted to achieve something in my life and be recognised. My son had supported me a lot in this journey. I used to wonder what people would think if I would participate in such competitions, but then, I now feel that I have achieved something for myself and no one can stop me from doing something that I feel comfortable about.
Whom do you call as a support system in your life?
I can just say that my maternal grandfather and my mother are the biggest support system in my life. I lost my mother, but then they have encouraged me to learn classical dance and that is the reason I am entitled to these achievements today.
What message do you give women, who take you as an inspiration?
I have only one thing to say, just believe in yourself. No one can stop you once you reach your goal.