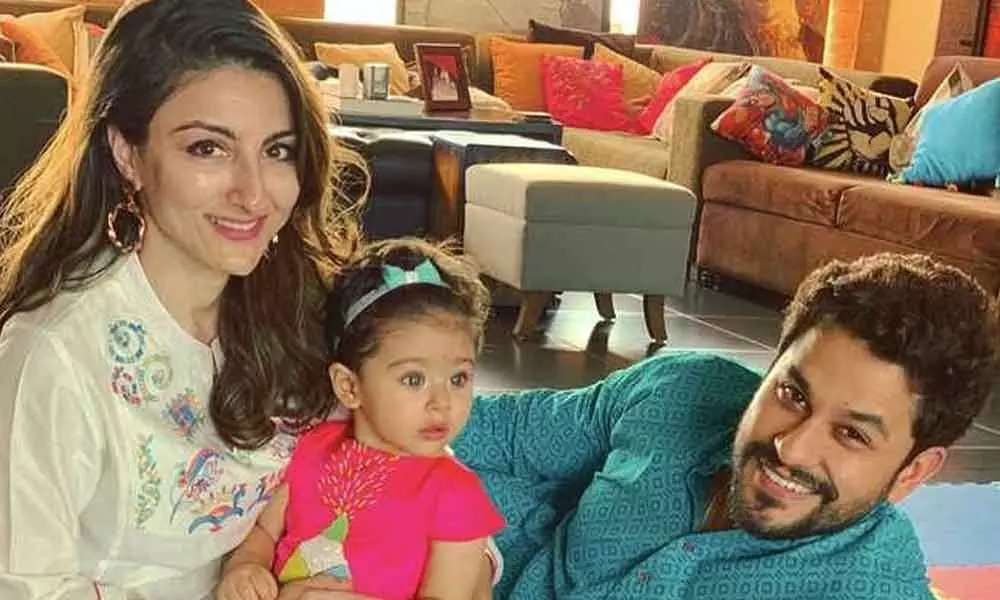 Highlights
Soha Ali Khan says being a mother changed her life, "It does of course change your life completely and anything that you thought of was a priority...
Soha Ali Khan says being a mother changed her life, "It does of course change your life completely and anything that you thought of was a priority before this, is no longer a priority. She comes first.
Everything changes according to what will help me spend time with her or you know make her happy in some way or is good for her. So, her benefits come first as I feel it should be."
When asked, between Kunal and You, who plays the good cop and bad cop to Inaya, she replies, "I think that I have made most of the rules and therefore I sort of enforce most of them specially when it comes to things like bedtime, meals and whether it's important to go to school on a particular day or not; those are rules I've come up with but Kunal is very supportive of my rules.
If I say something, he doesn't contradict me. I think it's very important. You have to put up a united front," shares Soha.
As a mother she is not chilled and relaxed. She is very hard core. She says, "As a mother, I want Inaya to learn and grow all the time.
You know, this is the age where you can see that she is absorbing everything, she is repeating things. It is a scary time as well as an exciting time because she is exposed to so much.
She is not just exposed to me and I would like to think that I am the best influencer on her but I am sure that I am not perfect.
School, other children, other parents, staff, other family members, everyone is contributing to her development at this point.
So this is the time where everything you say or do can expose her to matters because it's all being absorbed and forming who she is, which is why I think what she sees on a screen whether it's a tablet, whether it's a TV, whether it's a phone matters because I want her to see what is appropriate and what is responsible and what is right and what will help her grow as opposed to not engage her."
Inaaya recently won hearts by reciting the 'Gayatri Mantra'. "Kids are naturally curious firstly. So, all you have to do is to make it engaging and fun, even if it is a physical task.
For them, at this age in their life, there's no distinction between playing and doing an errand. So, whether it's washing a plate, or whether it's cleaning the floor, whether it's reading a book or whether it's playing with play dough and making make – belief parathas or making a cup of tea, it's all the same to them.
I thought that learning the Gayatri Mantra with Sanskrit words would be difficult, but at this stage everything is the same to them. Because they are so good at absorbing new languages, this is the time to expose them, so, I have told everyone at home.
to speak to her in whatever language they are fluent in. I can see that she's learning a little bit of Malayalam, she's learning a little bit of Kashmiri. So, she's learning all those languages."
About balancing work life and motherhood, she says, "I think that women are used to wearing multiple caps and there is something or the other that is always there and then, where's the time for me?
You have to carve out that time for yourself as well. So, that me-time has become very precious to me. It's all about getting balance.
Of course your child becomes your priority, more than work, more than your husband, more than anything else; your child comes first and for the first formative years, and according to me, it has to be like that."
She shared all her experiences with motherhood during an exclusive interview held on the sidelines of the launch of the digital app "Voot Kids" in Mumbai.
"With growing digitization, kids are turning into screenagers and everything is a touch away. As a mother, I am constantly juggling between rhymes and stories to keep my child entertained.
What works best is a product that seamlessly blends learning and fun thereby ensuring a safe viewing experience which is integral today," she states.
Subscribed Failed...
Subscribed Successfully...