Recreating planetarium using virtual reality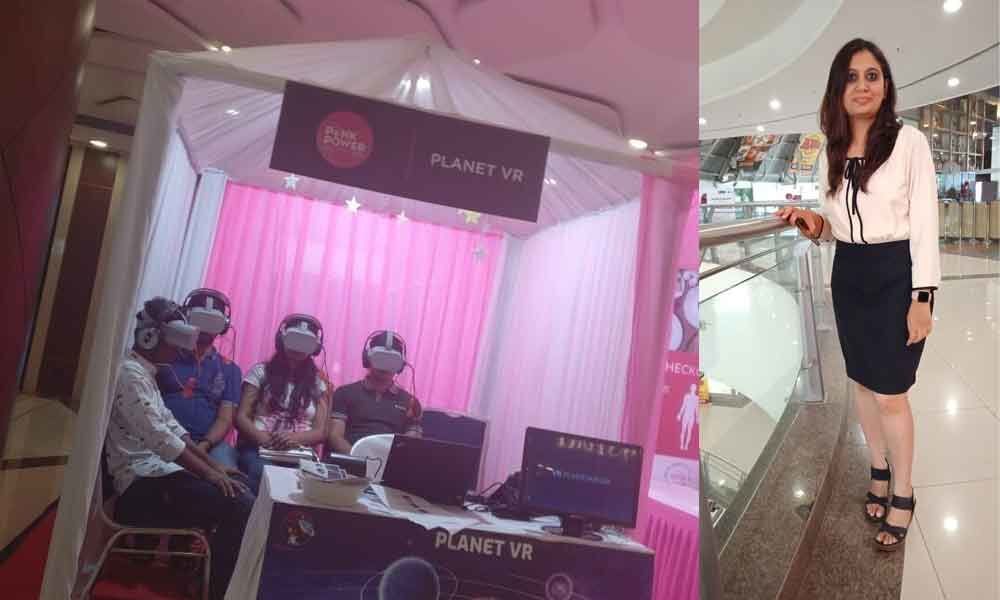 Highlights
Bhairavi Gandhi, is all set to make a postive impact on parents and kids with 'Planetarium in Virtual reality'
Born in Mumbai, but brought up in the Hyderabad, 34-year-old Bhairavi Gandhi jumped on to the technology bandwagon when she got admitted into JNTU to do computer engineering, and she finished engineering with a Gold medal.
"I am a big technology enthusiast," she admits. She continues to live in Hyderabad with her son and parents and was a developer in a software company, who dreamed of starting her own venture.
"VR has been the technology that has attracted me the most and I wanted to make it accessible to the masses." This love for technology and desire to be an entrepreneur prompted her to create a virtual planetarium.
Extracts from an interview
Tell us about journey?
Right from my childhood, I have been interested in science and technology, but during our days, we had very little practical exposure due to infrastructure issues at school. I have been a top performer even in my school.
Coming from a middleclass background, our sources of knowledge were limited to our textbooks, and occasional field trips and visits to museums and planetariums. Technology has become an integral part of education these days.
All kids have exposure to internet and make use of Google, Wikipedia and other sources to gain knowledge. Being a mother myself, I want the best teaching methodologies and technology to be used for my son.
I have always been looking out for new ways of teaching and VR planetarium was one such concept, which caught my attention.
What is Planetarium in Virtual Reality?
A planetarium is a place where celestial events and objects are projected on a dome shaped structure. It is normally a dark enclosed area which gives a stunning night sky projection.
The same experience can now be achieved using VR (Virtual Reality); the VR headset sits right in front of the eyes and gives a very immersive three-dimensional view.
The visuals are ultra realistic and give the feel of a real space journey through the stars, planets and blackholes.
The best part about VR planetarium is that people do not have to visit a dedicated planetarium, in contrast, the planetarium can come right to your house or school.
Since how long are you into this?
This is a very new venture. I have had previous ventures related to Virtual Reality, but they were mostly focused on entertainment.
My company operated VR gaming and VR roller coasters experience stores in Hyderabad/Bangalore. We are also involved in R&D and manufacturing of VR experiences.
This has been going on for the last 2 years. VR planetarium is a very new and niche concept, which I have been involved with for less than 3 months.
What inspired you to start this? Whose idea was this?
I was on a tour to some European countries, when I found this technology in Belarus.
I loved the concept so much that I decided to bring this technology to the people of India.
I have a partner in Bangalore, Ganesh Marappa who has been managing the R&D and technicals of the VR technology of our company. He was onboard with this idea and helped me in setting this up.
So far where have you displayed the product?
Our first display of the product was during the Inorbit Pink Power 2019 contest in Inorbit mall, Hyderabad. We are currently looking for places to set this up.
Being a very portable product, we are open to taking this to schools, colleges, corporates and parties, etc. on need basis too.
What has been the challenging part of being on your own with a new idea?
The biggest challenge for us is from the parents and children themselves. Both need to prioritize education over movies and games.
We have had multiple people asking for Bollywood kind of movies on VR platform or exciting games. We do have separate gaming centers operating in malls, but along with games and movies there needs to be some time allotted for learning about the universe we live in.
The VR planetarium is probably the most fun way to learn as it does not thrust knowledge on you. You will just observe and absorb the knowledge effortlessly.
Where do the shows come from?
We import the hardware from USA and the software is from Russia. The content that we show comes from various sources.
Some of them are from projects funded by NASA, some are from ESO (European space observatory). We have some shows from Germany and India too.