Taking the sustainable route to fashion!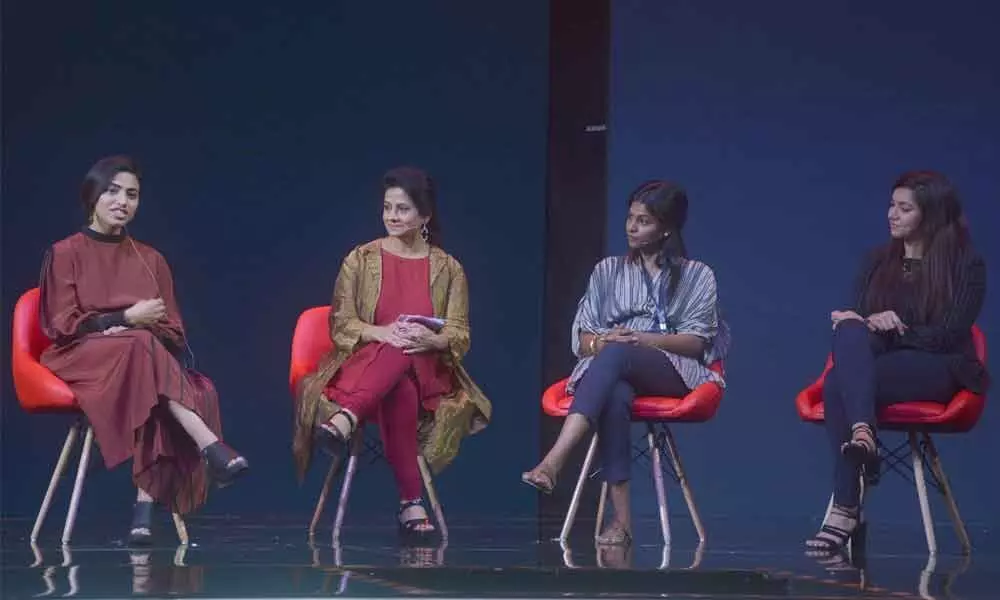 Highlights
Fashion industry is in the top list of most polluting industry in the world. Sustainable fashion is a way to fostering change to fashion products and the fashion system towards greater ecological integrity…
People are being more conscious of climate change and are trying their bit to save the planet. Sustainble fashion is the new 'in thing' to foster change in the industry.
A panel discussion 'Made in India: Sustainable Fashion' was conducted as part of the ongoing Hyderabad Design Week. The focus of the talks was on how fashion is affecting the environment and what kind of measures can be taken to avoid it.
The panel comprised of Ruchika Sachdeva, Creative Director of Bodice; Priyanka Khanna, Head of International Expansion South Asia Fashion for Good; Jayanti Reddy, fashion designer, Jayanti Reddy label and moderator Rajshree Pathy.
The discussion who discussed what measures can be taken up to move forward with sustainable fashion.
According to reports 'Fashion industry is one of the most polluting industries in the world as it uses a lot of water and chemicals.'
Initiating the discussion, Ruchika said, "I cannot say that I have a sustainable fashion brand, but then we try to be one, it is embarrassing when people say that we are one of the polluting industries but it is also important about how we could make an impact on the environment.
Small things that we do are we only use natural fibre for the embroidery and after that, we do the natural dying process. We are constantly looking for things that are recycled and scarped fabric.
We try to ensure to reduce waste while making a garment and also make sure that our bags are made from the leftover materials. We engage with age-old crafts as to where we can take them out of India.
We also see that women are comfortable wearing our garments, we have detachable hems with which you can remove the pleats. We also focus on deadstock and use them to make new garments which are one of its kind."
Known for her exquisite craftsmanship Jayanti talked about her CSR activities with the weavers: "The chikan khadi weavers that I worked with are associated with Shabna Azmi's NGO.
I feel that I did my bit in reviving the craft and also provided a livelihood to most of them. Within my organization, I provide direct employment to 150 people.
We also donate our fabric waste to orphanages and other organisations, which they use to make products from them and put it up for sale."
About monitoring sustainable fashion, Priyanka Khanna said, "There are a lot of organisations, which are working to measure the impact, however, nothing has defined it yet.
The key factors that come up about sustainability are mainly water, waste created and use of resources. If you're working on sustainability we need to work on the reduction of these things. Eventually, I believe they will be a measurement tool around for fashion."
Big fashion houses are termed as bad boys of fashion and so commenting on this Priyanka said, "Sustainability is a journey and many brands are discovering what sustainability means to them and some of them are experimenting a lot on this term.
We have a lot of pleasure across the board and I feel that somewhere there has to be a lot of learning. Brands are making efforts to implement sustainability in them."
The panel at the end of discussion concluded that consumer awareness about the amount of work done of the garment and re-using the garment must be implemented by every individual to make sustainable fashion more viable.