There is a story to this food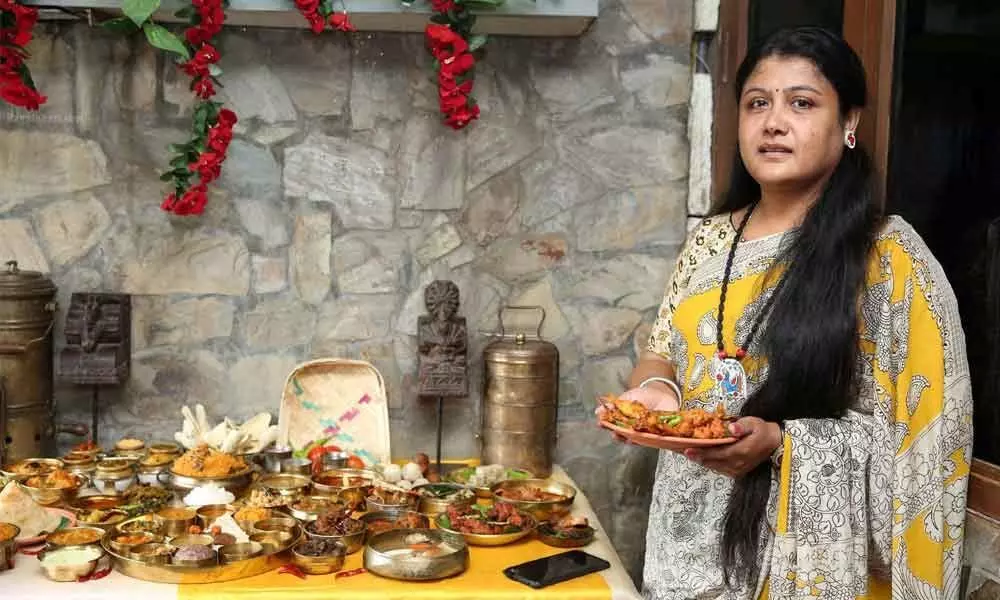 Highlights
Rajeshwari Puthalapattu specialises in Chittoor district cuisine – which does come under the umbrella of Rayalaseema, but isn't so generous with the chilli, has Tamil influences, is unique on its own, and goes much beyond ragasangati and natukodipulusu. She will soon be launching her book of heirloom recipes...
For some time now, the hotels and restaurants in Hyderabad, have been celebrating regional and micro cuisines, and in the process, the many myths about the not so well-explored food cultures are being dispelled, and it has been exciting to explore the culturally rich and unique flavours.
Rayalaseema Ruchulu (RR), the standalone specialty restaurant popular for launching region-specific cuisine for the first time in Hyderabad, teamed with home chef Rajeshwari Puthalapattu to bring together unique recipes from Chittoor district – which does come under the umbrella of Rayalaseema cuisine, but isn't so generous with the chilli, has Tamil influences, is unique on its own, and goes much beyond ragasangati and natukodipulusu that we usually associate with Rayalaseema cuisine. Use of coconut, peanuts etc, make the recipes tasty and nutritious.
"There are even 100-year-old recipes that I cooked for the food festival, which I have learnt from my mother-in-law. We are getting carried away by fast food, and foreign cuisines.
It's time we looked within and enjoyed the goodness of our food," shares Rajeshwari, who in addition to serving the not so familiar, yet delicious dishes, but also spells out the health benefits packed within, making the food even more enticing.
TekkaliRasam (tomato rasam) and the spicy and flavourfulNendrikayarasam (crab soup) are known to be detoxifying and the latteris full of calcium and Omega-3 fatty acids.
Even the sweetmeats like the kobbari mithai, allam sugar candy spell goodness with taste. While the preparations balance the spice, flavour and tradition, what makes the heirloom recipes even more attractive are the age-old names of the dishes that exude nativity – Masalavadalakarampulusu, Botinanchu, NethiliPakodi, Kallapulusu, Kodikheemaundalu, Antumamidichepalapulusu, made just the way she learnt it, makes this micro cuisine mouthwateringly delicious.
Afterall if the food is tasty and it has a story, it sure becomes the most exotic combination, that this chef has nailed, aptly. "In Chittoor, we are food lovers – nanchukotaniokati, karakaraladataanikiokati, kalapataanikiokati (we need one as a side dish, one for the crunch, one to be mixed with rice and so on)…Our meals are elaborate," explains Rajeshwari Puthalapattu, who is in the process of bringing out a cookbook. She regularly shares her food stories on social media and foodie forums.
Her passion for the cuisine, her eagerness to save traditional recipes, and love for cooking are on display at 'Aha Rayalaseema' – the promotion that will go on till November 10 at all branches of Rayalaseema Ruchulu.
This is one cuisine that shows equal love for vegetarian and non-vegetarian dishes, and you will see 50 of those dishes on the buffet menu at the Jubilee Hills branch, while the others will feature the dishes on a thali.
'Bhojanamnachinda. Ayithenaakadupunindipoyindi' (my stomach feels full, if you liked the food – an expression that says she is happy to see people love her food), she smiles as we relish the MarwalKodi Pulao, wondering if you still have someplace left for that Goruchikkudunanchu that she made as a side dish plus the desserts that cannot be missed.
By the way, there is a story to this Kodipalao too….it is made after 30 days of abstinence from non-vegetarian food following a wedding at home. Now, that is one dish to come back to.
Subscribed Failed...
Subscribed Successfully...