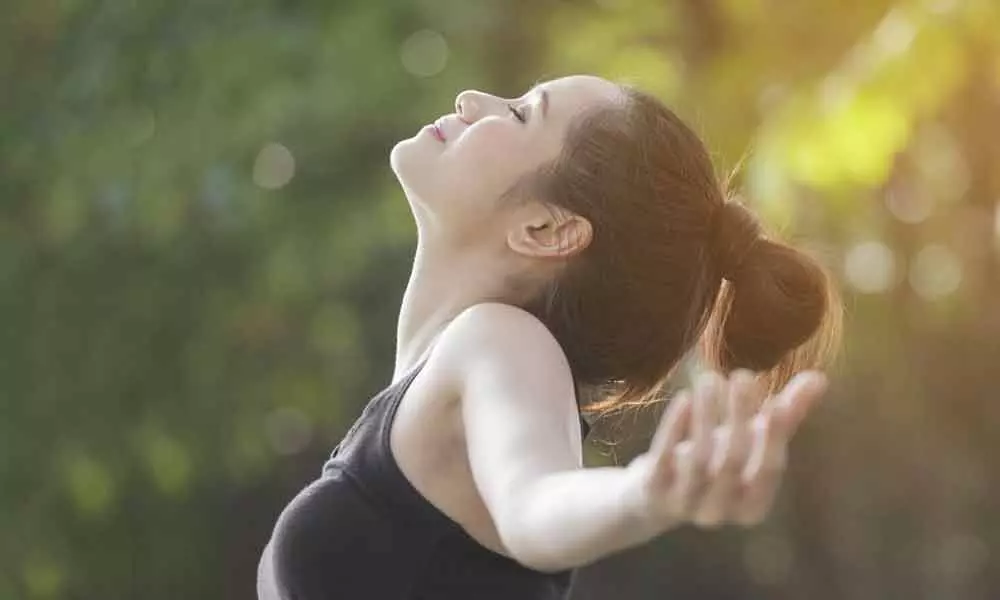 Highlights
The practice of Surya and Chandra Namaskar are an important part of yoga that teach us the importance of offering our gratitude to the elements and forces of nature that support life blessing us with health, peace and happiness
At a time when the world has turned happiness into a consumerist philosophy; authenticity and purity are trampled upon. Yoga is a lesson that teaches us to seek happiness within ourselves and remain sincere to our true nature. This tool for holistic wellness promotes physical, mental and spiritual well-being. Yoga gently guides us as towards bliss which is a more lasting quality of happiness. Bliss is eternal, untouched by the vagaries of external situations. Here are some of the simple, yet joyous and profound ways that yoga touches our lives:
Helps you connect to yourself
Each time that we show up for ourselves on the mat, this habit shapes and moulds our capacity for self-love. When we seek love, validation and acceptance outside of us, we will never truly be happy. As once those circumstances or people disappear, so will our love for ourselves and life. Yoga teaches us to enjoy our own company through the process of asanas, pranayama and meditation. The practice of yoga pushes one towards making the healthiest, most productive choices that are designed for growth. Each time that we choose what is best for us, we are strengthening our connection with ourselves.
Breathe in goodness
The breath is the controller of your emotions; observe your breathing when you are stressed, when you are in a state of anger, nervous, anxious etc. Your breathing is laboured, fast, hard, erratic or shallow during situations that seem unpleasant to you. Yoga connects you with your breath through its various practices, thus giving you the power to choose how you respond. To find that natural calmness, and stillness within your body, and mind, you should turn to Yoga.
Strengthens your purpose
Tools such as meditation are an incredibly powerful way for gain clarity and increase focus. This is possible as meditation leads to relaxing and slowing down the mind. With repetition and consistency, you start to develop greater awareness, and thus develop a more relaxed internal state. When the mind is still, and free from restlessness, your focus is sharpened. Without distractions, you have greater momentum to find your purpose or to achieve your goal. Yoga brings out the best in you by increasing your productivity in all areas of your life, leaving you contented. With these techniques of meditation, and mindful awareness, you can enable your own transformation.
Uncover your inner treasures
Yoga cultivates willpower. We stretch the limits of our physical bodies with yoga asanas, while pranayama and meditation build and strengthen our mental prowess, giving us clarity, and resilience to face any challenges that life throws at us. Through practised commitment and dedication, we are enabled to a venture into a journey of self-discovery where we begin to unearth treasures of inner potential that lie within us dormant, waiting to be found. Yoga allows us to explore and reach out to a higher and greater direction and purpose of life.
(The writer is a philanthropist, spiritual master, lifestyle coach, yoga-preneur and author)