IIT JEE (Mains) exam held peacefully on first day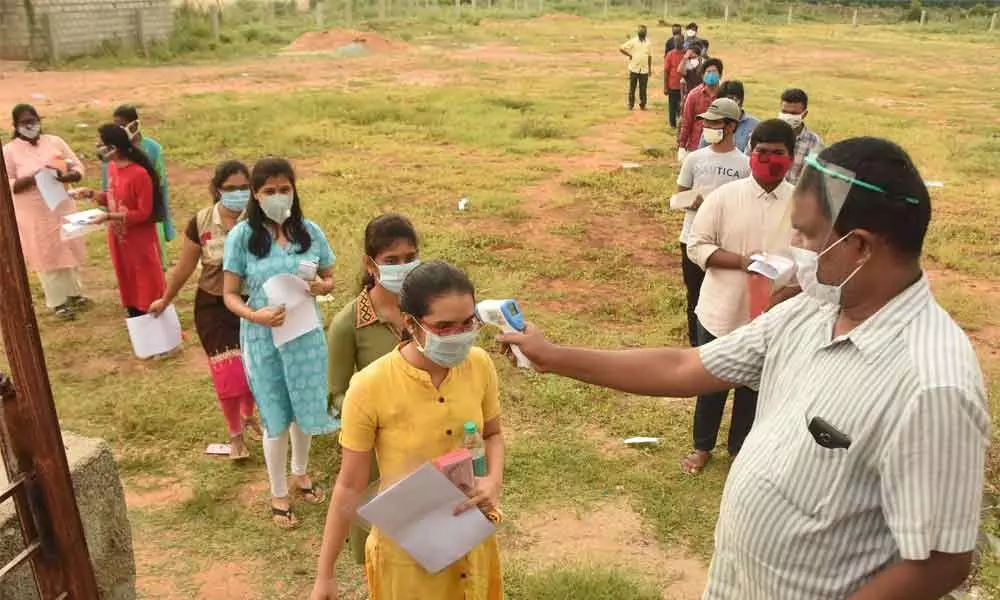 Highlights
The exam being conducted at 2 centres in Tirupati
At the Ion Digital Zone, Cherlopalle near Tirupati, 425 candidates have been allotted to take examination during the first shift on the first day while another 205 allotted for the second shift in the afternoon
Two Covid +ve students take IIT JEE mains on the first day and they have been provided computers in a separate room
Tirupati: The IIT JEE (Mains) has begun on Tuesday which will continue till September 6. In Tirupati two centres have been set up for the candidates to take examinations online.
At the Ion Digital Zone, Cherlopalle near Tirupati, 425 candidates were allotted to take examination during the first shift on the first day while another 205 are allotted for the second shift in the afternoon.
On the first day two Covid-19 positive students attended the examination at Ion Digital Zone where they were allotted computers in a separate room. Wearing of face masks was made compulsory for the students during examination and they were asked to bring hand sanitisers along with them. The examination was held peacefully on the first day.
The tests at another centre KMM Engineering college will begin on Tuesday where 65 students will take examination in each shift.
RTC has operated special buses from the central bus station to the examination centres to help students reach there.
These buses have been operated four times to take the students to the examination centre and bring them back from there in the two shifts. Special buses were also operated to Bengaluru for the convenience of the students to attend the examination there.
Subscribed Failed...
Subscribed Successfully...