9 Years in Office: CM KCR – A Statesman Par Excellence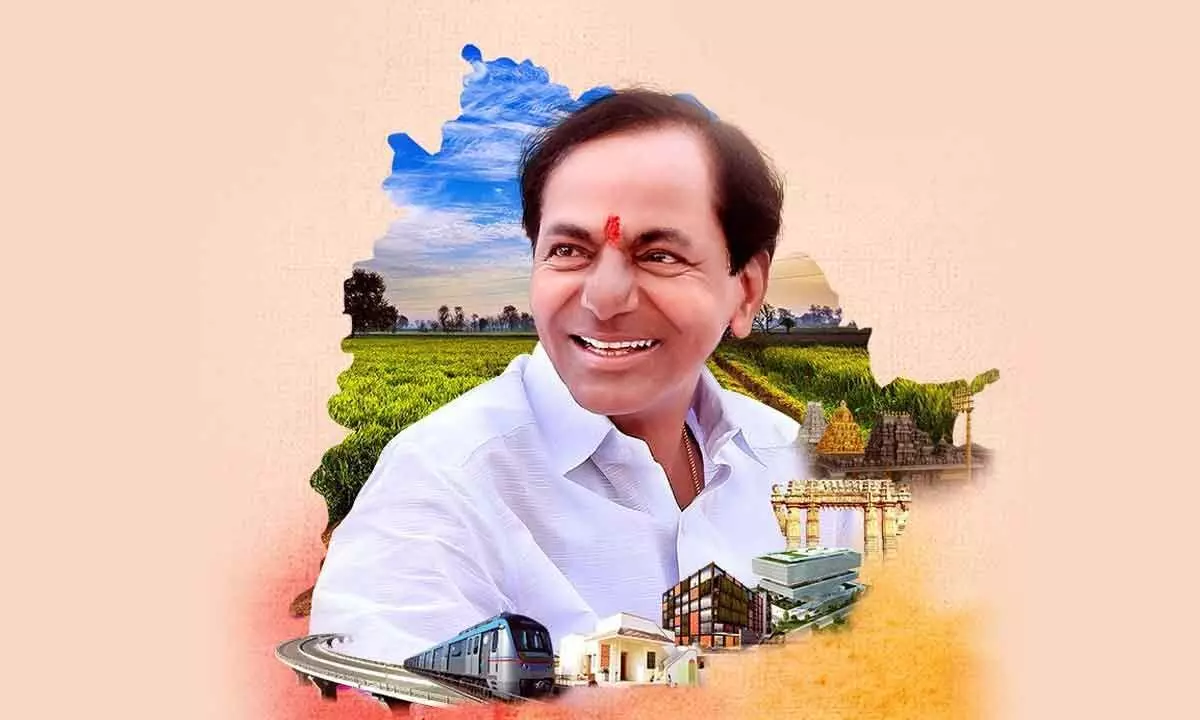 Highlights
Ever since KCR expressed his intention to enter national politics, he, beyond doubt, has been aiming at something very high, mighty, and big. He is laying a strong foundation for future generations' prosperity, peace, harmony, progressive and forward-looking changes in several sectors and development as well as making all sections of people to become economically and socially self-reliant
REFORMER TO THE CORE
• Within such a little span, Telangana has become a Growth Model and a Role Model
• Several unique welfare schemes launched targeting all sections of society
• Irrigation gets never-seen-before thrust; round the clock power supply supplied
• Mission Bhagiratha, Mission Kakatiya, Lift irrigation projects elevate rural prosperity
• While living standards improved, wealth is created to boost employment prospects
• Land-related woes of poor farmers unaddressed for ages getting resolved via Dharani

Elections were held in Telangana on December 7, 2018 to constitute the Legislative Assembly second time, consequent to the resignation of Chief Minister K Chandrashekhar Rao on September 6, 2018, after 51 months in office, since the formation of the state on June 2, 2014. With the landslide victory of BRS in the elections, and having been elected as Legislature Party Leader unanimously, KCR sworn-in as Chief Minister of state for a second term. Thus, KCR completed nine years in office at a stretch, which is a record, since no other CM in the erstwhile AP could achieve this.

CM formally launched the 21-day long decennial celebrations of the state formation in an impressive gathering at Dr BR Ambedkar State Secretariat on Friday, the June 2, 2023. He humbly presented the progress card of state's outstanding development, the message of which reached people of Telangana and also other states. KCR recalled his promise made on the state formation day meeting held at Parade Grounds on June 2, 2014 assuring people that he would shape Telangana in such a way, that, the nation learns from it and that it would be a benchmark for India. Accordingly, within a span of nine years, Telangana has become a Growth Model and a Role Model. KCR with equal humbleness said that Telangana needs to cross many more milestones and conquer many pinnacles in the direction of comprehensive development of state.
Visionary KCR, during the last nine years, successfully implemented a plethora of out of the Box welfare and development schemes many of which are unique to Telangana and nowhere in the country. These include among others, Kalyana Laxmi, Shaadi Mubarak, Aasara pensions, Rythu Bandhu, Rythu Bhima, Dalit Bandhu, Sheep distribution, Fish breeding, Weavers Welfare , Toddy Tappers welfare, Kanti Velugu, round the clock power supply, Mission Bhagiratha, Mission Kakatiya, Lift irrigation projects, Double bedroom houses, Telangana ku Haritha Haram, Residential education, Wellness centers, diagnostic centers, better Medicare, KCR Kits, Nutrition kits, various Acts like TS I-Pass, Panchayati Raj, Municipal, SC, ST, BC and Brahmin Welfare, employees' welfare, SHE Teams, IT and Industrial development etc. These schemes that enhance the living standards of people and create livelihood in some form or other whereby people are able to stand on their own legs with an assured income are the real employment or job creation. When wealth is created it automatically creates employment, the term often erratically used for jobs. The crux of the Telangana statehood movement is based on the trinity tagline of water for irrigation, funds for development and employment opportunities. Despite the three years severe economic crisis due to demonetization and corona pandemic, there is a commendable growth in the per capita income and GSDP since 2014. The per capita income has gone up from Rs 1,24,104 to Rs 3,17,115. Similarly, GSDP value of the state registered an increase from Rs. 5,05,849 crores to Rs. 12,93,469 crores. The state has recorded a growth rate of 155 percent in nine years.
Rural economy has been consistently and progressively getting strengthened day by day. KCR pulled the power sector out of severe crisis that was prevailing at the time of formation, and ensured continuous 24X7 hour free quality power supply to the farm sector. The installed power generation capacity is increased from 7,778 MW in 2014 to 18,453 MW. The state is leading in solar power generation also in the country. The per capita power consumption stands at a record 2,126 units. This paid rich dividends to agriculture. Irrigation projects were taken-up and are completed on priority basis. Lakhs of acres of land has already been brought under cultivation with a record yield year after year. In what construed to be a land mark and unprecedented path-breaking role model initiative in the annals of agriculture history in the independent India was to construct 2601 Farmers' Platforms or the Rythu Vedikas which are now a hub for all the farmer related activities like Agriculture Knowledge Sharing and Dissemination Centers at cluster level.
With reorganization of districts, creating new Revenue Divisions and Mandals, formation of new Municipalities, Panchayats, Telangana State made a history in administrative reforms and it proved the vision and statesmanship of CM KCR. The new Municipalities Act, replacing the earlier five acts ensures transparency, accountability and minimizes citizen discomfort points. The Urban Policy was a paradigm shift in Urban planning with a citizen friendly futuristic vision to meet the challenges of fast urbanization. The new Panchayati Raj Act aims at qualitative change in village administration converting every village into a progressive, prosperous, and ideal place, ensuring people's participation.
The new Revenue Act has an historical importance and significance which would once and for all put an end to the land-related sorrows of the helpless poor farmers for ages. With this, CM KCR's name would be etched in the history for such a great reform making him to be remembered forever like Sher Shah Suri, Todar Mal, Captain Reed, Captain Munroe, Salar Jung and PV Narasimha Rao whenever the land reforms subject is referred, read, mentioned, researched, or thought about. The integrated land record management system, Dharani Portal, is the key player in the New Revenue Act and it would make land related matters, like registration, mutation, ownership rights, data on the property more fool-proof and transparent. It makes a beginning of a Land and property disputes free Telangana State and a step towards conclusive title in future.
KCR's another brainchild is Dalit Bandhu Scheme, which is bound to change the life and financial status of Dalits in Telangana State forever making them self-reliant economically and live with dignity and self-respect. The uniqueness of the scheme is that it directly grants financial assistance to the Dalit families to start their own economic activity. The scheme heralded a new chapter in the history in Telangana and the concept is spreading like a wild fire in the country.
All this is possible due to the dynamic statesman like leadership of CM KCR, his administrative skills, his visionary leadership, and his innovative thinking. Telangana had reached the pinnacle of development and welfare and stood with a sense of pride in the world in a short span of nine years. KCR's handling of the coronavirus crisis and as an economist suggesting to PM Modi on provision of Quantitative Easing (QE) and Helicopter Money, speaks volumes of his statesman-like qualities and his possessing both efficient and effective leadership qualities. Had Modi agreed to his suggestion, perhaps, the situation would have been totally different.
The real power of a leader is in the number of minds he can reach, hearts he can touch, emotions he can move and lives he can change. KCR's two visits during peak of corona pandemic to government hospitals, and interacting with the Covid patients, proved that he is 'The Leader' who believes in leading by example.
It is said that eloquence is the power to translate a truth into language perfectly intelligible to the person to whom one speaks and the finest eloquence is that which gets things done. This is exactly KCR does when he addresses people. His oratory skills are the best and his speech is heard with rapt attention by people whatever may be the occasion, platform, audience, and subject. Statistical data is on his fingertips and tip of his tongue. He does not require any teleprompter or bureaucrat's passion chits of information. His words come from his heart and the subject from his brain. No other contemporary leader has the 'gift of gab' that KCR has and none can beat him.
Ever since KCR expressed his intention to enter national politics, he, beyond doubt, has been aiming at something very high, mighty, and big. He is laying a strong foundation for future generations' prosperity, peace, harmony, progressive and forward-looking changes in several sectors and development as well as making all sections of people to become economically and socially self-reliant. KCR's thought process as a Statesman par excellence, which ordinary people may find it difficult to understand and digest is unique. At a time when there is a big gap for right leadership in the country, the leadership of a statesman like politician of KCR caliber is indispensable.
(The writer is Chief Public Relations officer to Chief Minister, Telangana)