Can coronavirus spread through wastewater?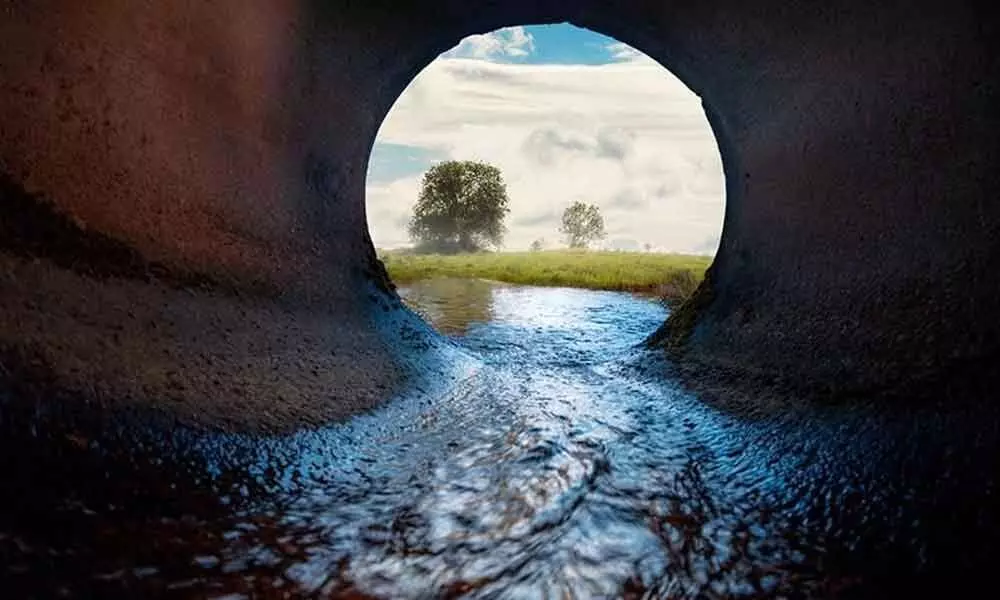 Highlights
The Covid-19 pandemic has once again exposed India's inadequate waste management abilities.
The Covid-19 pandemic has once again exposed India's inadequate waste management abilities. While the guidelines and standard operating practices for handling solid waste (municipal, bio-medical, Covid contaminated domestic waste) are developed by the Central Pollution Control Board and Health Ministry and operationalised at the State and municipal level, liquid waste and the associated problems during this period of pandemic are hardly being addressed.

It is well known that Covid-19 is spread through droplets or contact with materials that carry infection and recent evidence informs the presence of virus in human faeces from Covid-19 infected patients. Scientific studies in Netherlands, the USA, Australia, China and in Chennai have found traces of coronavirus in wastewater samples at sewage pumping stations and in faeces. Though the possibility of human transmission of the virus through wastewater route is not yet established, as per a technical brief released by WHO in March 2020, "laboratory studies of surrogate coronaviruses that took place in well-controlled environments indicated that the virus could remain infectious in water contaminated with faeces for days to weeks".
The potential spread of Covid-19 in India via sewage simply cannot be ignored. It is absolutely critical that the liquid waste released from multiple sources such as biomedical washings from hospitals and healthcare facilities, sewage from households and community toilets in containment zones, and sewage from toilets in these localities connected directly to open drains/nalas need to be safely handled and treated. The faecal sludge decanted from septic tanks also needs special attention. Further, given that water supply in most Indian cities is intermittent, there are high chances of the sewage influx in the water supply pipelines. Therefore, drinking water supply also needs to be protected.
So, what should city administrations and communities do?
The Covid-19 virus is an enveloped virus, with a fragile outer membrane. Generally speaking, enveloped viruses are less stable in the environment and are more susceptible to oxidants, such as chlorine. The virus survival time depends on a number of factors, including the type of surface, temperature, relative humidity, and specific strain of the virus. The Central Public Health and Environmental Engineering Organisation (CPHEEO), GOI has released a guidance document in which it has reported that effective inactivation of virus could be achieved within one minute using common disinfectants, such as sodium hypochlorite.
As per the WHO guidelines, a number of measures can be taken to improve water safety, starting with protecting the source water, treating water at the point of distribution, collection, or consumption; and ensuring that treated water is safely stored at home in regularly cleaned and covered containers.
Conventional, centralised water treatment methods that use filtration and disinfection should inactivate the Covid-19 virus. In India, the acceptable limit of free residual chlorine in drinking water is 0.2 mg/l under normal conditions and when protection against viral infection, it should be at a minimum of 0.50 mg/l as per the BIS Indian Standard for Drinking Water (IS 10500:2012). All urban local bodies and water utilities should step up residual chlorine during this period of pandemic.
As a precautionary measure, it is advisable for households to boil water before drinking.
It is important that wastewater carried in sewerage system should be treated in well-designed and well-maintained centralised or decentralised sewerage treatment plants (STPs), with a final disinfection using chlorine. The existing STPs should be upgraded to necessarily include chlorination as a disinfection process.
Gated communities and large apartment blocks having STPs should not reuse wastewater for gardening without proper treatment with disinfection.
Most urban areas in India do not have sewerage system. Households and healthcare facilities are connected to onsite sanitation systems such as septic tanks and the outflow of the septic tanks are connected to storm water drains. Hence, it is important that nalas/drains carrying wastewater shall be periodically disinfected with sodium hypochlorite. Public and community toilets should be thoroughly cleaned with sodium hypochlorite.
It is utmost important that grey water from healthcare facilities and contaminated zones or water from washing PPE, surfaces and floors shall be safely handled. Currently, WHO recommends to clean utility gloves or heavy duty, reusable plastic aprons with soap and water and then decontaminate them with 0.5% sodium hypochlorite solution after each use.
If greywater includes disinfectant used in prior cleaning, it does not need to be chlorinated or treated again. However, it is important that such water is disposed of in drains connected to a septic system or sewer or in a soak away pit. If greywater is disposed of in a soak away pit, the pit should be fenced off to prevent tampering and to avoid possible exposure in the case of overflow.
The septage from septic tanks and pit latrines should be decanted safely and treated at Faecal Sludge Treatment Plants (FSTPs) or co-treated at nearby STPs.
Most importantly, municipalities shall ensure that sanitation workers (regular or contractual) at every level wear Personal Protective Equipment (PPE) and do not come in direct contact with the wastewater.
In addition to deactivating the potential presence of virus in water and wastewater it is equally important to monitor the presence and prevalence of the virus in the wastewater flows. Several studies in Europe and USA have recommended wastewater surveillance as a complementary approach to measure the presence and prevalence of infectious diseases such as Covid-19. Globally, water utilities are collaborating with universities and labs to set up wastewater surveillance systems that may allow the detection of SARS-CoV-2 in cities, and potentially serve as early warning to help cities take precautionary measures. Further GIS based mapping and modelling is being attempted to support decisions making regarding advancement or scale back of physical distancing and quarantine efforts based on virus prevalence.
This is particularly critical when the capacity for clinical testing is limited and when large percentage of infected population is either asymptomatic or show mild symptoms as in the Covid-19 situation in India.
Chennai Metrowater has also recently detected the presence of Covid-19 RNA in sewage samples collected from five sewage pumping stations across the city. The samples tested through the RT-PCR technique at two accredited labs showed the presence of the Covid-19 viral RNA and a correlation of confirmed cases was also established in the locations from where samples were lifted. Similar efforts need to be made by all water utilities to ascertain the presence of Covid-19 virus in the sewers, open drains, septage from septic tanks and decentralised wastewater systems. ICMR shall issue guidelines and protocols for monitoring Covid-19 in sewage.
Academic and research institutions can support the water departments in quickly developing a sewage surveillance protocol in the context of Covid-19. Collaboration is also required with accredited labs for ensuring quality and reliability of data. Tracking presence of virus in wastewater could be an early indicator of community-level infection.
(The authors are professors at Administrative Staff College of India, Hyderabad)
Interested in blogging for thehansindia.com? We will be happy to have you on board as a blogger.