Politics is the same dirty exercise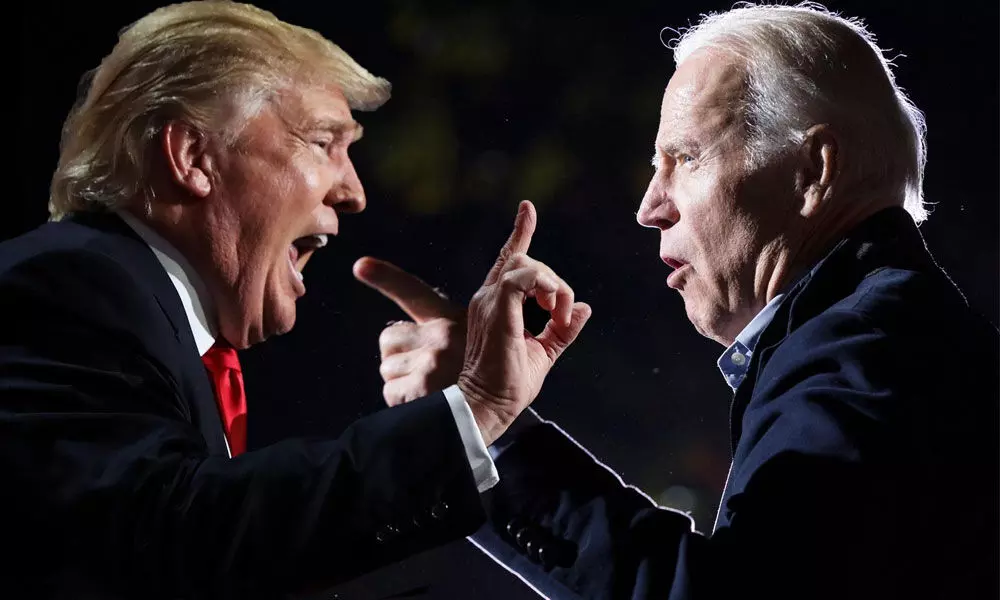 Highlights
United States of America which is known as 'Agrarajya' has displayed absolute disdain for the democratic process
ADVERTISEMENT
United States of America which is known as 'Agrarajya' has displayed absolute disdain for the democratic process. The way a billionaire businessman, reality TV star and political outsider exhibited his utter disregard for democracy and disdain in handing over power to his successor has made the countries which believe in democracy hang their head in shame.
Right from day one of becoming the President of US, Trump has proved that he was an unconventional politician. At that time many thought that there was nothing wrong in being unconventional if it helps the country and the world. But no would have perhaps even thought that he would prefer a bloody exit and would face an unpredictable future.
In the modern electoral history of US, no other president had shown such disregard to the democratic process. Trump should have recalled how smooth the transition was when Barack Obama stepped out of White House. No other president had declared himself elected even as the trends of the results were going against him. No other president had spread so much disinformation till the US Capitol was attacked.
Trump conceded his defeat and realised that his game was over only after five people died in the "insurrection" and violence when his supporters stormed US Capitol. This act of Trump was condemned by all including the British Prime Minister Boris Johnson, the closest ally of US and the Indian Prime Minister Narendra Modi. It may be recalled that Trump and Modi had shown excellent bonhomie. Trump's actions made even Modi express his distress over the rioting and violence that took place and an attempt to subvert democratic process was made.
Though Trump has on Thursday finally conceded to US President elect Joe Biden and condemned the acts of violence by his supporters, the fact is that the violence mirrored the behaviour of authoritarians and Trump failed to stop the slide over the so called fiscal cliff. It is ridiculous to say that his focus now turns on smooth power transition. He also said those who indulged in violence do not represent America.
What a realisation after the damage to the country's image has been done. If those who indulged in violence are not Americans, what about the perpetrators? There is no point in the lip service saying, "I am outraged by the violence, lawlessness and mayhem."
Even before issuing an appeal to the rioters to stop, Trump insisted that the "election was stolen," and called rioters very special. Over the last two months Trump had encouraged his supporters to challenge the results, which he said were fraudulent without providing adequate evidence to back his claims. On Wednesday, shortly before rioters breached the Capitol's perimeter Trump had said, " We will never concede".
The Trump episode and his behavioural pattern, should come as a lesson for the countries which believe in democracy particularly India which claims to be the biggest democracy. Whether it is the national parties or the regional parties, everyone who comes to power do not want anyone else to grow and succeed. This trend has been increasing in the country.
There is nothing wrong for the political parties to work to be in power or to come to power but what is disturbing is the authoritarian trends that are being seen and the authoritarianism that is creeping into the functioning of administration as well. This tendency defeats the purpose of having a well oiled administrative system consisting of civil servants and state servants.
It will not be a surprise, if our politicians make use of the mayhem of US as an example of how their opponents could be and equate them with Trump and soon we may see posters on social media with the body of Indian politician with the face of Trump. All parties may try to make him their 'Trump card' to belittle their opponents.
'Hail thy Lord' kind of situation seems to be creeping into Indian politics. Instead of doing what ever the party in power deems good for the people and leave the judgement to the people to retain them in power or not, politics has been converted into a business model. Have strategists, eliminate the opposition, and use even religion, caste and community sentiments for continuing in power or coming to power.
About two decades back, the focus used to be on propagating the policies and programmes of the Government adopting two fold strategy. One utilise the sound and drama wing of the Information and Public Relations by the respective state Governments and the DAVP (Directorate of Audio Visual and Publicity) which used to have special teams visiting the rural areas and screening special documentaries and organising various cultural programmes.
For the urban people, advertisements in newspapers in a systematic manner following the rules and procedures laid down by the Government was the order of the day. But all that has now been thrown to winds. New unwritten rules, new unwritten protocols have become the order of the day.
All political parties feel that social media is the best way to reach the people forgetting that for a politician, direct contact with the people of constituency is the best and the only way to win an election. Yes, the social media has its own role to play but then it can be a double-edged weapon. Moreover, it has been noticed that it being used more to troll the opponents and verbally attack each other.
In the backdrop of this scenario, one should hope and pray that the desperation Trump had shown to retain power, the way he planted and nurtured doubts about the system called elections does not become a precedent to be followed by politicians in India. We have seen how a party that loses power levels allegations of widespread fraud and unconstitutional voting procedures.
So far fortunately, despite all the rhetoric during election campaign, some violence etc, no leader had ever created any hurdle in smooth transition of power. Hopefully no one would refuse to accept electoral defeat in future.
Every political party has huge membership and triggering trouble is not a big issue. In a country like India, once if such a situation arises, controlling it would become a major problem. Already we are seeing that the present day politicians are not sparing any issue and are utilising caste, community and religion for narrow political gains.
They are dragging the names of religious scripture to seek votes. Religion and caste are something which should be kept away from dirty politicking. But neither those in power nor those who are aspiring to come back to power are showing any restraint and want to use them as tools to win elections. The so called liberal parties which had always attacked the BJP of being a party with Hindutva as its agenda are also using the issue of desecration of idols or removing some temples as part of developmental activities for political gains.
The leaders should not incite any assault physical or verbal either on the seat of government or opposition. But today even those who are in high constitutional positions are resorting to direct personal accusations and the language they use is not acceptable to any civil society. But no action is taken against such leaders. It is this attitude which rings in alarm bells.
The situation in India is that only people must set things right as the political leadership whether it be at centre or in states does not want any drastic electoral reforms to be brought in. We are seeing how volatile the political situation in West Bengal is. We are seeing how some political strategists are being hired by different political parties. All this points towards a situation where we may also sooner than later witness the kind of dirty politics US witnessed during the transition period.