Ugadi: Some epicurean thoughts for Telugus!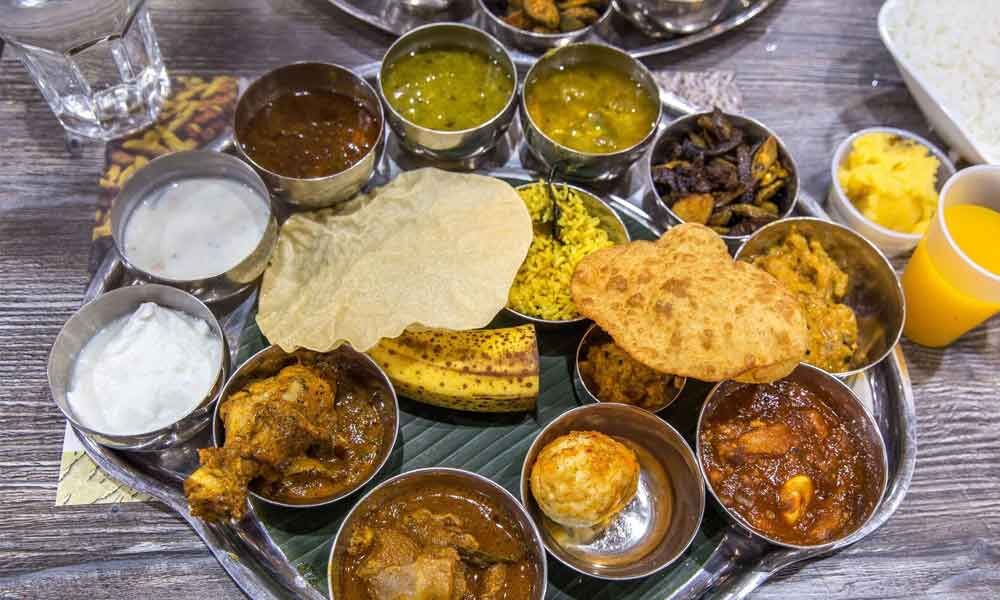 Highlights
Woeful part of our civilisation is that we never documented our food properly despite producing a mass of literature surrounding mythologies and...
Woeful part of our civilisation is that we never documented our food properly despite producing a mass of literature surrounding mythologies and history. Ramayana and Mahabharata tell us that both vegetarian and non-vegetarian foods were prevalent.
Perhaps, in the north, dairy products dominated the cuisine.
Using of clay ovens, cauldrons and open fires also taught them to dry and pickle food to preserve it.
All the four seasons gave them a vast variety and they made an excellent use of the same. Compared to other lands, India had seen a more stable life from the Vedic period.
We know that they grew rice, peas, sesame, and melons. And they domesticated cows, pigs, buffalo, and sheep. If you visited someone in early India, you would most likely be served rice, veggies, meat, and wheat bread.
In the north, they tended to eat food that was more bland (not spicy), with a lot of dairy products (yogurt and butter), and lentils.
In the south, you might find the food spicier, and served with rice and maybe coconut. Those who lived near the oceans, rivers, or lakes would serve fish and seafood.
Later on, religion began to influence what food was to be eaten. The Hindus came to see the cow as a sacred animal and would not eat it. Muslims were forbidden to eat pork.
And though India had learned about chickens from Thailand and sheep from the Middle East, many Indians chose to be vegetarians, rather than be guilty of killing animals. (Buddhism was a great influence).
The Telugu, Trilinga or Andhra or Andhaka cuisine too was enriched with its ecology. It had a fair interaction with the regions like today's Maharashtra, Karnataka and Tamil Nadu.
The southern food was not documented much even in the middle ages, so we need to depend heavily, to draw information about the same, on literature.
Let's move over to the Satavahana regime. Historians have mentioned that the food that the Telugus had was as varied as it is now. We had 'Anna Prasadas', wheat products, lentil mixes along with meat and fish products.
What could be the one product that we can trace to our history and culture? 'Kudumu'. Even 'Undrallu'? Yes, because these have been on the offer to Lord Ganesha since ancient times. Dairy products led to the making of 'Payasam' since at least two thousand years ago.
Pan cakes too were a part of it but called differently in the Telugu land - Atlu. Call it Dosa or Adai, we had all those varieties served since long here.
Our mothers and sisters were so patient and so caring that they further evolved several crunchy and yummy savouries like 'chakkilalu, laddu, bobbatlu, taalikalu, ariselu, gaarelu, boorelu (all those stuffed items), dhappalam (this one should and must have sweet pumpkin if nothing else) etc were the norms.
Wedding, festivals and special occasions had quite a spread of sweets and other condiments along with fruits. And pickles? You name it. A simple mango gave us a yearlong accompaniment with every meal.
Raw mango, dried ones, cut ones all pickled nicely, with red chilli powder/green chillies, turmeric, fenugreek, salt and oil turned our daily meal into a spicy affair. Leaves like Gongura (in Andhra) turned into an essential in the households. One was never bothered about the burning hot chilli because we had plenty of ghee to go with it into the rice.
Tamarind, gooseberries, tomato etc were the other stuff that pickles were made of yogurt and buttermilk were taken straight or got mixed with vegetables to add a special flavour. Don't forget 'pulihora' and raagi sankati or raagi mudda - the second one was on the menu of Emperor Srikrishna Devaraya, records suggest.
Tribals simply hung their meat for drying in their houses to be eaten later.
In its counterpart in Telangana region, bachali kura and puntikura have been in use since long. At least from the information that could be culled from Kakatiya rule and earlier from the Satavahana rule.
Either be it during the Assaka regime, Ikshavuku, Salankayanas, Eastern Chalukyas and before them Pallavas, all these sustained the basic food made up of millets, rice, wheat and meat and fish.
The Deccan Plateau evolved its own patchi pulusu, the easiest concoction which could be made and served in five minutes. Of course, amabali/gatka were always served, more so during the summers along with sarva pindi. Come Sankranti, sakinaalu was a must.
Came the Muslim impact and non-vegetarian acquired a more aromatic flavours, rich texture and taste.
Gudalu, mokkajonna gaarelu, pyalalu, ponganalu, saddulu continued throughout the centuries.
Mirchi bajji was and is a celebrity in all the regions that Telugus stay. Idly and wada could have been later additions. But dosa has been there since long.
Boti kura, talakaya koora, liver fry, chinta chiguru mamsam, paya, khemma mutteelu and golichina mamsam were the primary meat items of non-vegetarians. And came the Muslims influence, rice parked itself nicely around several of these in the form of biryanis.
Try these age old delicacies during this quarantined 'Ugadi' and celebrate the time it has given you to stay together.
Happy Ugadi!
Subscribed Failed...
Subscribed Successfully...