Covid-hit KSHDC looks at stone sculptures to overcome losses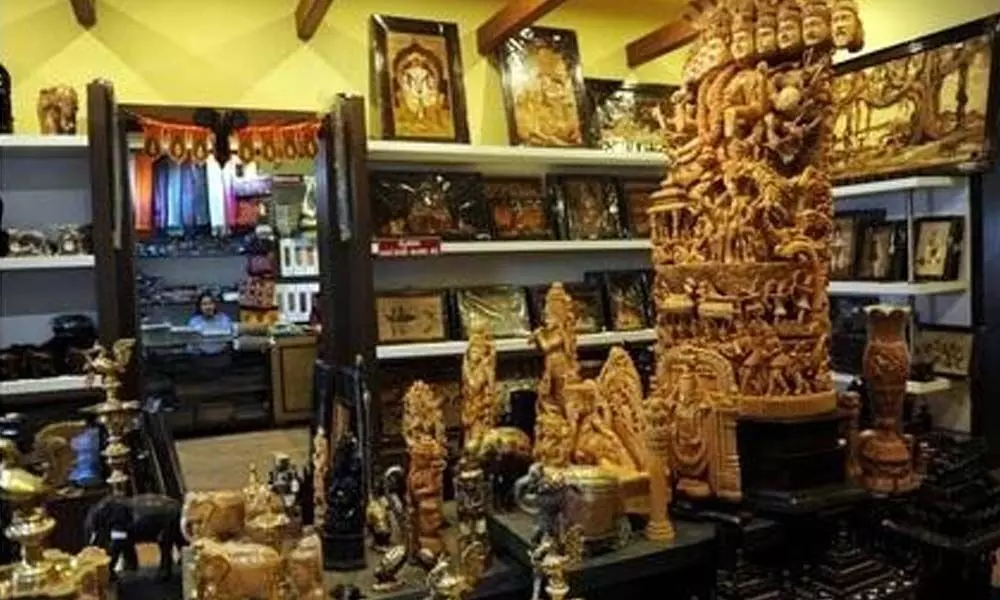 Highlights
The havoc played by the Covid-19 pandemic with different business sectors has not spared the Karnataka State Handicrafts Development Corporation (KSHDC) either
Bengaluru: The havoc played by the Covid-19 pandemic with different business sectors has not spared the Karnataka State Handicrafts Development Corporation (KSHDC) either. The corporation has witnessed a sharp decline in the revenue, from Rs 45 crore in the pre Covid days to Rs 8 crore last year.

As part of its efforts to undo the damage and regain the past glory, the handicrafts development corporation is planning to create designs which will cater to the taste of the millennials.
KSHDC Chairman Beloor Raghavendra Shetty tells The Hans India, "We are planning to change the design of chair, cot and other artefacts which will cater to the taste of the current generation. Sculptures will be made out of sandstone, granite and limestone now. Till now we have only been concentrating on wood sculptures. This will also provide employment opportunity to stone sculptors across the State."
On the lines of Delhi handicrafts corporation, the KSHDC is planning to come up with mobile vans which will be used to sell intense sticks, perfume etc, another idea that has stemmed from the crisis to scale up profit. One of the reasons behind coming up with a mobile van is to cater to the consumers who are wary of getting out of their homes in the pandemic. The corporation is mulling to have a centralised system where the outlets can be monitored from Bengaluru.
"We are trying to make everything centralised so that things can be monitored from Bengaluru. So if a person buys anything in Delhi we can monitor the business from here. There are plans to connect CCTV cameras so that the way customers are dealt with can be seen from here. This will boost the business," Raghavendra Shetty hopes.
As of now, the corporation has its own website where the customers can buy its products. A mobile application is being designed to provide another platform for customers to buy KSHDC products.
The handicraft emporium has its outlets at Ayodhya, Udupi, Shirdi, Kolhapur, Tirupati, Mangaluru and Pune.
On Friday, senior IPS officer D Roopa who was appointed as the managing director of the State handicrafts emporium stated that her first priority was to showcase the work of lakhs of artisans across the country and abroad, through Karnataka's famous Cauvery Emporium. "It's a stereotypical idea to say that cops do not or will not like to head the handicrafts corporation. As a Kannadiga IPS officer, I have great pride in our native handicrafts of the State. I can relate and interact with artisans just like one of their own. As a woman I'm interested in aesthetics," she said.