Karwa Chauth 2019: Wishes and images to share on this auspicious occasion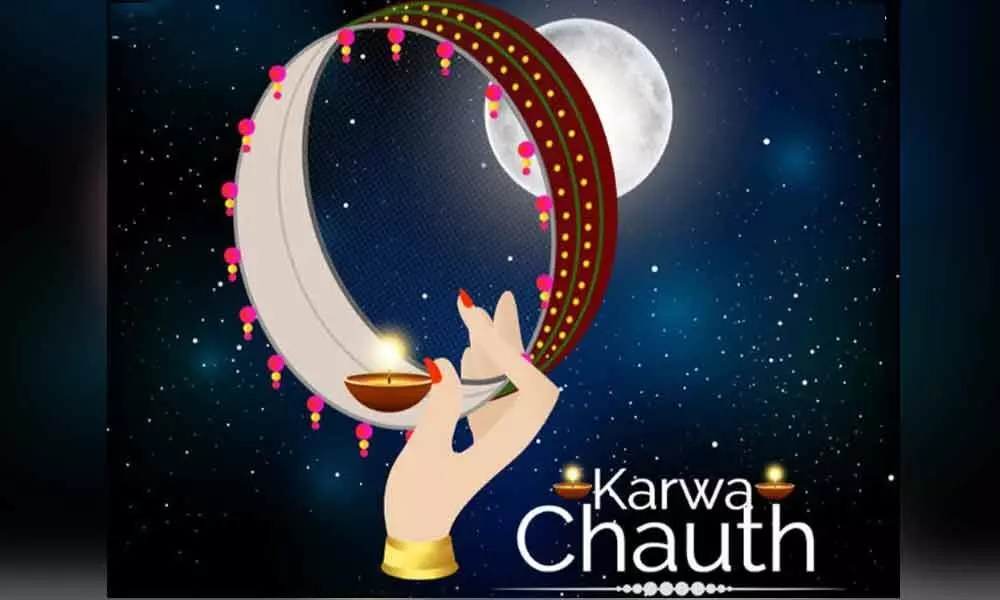 Highlights
Karwa Chauth ka Vrat is a significant festival for Hindu married women, they observe fast for the safety and longevity of their husbands
Karwa Chauth is a Hindu festival celebrated in Northern India by married women. The married women observe fast for the whole day, and they don't consume food or water until the moon appears at night in the sky. The fast is kept for the long life and safety of their husbands.
Origin of Karwa Chauth
In Hindi, Karwa is another word for 'pot' (a small earthen pot of water), and Chauth means 'fourth' (a reference to the fact that the festival falls on the fourth day of the dark-fortnight, or Krishna Paksha, of Kartik month.

Rituals of Karwa Chauth
On this auspicious day, women wake up early in the morning before sunrise and eat sargi. Sargi is a meal which is usually prepared by their mothers-in-law, especially for this occasion, which mostly consists of vermicelli, milk and dry fruits in an earthen pot or karva. On Karwa Chauth women apply henna on their hands and wear new clothes. On this day they worship Lord Shiva and Lord Ganesha and break the fast only after sighting and making the offerings to the moon.
Karwa Chauth Date: October 17, Thursday
Karwa Chauth Pooja Timings: Starts from 05:50 PM and end at 07:06 PM
Karwa Chauth Vrat Timings: 06:21 AM to 08:18 PM last for almost 13 hours and 56 minutes.
Karwa Chauth Day Moon Sighting Time: 08:18 PM
Make this auspicious day more special by sharing these wishes and greetings.
♦ May God bless you with a long and happy married life.
♦ Happy Karwa Chauth!
♦ ♦ Akhand Subhagyawathi Bhava! Happy Karwa Chauth!
♦ Wish this day come 100 times in your life and you celebrate togetherness forever.
♦ Happy Karwa Chauth!
♦ May the Karwa Chauth moonlight fill your life with happiness, health and prosperity.
♦ Happy Karwa Chauth!
♦ May God keep you together forever, never apart, and all your heart desires come true.
♦ Happy Karwa Chauth!
♦ Wish your dreams and wishes blossom and you both live a happy life forever.
♦ Happy Karwa Chauth!
♦ Hope this Karwa Chauth strengthens the bond of love between you two, and you both flourish.
♦ May the sight this Karwa Chauth full moon fill your life with happiness and success. Happy Karwa Chauth!
♦ Your prayers for the longevity of your spouse should come true and may you be blessed with all that you wish.
♦ Wish you a very happy married life and a Happy Karwa Chauth 2019.
♦ Wish you and your life partner 100 years of togetherness. Happy Karwa Chauth!