MyVoice: Views of our readers - 03 Dec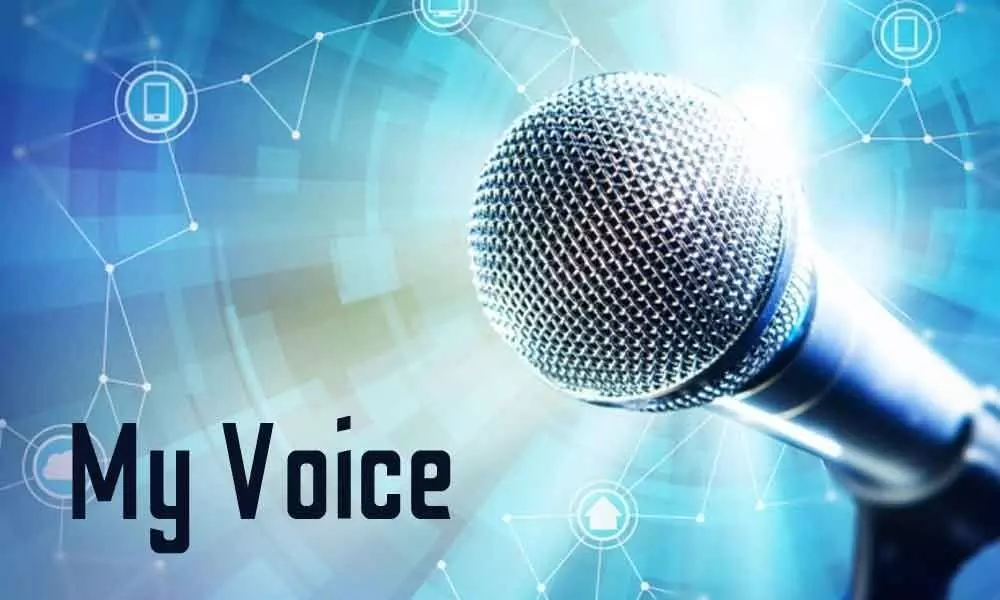 Highlights
MyVoice: Views of our readers - 03 Dec
Shivangi, the wonder woman!
Congratulations to Sub Lieutenant Shivangi for becoming the first women pilot of Indian Navy. Hailing from a poor background from Bihar to becoming a pilot is great inspiration for many.
She has set the stage for people like her not to get bogged down by the circumstances they have. Women are equal to men in all walks of life. Three years back Indian Air force have inducted their first women fighter pilots.
With the nod from the central government to have admissions in Sainik school, girls will get a lot of opportunities in the defence sector . Wish many more Shivangis will join in the defence forces to defend our Mother India.
Rathna Manoj Kumar, Chennur
Heed the danger signals
Rahul Bajaj's bold assertion to Amit Shah present in an award ceremony that the Modi government was not open to criticism, speaks volumes of atmosphere of distrust and apprehensions amongst the businessmen.
Certainly, when upright industrialists like Bajaj say something brave that matter the nation's welfare, it makes ripples too.
Economic growth lessons can be better learnt from the experiences of self-made industrialists arisen to succeed in this competing world. The Centre must address the entrepreneur's fears and concerns to boost the economy as they are the job providers most.
In fact, besides, the dictatorial style of functioning of NDA stalwarts, there always remains a political uncertainty in non-BJP governed States as BJP has earned the dubious distinction of dismantling elected governments thus encouraging defections. After, Maharashtra debacle, BJP needs to do soul- searching.
Brij Bhushan Goyal, Ludhiana
Establish US Consulate in Bengaluru
Bengaluru and Karnataka state has witnessed a growing demand of visitors to United States of America. But one is only compelled to visit its Consulate office located at Chennai to obtain and apply for various types of visas.
The move to travel to Chennai every time causes an inconvenience even in case of exigencies resulting in administrative hardships to the Indian visa applicants. It should be otherwise noted that the facility to travel to almost all the other nations including Canada, Netherlands, Germany, France, Mexico, Peru, Japan, UK etc. exists through the presence of full-fledged Consulate offices conveniently located in Bengaluru for the benefit of Karnataka domicile visa applicants.
Further an effort should be made jointly by both India and US diplomatic patrons to establish a new full-fledged US Consulate at Bengaluru.
A new US consulate now at Bengaluru will largely benefit many professionals, visitors and students who otherwise face logistical hardships to obtain a visa from its existing consulate located at Chennai.
The suggested move for a new US consulate now at Bengaluru will otherwise help to expedite visa application requests quickly even in case of exigencies to the needy US visa applicants.
Hence the Ministry of External Affairs is requested to look into opening a new U.S. Consulate in Bengaluru for the benefit of Indian visitors to USA from this region.
Varun Dambal, Bengaluru
Maharashtra muddle
A WhatsApp forward, used as campaign material in the Karnataka bypolls, has proved damaging for the Maharashtra BJP and former chief minister Devendra Fadnavis's credibility.
BJP MP from Karnataka, Anant Kumar Hegde has claimed that Devendra Fadnavis was sworn in as Maharashtra Chief Minister to prevent Central funds worth Rs 40,000 crore from being misused.
May be Hegde has a track record of making controversial statements, but if his claim--the "drama" to support a 'minority' government was scripted and played out only to 'appropriate' the funds-- is true though yet to be corroborated, questions will definitely arise about the current status of these funds and how were they repatriated by Fadnavis within a couple of days.
Surely this must have embarrassed the state BJP and Devendra Fadnavis but it would help in creating a perception that the Modi-Shah dispensation knew what it was doing all this while by propping up a 'minority' government and that they did not play into Sharad Pawar's hands.
S A Jayatheertha, Hyderabad
Petrol still being sold loose
The sale of petrol in plastic bottles and cans are not allowed. The petrol bunks both owned by PSU and private have put up board/notice inside the petrol bunks.
However, the sale of petrol in plastic cans and bottle continue to happen in full public view and we all seem to be indifferent. Whenever I come across staff dispensing petrol in bottle, I do raise my voice, but others don't support. It is high time strict action are taken against petrol bunks where staff violate the rules by suspending their licence for week or so.
Ideally, those who are now in streets should do some soul searching show the same spirit when they see sale of loose petrol. Unless this menace is stopped, petrol would continue to become a killing substance at the hands of anti- social elements and criminals.
N Nagarajan, Hyderabad
Enforce laws strictly
It is painful to see that rape cases and crime towards women are becoming common in our country and it is not coming to an end.
Especially girls and women are not feeling safe while travelling at late night hours. Crimes against women became common in Telangana State.
Hyderabad city is becoming more dangerous and vulnerable when it comes to the women's safety and more shocking to see is a single lady cannot be safe at outside in late night hours in Hyderabad. Safety for the women at late night now became a big question mark for the law and order department.
Recently a lady revenue officer was burnt alive in her office. And after few days only another incident came into light that a lady doctor raped and burnt at late night. This shameful incident shakes the entire country. It is very disturbing to see that there is no respect left for the women in our society.
It clearly shows that Hyd city is lagging in the women's safety and in moral values too. This shameful incident clearly shows how our police and law and order department doing their duties.
And this incident also raises a huge number of questions towards the safety of women at night. Absence of patrol police on the roads and in sensitive areas in the latenight hours is a clear indication of weak functioning of law and order in the Telangana state. And on the other side the consumption of alcohol and drugs also playing big role in such heinous crimes.
The government should first close the wine shops across the city in order to lower the crime rate from the State. And on other side weak laws and judicial system also giving more chance to criminals to commit crimes.
Somewhere the government is also acting smooth on such rape cases that's why such crimes are happening again and again. In my opinion the rapists or the criminals should be killed in an encounter.
In order to stop such crimes, we need to first change our laws and strict laws should be implemented for the rapists so that in future such shameful incidents won't happen again.
And it the responsibility of the government and police to make our city a safe city so that citizens can live or travel fearlessly at night also.
Mohammed Ahmed Ali, Hyderabad
Subscribed Failed...
Subscribed Successfully...